Respect to outspoken Marine Stuart Scheller… he's right to question the dismal leadership of the US military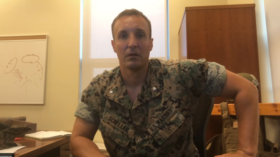 Lt. Col. Stuart Scheller now sits in the brig for violating a gag order in a video that questioned the leaders of the US military in Afghanistan. Some may question his loyalty, but he has highlighted issues that need addressing.
One of my favorite lines from the classic American football film 'Remember the Titans' comprises only three words. "Attitude reflects leadership." The United States military would do well to remember this, because as of now it is in a massive pickle.
After a poor defense of woke ideology, targeting Tucker Carlson and the embarrassing pullout of Afghanistan, there are many questions that Americans have regarding our military's leadership. And apparently, there are people within our military forces that feel the same way. Enter Lieutenant Colonel Stuart Scheller, who has been in the Marine infantry for 17 years and decided to speak up about some of the issues facing the military in a video that went viral on social media.
In the video, Scheller was critical of senior military leaders following the attack in Kabul in August that killed 13 US service members, including a number of Marines. "People are upset because their senior leaders let them down and none of them are raising their hands and accepting responsibility and saying we messed this up," said Scheller. Defense Secretary Lloyd Austin and General Mark Milley, chair of the Joint Chiefs of Staff, were singled out.
Scheller disobeyed a gag order that was put on officers, and as a result, is now in the brig. According to The Washington Post, he hasn't been charged with anything yet, but stands accused of showing contempt toward officials, willfully disobeying a superior officer, failing to obey lawful orders and committing conduct unbecoming of an officer.
In asking for accountability for what happened so publicly, Scheller unquestionably breached the gag order. Some will argue he is deserving of whatever fate awaits. But on the other hand, there are millions of Americans who feel the exact same way he does. Just because Scheller is a lieutenant colonel in the Marine Corps, should he really just shut up and go along with bad orders? So, yes, he disobeyed – but I would argue his intervention was warranted and his attitude is reflective of the bad leadership at the top.
The fact of the matter is that all these issues with our forces have coincided with President Joe Biden taking over, and as a result, the military now stands at a crossroads. On one hand, we have the route that the current military leadership apparently wants to go down, following the mantra of the Biden administration and becoming more progressive. And on the other hand, there are those within the military – and those outside of it – that want our military to concentrate on being an actual fighting force that is trained from the get-go to win wars.
What's ultimately ironic about all of this is that it seems like the current leadership doesn't even realize the fork in the road is even there. They have blinders on, and appear completely ignorant to the issues. And if anyone dares to speak out, they either combat them on social media like they did with Tucker Carlson, or lock them in the brig like Stu Scheller. This isn't the way that our military should be acting.
In a sense, this divide is symbolic of the United States as a whole. Back in 2018, former top UFC middleweight contender and Army Ranger Tim Kennedy lamented how many Americans couldn't get into the military because we're just that much more sedentary than we used to be. As a people, we're becoming complacent. That complacency encourages situations like this, where we have apparently lost our sense of purpose. In many ways, the lack of direction that has engulfed the military epitomizes this.
The US military and those in charge of it need to take the blinders off. They need to look at what's around them, and see that their actions are causing many people to question why exactly the leadership sucks. The difference between them and Stu Schellar is that he was willing to sacrifice everything to bring it to the attention of Americans. Because of poor leadership, a good Marine has had to give up his career... just to be a good American.
Like this story? Share it with a friend!
The statements, views and opinions expressed in this column are solely those of the author and do not necessarily represent those of RT.
You can share this story on social media: