Fat Britannia: If you think obesity is a problem in the UK now, just wait another 20 years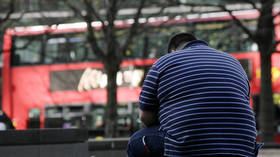 Many Britons are overweight, that's obvious, but alarmingly people in Britain are getting fatter younger and obesity levels have increased decade on decade – so why are we still burying our heads in the sand about how fat we are?
In 2019, the UK's Tory government described childhood obesity as "one of the biggest health challenges this country faces." Months later the jumbo-sized problem faded into insignificance as Britons were forced to isolate themselves in their own homes as an invisible enemy, Covid-19, pushed the UK's healthcare infrastructure to the limit.
Briefly, it looked like the pandemic may become the trigger for a nationwide fat-busting effort. Prime Minister Boris Johnson, who spent three days in intensive care with Covid-19, was the first to admit that his weight made him more susceptible to the virus. But Johnson's very public plea for Britain to embark on a weight-loss journey didn't last long or appear to make much of an impact. A Public Health England survey of 5,000 people found that 40% of people gained weight during the pandemic with the average gain being half a stone.
Johnson failed to instil any urgency about weight loss into the British population, even at the height of the first wave, and that's particularly concerning because pre-pandemic hospitalisation figures concerning obesity are truly shocking. NHS data show that more than a million people in the UK were hospitalised due to obesity-related illnesses in the 12 months leading up to the pandemic, a 17% increase on the previous year.
The problem is that Brits have been getting bigger for decades and hundreds of government initiatives, as well as celebrity-led endorsements, haven't been able to reverse the trend.
Also on rt.com
Corporate America would never allow a 'healthy food mandate' like they have 'mask mandates' – junk food is far too profitable
Since records began, Britons have been getting bigger and bigger. The 1980 National Heights and Weights Survey suggested that only 6% of men and 9% of women aged 16 and over suffered with obesity in England, with only 0.1% of men and 0.4% of women ranking as severely obese.
Fast forward to 2019, 27% of men and 29% women were classified as obese meaning their BMI (Body Mass Index) was over '30'. A further 36% were considered overweight, meaning their BMI was between 25 and 29.9. The data also highlighted that a rather concerning three-quarters of people aged 45-74 were considered overweight or obese.
But there's another concerning trend; Britons are getting fatter at a younger age and experts are worried they'll only get bigger as they grow older. In 2019, the most recent reporting period, 35% of children aged 10-11 were considered either overweight or obese; in fact, 21% were considered obese. In the 1980s, childhood obesity was understood to affect less than 2% of kids.
While the government may frequently reiterate their desire to tackle childhood obesity as well as weight issues within the wider population, you'd be hard pushed to identify one initiative that has actually made a difference to buying, drinking or eating habits.
One exception might be 2018's Soft Drinks Industry Levy. Research suggests that the small levy on sugar-filled soft drinks has been effective, with Britons on average consuming 6,500 calories less from soft drinks each year. The authors of said research contend this is because of manufacturers' efforts to ensure the amount of sugar in their drinks fall beneath the thresholds for the levy, rather than consumers being compelled to make cost-related decisions.
But as a recent paper from the University of Cambridge stated, there isn't much cause to believe the government has the capacity to make a difference. The study's authors note that none of the government's obesity strategies or policies, published since 1992, have successfully reduced the prevalence of obesity. Having analysed 689 obesity policies, the experts argued that the government's approach to fighting obesity in England has been "largely unfit for purpose."
The apparent success of the Soft Drinks Industry Levy makes it all the more surprising that this administration remains opposed to a tax on junk food, with the Daily Mail reporting last week that Chancellor Rishi Sunak had vetoed any talk on the matter. The absence of a junk food tax comes despite experts linking the emergence of high-calorie and fast foods in the latter half of the 20th century with the onset of Britain's obesity problems.
The lack of impetus is also apparent in a recently announced plan to ban the advertising of junk food before the 9pm watershed with the aim of reducing the exposure of youngsters to products high in sugars, salts and fats. Despite the desperately concerning obesity trends, the advertising ban won't be enforced until the end of 2022.
Also on rt.com
Have lockdowns and living off government handouts for 18 months made Britons workshy?
One thing that's very evident is the world's fifth largest economy can ill-afford a costly obesity-induced healthcare crisis now or in the foreseeable future. While the figures are not readily available, government data suggest the NHS spent £6.1 billion on fighting illnesses related to obesity, like heart disease and diabetes, in 2014 and 2015. This alone is a marked increase from 2003 when Liam Donaldson, England's then-chief medical officer stated that the direct cost of obesity to the UK's NHS was £500 million. He contended the indirect cost to the UK economy was at least £2 billion.
In a 2017 release, the government suggested that the cost of obesity to the wider society was estimated at £27 billion. The same document projects that NHS costs attributable to weight and obesity will reach £9.7 billion by 2050, with the wider society expected to lose £49.9 billion per year to Britain's ever-growing waistlines.
If future interventions are unsuccessful, Britain's healthcare system, already overburdened by Covid-19 and its associated impact, may have another healthcare crisis on its hands. The bill for the NHS passed £150 billion in 2019-2020, only topped by government spending on social welfare. While many Britons openly complain about funding welfare for fellow citizens, some may start to ask whether they should foot the bill for treating the obesity problem.
So as vaccinations begin to make Covid-19 slightly less deadly, maybe it's time for the government to truly incorporate a nationwide diet into 'Build Back Better'.
If you like this story, share it with a friend!

The statements, views and opinions expressed in this column are solely those of the author and do not necessarily represent those of RT.
You can share this story on social media: