Global Citizen Live's message to society from mega-rich celebs is 'make do with less.' And that really sticks in my throat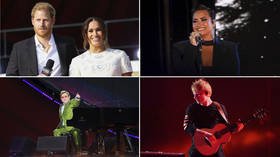 A jumbo gig to raise awareness of climate change & defeat poverty definitely made a few wealthy people feel good about themselves for having done their bit for a worthy cause. But can Global Citizen Live really change the world?
On Saturday night, the BBC devoted hours of programming to Global Citizen Live: Music Festival for the Planet – a collection of pop concerts and performances from London, New York, Paris, Lagos, Mumbai, Seoul and Sydney in support of the Global Citizen movement.
Up to a billion people around the globe were expected to tune into a 24-hour broadcast, one way or another. But are wealthy pop stars really the best ambassadors for the cause?
According to its website, "Global Citizen is a movement of engaged citizens who are using their collective voice to end extreme poverty by 2030. Through our mix of content and events, grassroots organizing, and our action platform, we are building a movement to end poverty. We organize massive global campaigns to amplify the actions of Global Citizens from around the world."
No one could disagree that ending extreme poverty is a worthy cause. But watching the opening few minutes of the show, featuring K-pop superstars BTS and Kiwi singer-songwriter Lorde, this was virtue-signalling gone mad. Moreover, while Global Citizen was asking for donations to provide school meals, plant trees and deliver vaccines, this was ultimately an advocacy campaign getting free airtime on the supposedly politically neutral BBC.
For starters, many of the performers are mega-wealthy themselves. At the Paris gig, for example, the headliners were Ed Sheeran (reported net worth £200 million) and Elton John (worth a cool £350 million).
Given that a stated aim of Global Citizen is "tackling inequality", are these stars suggesting everyone should get the same? Will they be giving up their fortunes to make the world more equal? I don't think they should – they've made their money by providing millions of people with entertainment. But it sticks in the throat for the rest of us to be lectured to about the evils of inequality by people who live in such luxury.
While Elton and Ed have made a great play of the tax they pay, pop stars don't exactly have a great track record on paying their dues the way the little people have to. As the so-called Paradise Papers revealed in 2017, some stars have gone to great lengths to find legal ways to be 'tax efficient' with their cash.
Admittedly, as George Harrison wrote in the Beatles song 'Taxman', eye-watering tax rates – "one for you, 19 for me", as the song says – only encourage tax avoidance. But maybe musicians and other celebrities could be a little more circumspect in telling us about global poverty while ensuring their 'fair share' of tax is as small as possible.
As for saving the planet, these are people who feel that flying round the world in private jets is the hallmark of having made it. At the very least, they are well versed in turning left when they get on a jet, lapping it up in the most expensive seats at the front. Whizzing between continents and living in mansions, their carbon footprints must be enormous, compared to those of the rest of us. The epitome of useless celebs, Harry and Meghan, even rocked up at the New York concert to lecture the world about vaccines.
According to Global Citizen, climate change is "an existential threat to people and nature worldwide", so it's up to us to "urge world leaders, corporate executives and people everywhere to take action". But what would that "action" look like? Most likely it means clamping down on greenhouse-gas emissions, and the upshot is policies that make people worse off, both in the developed world and in poorer nations.
In richer countries, it means making energy much more expensive, leaving many people on low incomes to choose between eating and heating. In poorer countries that want access to reliable sources of electricity, it means that big international funders are refusing loans to build coal-fired power stations: just the kind of cheap, easy-to-use networked electricity supply that has lifted billions of people out of poverty in the past.
What poorer countries need is economic development and access to international markets so they can create the jobs needed to provide their citizens with better incomes. But what Global Citizen offers is cheap talk about development while interfering in the democratic debate that tries to balance all these competing concerns about the environment, living standards, freedom and more. It's poverty and underdevelopment, not climate change, that is the real existential threat to the poorest people in the world.
Global Citizen Live will no doubt have made a few wealthy people feel good about themselves by doing their bit for a worthy cause. Their virtue was on display to millions around the world. But the campaign – at least, when it comes to climate change – is bizarre, because politicians are already falling over themselves to show how much they care about the planet. So, the movers and shakers behind Global Citizen get to hob-nob with the great and the good, the famous and the powerful, to decide how we should all be forced to live our lives, and the message to society from these pampered billionaires is 'make do with less'.
Meanwhile, the rest of us are reduced, at best, to the role of a stage army to demonstrate that civil society supports 'taking action'. Thanks, but I'd prefer to be able to heat my home, drive my car and have a holiday abroad once or twice a year. Until we have a serious and honest political debate about these issues, we'll all be worse off.
Like this story? Share it with a friend!
The statements, views and opinions expressed in this column are solely those of the author and do not necessarily represent those of RT.
You can share this story on social media: