Nicolas Maduro is right: it is possible to stand up to US imperialism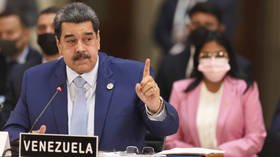 With American hegemony finally on the decline, there's a real chance for Latin America to push for closer regional cooperation and shake off the chains of imperialism once and for all.
In an address to the United Nations General Assembly on Wednesday, Venezuelan President Nicolas Maduro condemned the United States' "criminal" sanctions against his country, as well as the ongoing embargo against Cuba, and called on the world to reject US hegemony in favor of a multipolar world order.
Striking a defiant tone, Maduro said Venezuela would this year move from "resistance" to "recovery" and praised the ongoing dialogue with the opposition that is taking place with Norwegian mediation. This showed, he concluded, that ​​"it is possible to confront imperial aggressions."
Also on rt.com
Venezuela accuses US military aircraft of violating its airspace from Colombia, warns it might 'respond forcefully'
And, as far as left-wing leaders who are standing up to Washington's centuries-long death grip over Latin America go, Maduro is certainly not alone in thinking this.
Earlier this month, at a summit of the Community of Latin American and Caribbean States (CELAC) in Mexico, participants discussed the future of the Organization of American States (OAS) – a Cold War relic created by the United States to thwart the spread of communism in Latin America. It has since revealed itself countless times as a blunt instrument of US imperialism over the region through so-called "election monitoring," which is a euphemism for brazen election interference.
At least that's what one can conclude from a study conducted by the University of Salamanca, in Spain, and published by Bolivian Attorney General Juan Lanchipa's office in July. It found no evidence of serious fraud during the 2019 Bolivian election that would "pose risks to the integrity of the electoral process, nor to the results of the official count." However, the OAS issued a report questioning the legitimacy of the vote, which served to some extent as the impetus for a right-wing coup against then-president Evo Morales. This unleashed a year of unspeakable terror and political persecution that will not soon be forgotten – though, thankfully, the major perpetrators of these crimes are finally being brought to justice.
Meanwhile, the OAS, billed as the foremost organization in the Americas aimed at regional solidarity, has been completely useless during the ongoing Covid-19 pandemic, which has devastated this hemisphere more than any other. In fact, political rifts that are accompanied by such coercive measures as the ongoing blockade against Cuba and sanctions against Venezuela have only continued, leading to untold yet completely avoidable human suffering.
All of this is why, in July, Mexican President Andrés Manuel López Obrador (commonly called AMLO) called on the countries of Latin America and the Caribbean to create an autonomous regional organization to replace the OAS – something like a Latin American EU – and clearly insinuating that the CELAC could fit this role.
While indeed very promising, there are a few challenges to building up the CELAC in a way that could tighten the region's integration. First, Latin America is still dependent on the United States and Canada for its economic development. This is why some leaders are in an awkward position in weighing pan-Latin American integration with their relations with the North and why some fear totally abandoning the OAS instead of reforming it.
In the case of Mexico, the US is its largest trading partner and a source of coronavirus vaccines. This is why AMLO has gone back and forth on whether or not to include the US and Canada in its vision for an alternative to the OAS. Other countries face similar situations, not wanting to totally become a pariah to Washington and suffer the same fate as Cuba, Venezuela, or Nicaragua, yet clearly seeing that total fealty to the US is equally undesirable.
This is why alternative economic relations must be broached, and those possibilities already exist. For example, China has steadily ramped up its economic ties in the region to quickly become its second-largest market. Certainly, that nation wants to see this trend continue, as President Xi Jinping made clear in his speech to the CELAC over the weekend, which would only benefit Latin America in breaking free from dependence on Washington and promote South-South cooperation.
Also on rt.com
Overthrow Xi? Hostility towards China is on the rise, but Aussies' extraordinary demand for a coup is a step too far
At the same time, closer ties with China could also yield results in sharing expertise and experience on regional cooperation, as China houses the largest regional body in the world: the Shanghai Cooperation Organization (SCO).
Second, the CELAC must focus on concrete issues and not be a purely ideological organization. As Bolivian Foreign Minister Rogelio Mayta brilliantly put it in a recent interview with Kawsachun News, "the EU was originally based on a coal and steel alliance – two concrete issues which served as the basis for Europe to articulate their particular vision step by step."
It's true that the political direction of Latin America is clearly swinging to the left, after a series of huge wins for left-wing parties and people's movements. However, this may not always be the case, and the grand project of integrating the region cannot be stunted over election results. That's why the CELAC, should it grow into something more, should focus on clear-cut, win-win issues.
There is certainly hope here. The recent CELAC summit led to the organization of a Latin American space agency, a new regional natural-disaster response fund, and agreements on vaccine production and closer integration on health issues.
Given the strength of national consciousness in the region right now, and the obvious decline of US power, this is the most opportune time of any for Latin America to break free from US hegemony and forge its own destiny. We await its next move.
Like this story? Share it with a friend!
The statements, views and opinions expressed in this column are solely those of the author and do not necessarily represent those of RT.
You can share this story on social media: