Opening US borders to illegal migrants amid Covid proves Democrats have no love for America, only for holding onto power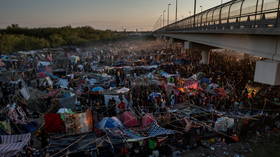 Today, it is easier for a migrant to walk into the US illegally than for a foreign tourist to enter legally. Illegal migration is not about human rights, but rather part of the woke agenda to stay in power.
The desperate scenes of squalor under the Del Rio International Bridge, where thousands of illegal migrants – many of whom are from Haiti – are huddling in makeshift shelters as they wait to be transported to cities around the country, should enrage every American. Aside from turning the United States into a Third World nation – the insanity is happening in the middle of a pandemic.
Even the duplicitous corporate media is beginning to ask some valid questions, but, as is its unfortunate wont, only after the proverbial bomb has already exploded in Uncle Sam's lap.
Fox News reporter Peter Doocy this week ventured to ask White House press secretary Jen Psaki if the migrants setting up camp in the US are required to show proof of vaccination or a negative Covid test – the exact requirements for people flying into the US. This triggered a confused flurry of mumbling, paper shuffling and hair adjusting followed by one of the most memorable Psaki-isms ever uttered.
"Let me explain to you how our process works, Peter… When individuals cross our border, they are both assessed for if they have any symptoms… They're not intending to stay here for a lengthy period of time. It's not the same thing."
Peter Doocy asks why vaccine cards are required for foreign travelers but not migrants at the border.Psaki: "They're not intending to stay here for a lengthy period of time. It's not the same thing." pic.twitter.com/NLA8G8fT2s

— The First (@TheFirstonTV) September 20, 2021
So let me get this straight. These migrants who crossed not only the vast Caribbean Sea, but the entire expanse of Mexico and several other countries, just to reach the Rio Grande, are not intending to stay in America for a lengthy period. In other words, it's just one of those once-in-a-lifetime family getaways where the happy Haitian people will snap a few selfies with Border Patrol before making the treacherous journey all the way back home again. A bit like the Hollywood comedy film 'Vacation', except with grinding poverty, crime and coronavirus tossed into the plot. The only thing more fantastic about that explanation is how many Americans will gobble it up like popcorn.
Despite Jen Psaki's best efforts at obfuscation, Haitian asylum seekers have been freed into the US on a "very, very large scale" in recent days, according to the Associated Press, quoting an anonymous government source. And the only requirement for these newly released migrants is that they appear at an immigration office within 60 days, a requirement that many typically ignore. On the question of forcibly extraditing the Haitian migrants, the rule appears to apply mainly to single adults; families and unaccompanied children will be allowed to stay in the US.
Also on rt.com
Haitian migrants being released into US on 'very large scale' despite Biden's vow to send them back home – reports
To better understand the full extent of the problem, Rodney S. Scott, a 29-year career law enforcement officer and Biden's former Border Patrol chief has accused the administration of deliberately weakening border security to bring illegal migrants into the US, as well as misleading Congress about the severity of the situation.
"Common sense border security recommendations from experienced career professionals are being ignored and stymied by inexperienced political appointees," Scott wrote in a letter sent earlier this month and obtained by Just the News.
"The Biden administration's team at DHS is laser-focused on expediting the flow of migrants into the U.S. and downplaying the significant vulnerability this creates for terrorists, narcotics smugglers, human traffickers, and even hostile nations to gain access to our homeland," he wrote to Senators Mitch McConnell, Chuck Schumer, Gary Peters and Rob Portmann.
Aside from the obvious question, 'why can't or won't the Americans and Mexicans erect a viable border between their territories (much as the Eastern European country of Hungary constructed on its border with Serbia and Croatia with impressive results),' is an equally perplexing one: 'why are the Democrats such intolerable hypocrites?' Once again, the Biden administration is enforcing rules that they either don't adhere to themselves, or they impose to the advantage of the Democratic Party.
Take for example the mask mandate. While Democratic cities and states are forcing everyone from preschoolers to park rangers to don a face diaper, the Democratic elite themselves openly ignore these regulations. During the Met Gala, for example, the annual charity event held at the Metropolitan Museum of Art, celebrities and socialites were seen mingling maskless while being attended to by faceless attendants.
"Servants, apparently, are much more pleasant when they are dehumanized," wrote Glenn Greenwald on this deeply disturbing new social trend. "There is no need for noses or mouths or other identifiable facial features for those who are converted into servile robots."
The same level of liberal hypocrisy is apparent in numerous other ways as well. While the Democrats would love nothing more than to abolish the Second Amendment, which gives Americans the right to 'keep and bear Arms', those same anti-Constitution authoritarians will never surrender their 'inalienable right' to have taxpayer-subsidized security details protecting them day and night.
A similar thing could be said about the thousands of Haitians racking up frequent flier points as they are flown into neighborhoods with virtually zero understanding of their new social surroundings. Many of the new arrivals do not even speak English. Nevertheless, these people, who are not refugees but rather economic migrants happy to accept gratuitous handouts in America – like healthcare and housing benefits – will not be crashing the gated communities where the Democratic elite rub shoulders sans masks. Don't be ridiculous. These people, some of whom may be dangerous criminals or Covid carriers, nobody knows, will struggle to make ends meet inside the neighborhoods of a rapacious capitalist system where millions of people are already living on the streets.
The horrible treatment of these innocent Haitian people—who have come to the border fleeing violence and natural disaster—must stop immediately.The Admin must stop these expulsions and end this Title 42 policy at our southern border.

— Chuck Schumer (@SenSchumer) September 21, 2021
And as Psaki's disastrous news conference revealed, as millions of Americans are now forced to make a decision between being injected by a vaccine or losing their jobs, the new illegals on the American scene face no such tough choices. They are welcome to break the law by illegally entering the United States while avoiding the vaccine mandate that has been forced on law-abiding Americans. Does that make even the slightest bit of sense? After all, who besides the Democrats have been shutting down businesses, schools and churches, while insisting that every single person wear a mask and get a vaccine courtesy of Big Pharma? Now, just because some people walk across the Rio Grande River without so much as an invitation suddenly the rules no longer apply.
This latest blunder by the Democrats will do nothing to help the millions of Americans now suffering economic hardship brought upon them NOT by Covid-19, but by the draconian measures put into place to battle the pandemic. If the Democrats truly cared about these people, whose burgeoning numbers are becoming increasingly evident in tent cities around the country, in once livable urban areas like Seattle, Portland and San Francisco, they would move immediately to seal the border. Their refusal to do so points to ulterior motives based on cold-blooded political calculation, not any love for the country.
In keeping up with the pretense that the Democratic Party is fighting for the underdog, the outcast, the downtrodden mass of humanity, in reality it is only fighting for more voters. As more minorities awaken to the false gospel that has been preached over the years by the left-wing demagogues, the Democrats are coming around to the conclusion they must find a new source of support. Indeed, had the Haitians been a more conservative bunch, you could bet your last dollar that the Democrats would have completed the wall that Donald Trump never finished. Given the dire condition of the US today, it is no surprise the Democratic Party must increasingly outsource for its future voters, even if it means the destruction of the country as we know it.
Think your friends would be interested? Share this story!
The statements, views and opinions expressed in this column are solely those of the author and do not necessarily represent those of RT.
You can share this story on social media: