The problem with George W. Bush's call for unity is he is responsible for many of the divisions he says America must heal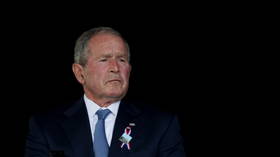 The former president gave a speech on September 11, on the 20th anniversary of the terrorist attacks that happened during his tenure, in which he called for unity among Americans while also condemning domestic extremism.
"There is little cultural overlap between violent extremists abroad and violent extremists at home," Bush said, alluding to supporters of former President Donald Trump that stormed the Capitol on January 6. "But in their disdain for pluralism, in their disregard for human life, in their determination to defile national symbols, they are children of the same foul spirit," he added.
Bush's words come just a week before a right-wing rally in support of the Capitol rioters on September 18 in Washington is slated, many of whom identify with the Republican Party of which Bush is also a member.
How is it possible that a two-term Republican president disagrees so much with his own party's base now? Because, ironically, it was actually Bush's policies that exacerbated the contradictions within American society that he's referring to.
For example, Bush talked about disregard for human life, which is objectively a defining feature of his presidency, considering he launched a global 'war on terror', which included the wars in Afghanistan and Iraq that killed and displaced millions of people.
At least one of the major reasons why American society is so anti-social and politically divided is because of how militarized it is, which Bush played a major role in. After all, it's only logical that a country and society that have normalized unending war would disregard human life at home.
Also on rt.com
Russia shares America's grief over 9/11 attacks & is ready to partner with Washington to fight terror, Moscow's ambassador says
With the ongoing pandemic, this extreme sense of disregard for one another has been hugely consequential because there is a significant overlap between these extreme hard-right ideologues and anti-science positions on vaccines and social distancing. Even though the US has a massive vaccine supply, a significant portion of the population refuses to get the jab which is mainly why some 1,500 Americans are dying daily.
Bush may have perhaps been alluding to this when he said that, "A malign force seems at work in our common life that turns every disagreement into an argument, and every argument into a clash of cultures. So much of our politics has become a naked appeal to anger, fear, and resentment."
Days ago, President Joe Biden had to take a drastic step by announcing a vaccine mandate for all federal workers, contractors and workers at medical facilities that receive federal funding. In addition, 80 million workers at larger companies will be given a choice between getting vaccinated or submitting to weekly testing.
Without going into whether or not this is actually legal for the Biden administration to do or whether or not it will actually happen, there will surely be pushback from the exact kinds of extremists that Bush was referring to.
Going back to his speech, even though Bush apparently doesn't remember how things actually were following 9/11, the way that American society treated foreigners, especially Muslims, during that time (even still today) was horrible. Growing up during that period, I can say firsthand that things were always painted as a war between civilizations, especially on the basis of religion.
Also on rt.com
A newly declassified pre-9/11 report exposes Al-Qaeda 'sleeper' cells across US, so why was the intelligence not acted on?
"At a time when religious bigotry might have flowed freely, I saw Americans reject prejudice and embrace people of Muslim faith. That is the nation I know," Bush said, which could not have been more of a lie.
Following 9/11, Muslims were portrayed horribly in the media, hate crimes ballooned and the Bush administration literally murdered and displaced countless Muslims. This was not a coincidence and there's little doubt that all of this laid the foundation for the nativism embodied by former President Donald Trump.
At the same time, it wouldn't be fair to call Bush merely a precursor since key parts of the Republican ideology that Bush ascribes to – cuts to social safety nets, tax cuts for the wealthy, reducing ballot access, etc. – are all deeply misanthropic and positions shared by Trump and the far-right.
That is, despite some stylistic differences, Bush and the current iteration of the Republican Party are not actually that different. This probably explains why he said that he didn't have any "explanations or solutions" over America's current divisions – because any honest assessment would have certainly included a significant portion on his administration.
Think your friends would be interested? Share this story!
The statements, views and opinions expressed in this column are solely those of the author and do not necessarily represent those of RT.
You can share this story on social media: