As it ditches its leader, Japan grows ever more nationalistic and militaristic as it happily joins America's anti-China crusade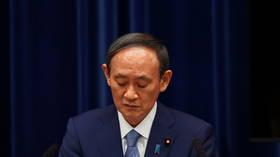 Yoshihide Suga's short tenure as prime minister may be over, but don't expect this to lead to any foreign policy changes. Tokyo will still be dancing to Washington's tune.
Following his disastrous rejection of public opinion in going against the sentiment to scrap the Olympics, and a surge in Covid-19 cases, Japanese Prime Minister Yoshihide Suga is to resign, stepping down as the Liberal Democratic Party's (LDP) leader at the end of this month. The hosting of the Olympics was an event designed for global prestige, but proved to be hugely controversial and unpopular amongst the Japanese public, and coincided with the Delta variant of Covid-19 causing cases to rise to record levels.
His stint is relatively short, having replaced Abe Shinzo following his resignation due to illness just a year ago. In a Western democracy, such a short tenure is perceived as a surprise, but bar the persistence of his predecessor (Abe was the country's longest-serving premier), it is in fact extremely common for Japan's dominant party to espouse a "revolving" door system of leaders, with many lasting only one or two years in office.
As a result, this is not as much of a game-changer as people might think, and no one should expect Tokyo's foreign policy, especially as regards China and the United States, to change drastically.
The regular change of leadership is a tactic the LDP regularly employs to keep itself in power almost perpetually, which is why the country's democracy is often ranked lower than that of its Western counterparts. Here is how and why this system operates.
When Japan surrendered to the United States following the end of World War II, 76 years ago last month, the way the situation was handled was far different from the experience of Germany. While the Nazi regime was held to account by the allies for its crimes against humanity and its ideology publicly disgraced, the emerging strategic environment in East Asia saw the United States decide to simply rehabilitate and rebrand Japan, as opposed to demolishing its legacy of empire and exposing its crimes against neighbouring countries, in particular, Korea and China.
Also on rt.com
Japan's Yoshihide Suga declines to run for reelection as ruling party chief, paving way for his resignation as prime minister
The contemporary Japanese state is not a new one, but rather a "regime" as we understand it; that is, its ruling classes and interests were not removed but simply reincorporated, under American terms of conditions, of course. A historically famous photo of Douglas MacArthur with Emperor Hirohito stands as a powerful testament of that era. It was designed to symbolically demonstrate to the public of Japan "who's in charge" now – you can keep your emperor, but understand that there's another authority above him.
The new Japan would be a democracy, but, nonetheless, it was for all intents and purposes a status quo regime, with the overseer being the United States. The conservative-led LDP would soon become its primary conduit of choice, and communist groups were relentlessly purged in the 1950s.
Against this backdrop, the LDP functions differently from how a "democratic ruling party" does in a conventional sense, in that it sustains an unmatched level of influence and power throughout all the institutions of Japanese society, and subsequently manipulates the agenda at will to sustain itself in power almost perpetually.
Since the 1950s, for all but two phases (1993-1998 and 2009-2012), the LDP has ruled Japan almost as a de facto one-party state, while the opposition has never found the political unity, strength or profile to consolidate a functional bipartisan system where two parties often share an elite consensus, as in other countries, or suffer from populist insurgencies. How could one party defy the conditions of democracy to stay in power so long?
The reason behind this is that the LDP, in tandem with its relationship with the US, has long been able to leverage the geopolitical position of Japan and manipulate a coalition into supporting it in ways others have not. This includes, as we are seeing with Suga, the constant "revolving door" system of prime ministers in the wake of unpopular decisions. How is it done? Largely through drumming up fear of either China or North Korea, or expressing disapproval towards South Korea; these tactics have been used at varying times to stir nationalist feelings, and provide constant sources of political theatre for the LDP to win public support for hardline and conservative policies.
This has become progressively easier recently, as US-China tensions have risen and Japan has been positioned as a more important interlocker in attempting to contain Beijing, making it more militaristic and nationalistic. One just has to look at Japan's expanding support for Taiwan, or its recent defence white paper, which dramatically brandished a cover image of a Samurai warrior.
As one important example of how this feeds into domestic politics, former prime minister Abe called a "snap parliamentary" election right in the middle of the North Korea crisis in 2017 with the pledge to be "tough" on Pyongyang and revise Japan's pacifist constitution, of which landed him with a supermajority. In this new environment, the LDP is more powerful than before.
Also on rt.com
Japan tops 1 million Covid-19 cases as Olympics fuels new infections
Its close partnership with the United States is crucial in this, showing us how a clientele relationship between the two feeds into domestic Japanese politics. The United States is the one that spared and rebranded the "Japanese regime" and transformed it into Washington's standard geopolitical flag bearer in Asia. Thus, as the LDP flexes its muscles on behalf of the US' strategic objectives, it subsequently reaps the domestic benefits of fear and antipathy towards neighbouring countries.
It is worth noting that the only times when the LDP did not have power, and the public of Japan opted for someone else, were in the 1990s and the first decade of the 2000s. Whilst part of this was due to the country's poor economic situation, it was also due to Japan's irrelevance in the "War on Terror" epoch of US foreign policy (focusing on the Middle East, not Asia), and more amicable ties with China.
However, since 2009, as relations with North Korea and China have subsequently worsened due to nuclear missile crises and confrontation between Washington and Beijing, the LDP establishment has tightened its grip over the country again, and its machine is back in the full swing of stoking anti-communism fervour, just as it did in the 1960s and 1970s respectively.
So as Suga departs, do not expect much to change within Tokyo. A new man or woman may soon be in charge, but the country's fundamental foreign policy themes under the LDP, involving confronting America's enemies and invoking domestic fear of them, will continue.
Think your friends would be interested? Share this story!
The statements, views and opinions expressed in this column are solely those of the author and do not necessarily represent those of RT.
You can share this story on social media: