Biden's promise to stop interfering in other countries is a lie. He'll double-down on the US's global drone assassination program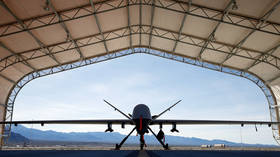 The idea that the US is weaning itself off endless wars and effecting regime changes is – sadly – not true. It will just keep doing it remotely, in continuing violation of international law.
US President Joe Biden on Tuesday night announced the end of the longest war in American history, the 20-year long occupation of Afghanistan. Praising his country's retreat from the so-called 'graveyard of empires' just days after a devastating bombing that left 13 US soldiers dead (and scores more Afghans, the majority of which may have been killed by US soldiers), Biden struck a defiant tone against critics.
He said that the "vital reason" why Washington invaded Afghanistan in the first place was to make sure the country can never be used again to launch an attack on the United States, referring to the 9/11 terrorist attacks that took place in 2001. According to Biden, the US succeeded in its mission a decade ago and should have left sooner.
Because of that, he made clear, he would not send another generation of Americans to fight in Afghanistan. Moreover, he said that the withdrawal from Afghanistan was the end of an era where America sought endless wars and regime change. In his words, an end to an era of military operations "to remake other countries."
According to Biden, the US needs to respond to the pressing threats of the present and no longer concern itself with the threats of the past. From now on, US operations will, first, have clear and achievable goals, and second, must stay focused on the national security interests of the United States.
Biden's speech was genuinely unprecedented. Unlike every administration before him, he narrowly defined the United States' interests in Afghanistan – and in general, with regards to foreign policy. This is important to note because the abstract justifications for the war meant that it could truly be prolonged into a costly forever-war, which it was on track to being before the withdrawal. This has been typical of virtually every modern American president.
Also on rt.com
Biden's approval rating slump following the Afghan withdrawal proves how dependent on the graces of the media his presidency is
There are obviously clear beneficiaries of forever-wars, namely the military contractors that comprise the so-called Military Industrial Complex. As reported by The Intercept just over two weeks ago, the country's top five defense stocks outperformed the S&P 500 index fund by 58 percent during the course of the war in Afghanistan.
As Jon Schwarz writes, "If you purchased $10,000 of stock evenly divided among America's top five defense contractors on September 18, 2001 — the day President George W. Bush signed the Authorization for Use of Military Force in response to the 9/11 terrorist attacks — and faithfully reinvested all dividends, it would now be worth $97,295."
This is a staggering return on investment for the wealthy, since they own the majority of stocks, but has not actually benefited the average American.
In his speech, Biden noted the cost of the war – $300 million dollars per day, according to Brown University, which clearly went nowhere except to arming a rejuvenated Taliban and lining the pockets of defense contractors and their investors – and enticed viewers to ponder where that money could have gone.
Taken together with Biden's other domestic spending legislation and his general legislative agenda, one might say that the US is actually pursuing some kind of much-needed national rejuvenation rather than a double-down on the failed global War on Terror.
But this conclusion would be premature since Biden also made clear that the US will maintain modern, global anti-terror capabilities. Which, in layman's terms, means that he will continue the global drone assassination program that was launched in the post-9/11 era.
These strikes have resulted in countless civilian casualties (called "collateral damage") and are undoubtedly a war crime, since, apart from killing innocent people, they also routinely violate countries' sovereignty. In his speech, Biden even praised the country's "defensive" drone bombing in Kabul on Sunday that killed 10 members of one family, including seven children.
Also on rt.com
Chris Hedges: The revengeful suffering orchestrated by the American empire on Afghans will be of Biblical proportions
It's expected that Biden will release a new anti-terror strategy before the 20th anniversary of those 2001 terrorist attacks, including new drone guidelines that will probably see these sorts of attacks turn into an even bigger tool of presidential war power.
For Biden, who has repeated that human rights will be a centerpiece of his foreign policy, it's hard to see how that could possibly be true if a global assassination program that violates the fundamental principles of international law will be its centerpiece. It's also hard to differentiate this "counter-terror" strategy from literal terrorism.
Think your friends would be interested? Share this story!
The statements, views and opinions expressed in this column are solely those of the author and do not necessarily represent those of RT.
You can share this story on social media: