Banning American conservatives from social media and not the Taliban proves we don't know who the bad guys are any more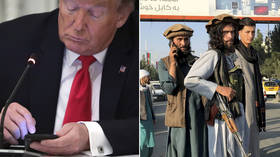 Where is the sense in banning Donald Trump from Twitter on the grounds of 'inciting violence' yet allowing the Taliban to carry on tweeting as they storm the presidential palace in Kabul?
In the years since 9/11 a political divide emerged within America that widened through the Obama years, continued to expand during Trump's tenure and, despite Biden's claims to the contrary, still grows today. We have seen the definitions of words constantly changed or applied in places that make no sense. Terms like racist, homophobe, and sexist are used as epithets for people that others don't agree with rather than for those who genuinely hate black people, gays or women. In the age of social media, it seems we can't even work out who the terrorists are, either.
As the Taliban retake Afghanistan you can go on Twitter and see one of their spokesmen discuss it with no fear of being censored. Let's think about this for a second. You have one of the most notorious terrorist groups in the world having free rein on social media while conservatives, like former president Donald Trump, and the accounts discussing election audits in several states across America are banned.
How far through the looking glass are we when it is more controversial to report on an election audit or be a conservative president of the United States than it is to support Sharia law, sex slavery and terrorism? Social media has fed this nonsense, thanks to the constant social media crackdowns by Twitter, Facebook, and YouTube, we don't really know who the threats are anymore. We have no real way as a culture of understanding what can actually damage lives, and what can't.
Also on rt.com
The US aim with Afghanistan was to cut its losses to focus on China, but the repercussions from its exit will make that impossible
Twitter specifically seems to work like an outrage engine, one person gets angry, and from there others follow along. If someone disagrees with the mob, a proverbial dog pile happens which exacerbates emotions that are already running high. A snowball turns into a giant avalanche of anger and panic, often over something that really wasn't nearly as big a deal as they want you to believe.
A lot of this has to do with the fact that Twitter will allow certain voices to talk utter nonsense on their platform for lengthy periods of time, but it is the people who call out that nonsense who end up getting banned. More often than not, it's conservatives who end up getting hammered. This is entirely because Twitter and its staff are part of the political left, and they don't actually believe in free speech, they are just out to help their own side.
As such, you're not allowed to talk about election audits. You can't say anything that is even close to questioning how the government handles the Covid-19 pandemic in the United States. You can't be Donald Trump. However, if you are a spokesperson for one of the deadliest terrorist organizations in the world then you're perfectly fine. Because we either don't know who the real bad guys are anymore, or just don't care as long as they aren't American Conservatives.
Think your friends would be interested? Share this story!
The statements, views and opinions expressed in this column are solely those of the author and do not necessarily represent those of RT.
You can share this story on social media: