As the Taliban closes in and the troops rush to avert disaster, the US is offering its citizens LOANS to flee Afghanistan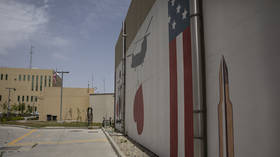 The US exit from Afghanistan is beginning to look more and more like 1975's humiliating fall of Saigon, but American citizens fleeing the country need not fret – Uncle Sam has offered them loans to buy plane tickets.
That's right, those decapitation-phobics who don't want to fall into Taliban hands can get a "repatriation" loan from the US State Department. The usual terms and conditions surely apply.
The US Embassy in Kabul dangled the offer last week, when it advised all American citizens in Afghanistan to leave immediately "using available commercial flight options." It provided a State Department email address for those who needed to apply for airfare financing. The loans were mentioned again when the embassy sent out a similar security alert on Thursday, offering essentially the same advice.
On both occasions, it made it clear that Americans shouldn't expect much more help: "Given the security conditions and reduced staffing, the embassy's ability to assist US citizens in Afghanistan is extremely limited, even within Kabul."
Among the dangers cited were "crime, terrorism, civil unrest, kidnapping, armed conflict, and Covid-19." Of course there's Covid-19. Be sure to get your shots and mask up. You wouldn't want to have a fever and shortness of breath when trying to outrun militants in a Toyota Hilux pickup with a mounted machine gun.
Also on rt.com
'We are afraid': Kabul residents uneasy as Taliban closes in on Afghan capital, slam Biden for withdrawing US troops
The embassy didn't specifically mention the Taliban, which has retaken much of the country in an overwhelming offensive since President Joe Biden announced the withdrawal of US forces in April. The American exit is scheduled to be completed by the end of this month, but with Afghan government forces being overrun and melting away, Kabul may fall into enemy hands before then. Taliban forces are reportedly just 50km (30 miles) away from the capital, having captured Kandahar and Logar province on Friday.
It would be a shame if the 20-year-long debacle – the longest war in US history – ended with American diplomats trying to get out under duress. US State Department officials are worried about just such a scenario, the New York Times reported, with some fearing a replay of Saigon embassy staffers having to be plucked from the rooftop by helicopter after North Vietnamese troops broke through the gates.
With such concerns in mind, the embassy in Kabul has already begun destroying sensitive documents and computer hard drives. The Pentagon is rushing 3,000 troops to Afghanistan to ensure a safe evacuation, and putting up to 4,000 members of the 82nd Airborne Division on standby in Kuwait in case more security help is needed.
Also on rt.com
US embassy in Afghanistan tells staff to DESTROY sensitive documents and computers, state-backed media reports
But American civilians need to make their way to the airport now – or when their State Department loan comes through. At least their fate isn't as precarious as that of the Afghan people who played a part in the US war and occupation efforts. As state-run US news outlet NPR reported on Friday, the future of the many Afghan nationals who work at the US embassy "was not immediately clear."
The Biden administration is scrambling to process visas for the interpreters who helped US and NATO troops – and who face death when the Taliban takes over – but many other people will be left behind and imperiled. Ronald Neumann, former US ambassador to Afghanistan, told NPR on Friday that America owes a "moral debt" to Afghans who "bought into our values . . . when we talk about democracy, and women's rights, and justice."
From Vietnam to Cambodia to Iraq to Syria and so on, a lot of people who bought into US values would probably love to cash in on the moral debts they're owed – at least, if they weren't dead. Washington is like the ultimate big brother, promising full protection and vowing that the neighborhood bullies won't be allowed to lay a finger on little brother. In Afghanistan's case, big brother went off and actually negotiated a deal with the bullies, without little brother being allowed to attend, then moved away to college without even informing his younger sibling that he'd have to fend for himself.
Also on rt.com
I recently worked in Kabul and weep for all my Afghan friends, who we're abandoning to their deaths. Here's why our mission failed
But perhaps those folks who've been rattled by the Taliban's blitzkrieg shouldn't worry about an orderly departure. Biden has assured Americans that the fall of Kabul won't be anything like the fall of Saigon. "There's going to be no circumstance where you see people being lifted off the roof of an embassy of the United States from Afghanistan," he told reporters last month.
Biden added that "in terms of capability," the Taliban isn't "remotely comparable" to the North Vietnamese forces that stormed the US embassy in Saigon. And yet, the Taliban was apparently capable enough that it couldn't be defeated in 20 years of fighting by the world's most well-funded military. Could it be that a president who hasn't figured out the Taliban's fierceness after two decades of senseless casualties might also be underestimating or downplaying the dangers associated with the withdrawal from Afghanistan?
US Representative Mike Rogers (R-Alabama) said it was Biden's lack of a proper plan that had led to the current turmoil, and predicted that "the worst [was] yet to come." He added, "We are watching President Biden's Saigon moment unfold before us."
That's not a happy thought for the Americans who still need to escape Afghanistan. Once their flights are safely out of reach of Taliban rocket-propelled grenades, they can think about getting back home – and making those loan payments.
Think your friends would be interested? Share this story!
The statements, views and opinions expressed in this column are solely those of the author and do not necessarily represent those of RT.
You can share this story on social media: