George Galloway: Do Britain and the US secretly want Julian Assange to commit suicide?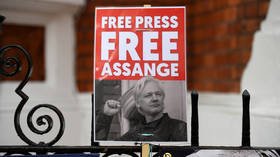 The recent shameful High Court ruling in London indicates that the only way Britain's most prominent political prisoner can prove he's a suicide risk is by actually taking his own life. Is that what the authorities are hoping?
The 21st century has provided many days of shame for Britain and yesterday was just another.
The High Court in London casually set aside a decision by one of its own judges – who'd heard every minute of the evidence – that Julian Assange, Britain's most prominent political prisoner, might commit suicide if extradited to the United States injustice system.
Also on rt.com
George Galloway: I'm happy my friend Julian isn't being sent to a US gulag. But this shameful episode is a huge stain on Britain
The Appeal Court decided that the main US appeal against the refusal of their extradition in October MAY now argue that the original judge was misled about the true mental health of Assange – who has been a prisoner effectively for a decade – and the US's lawyers need not be confined to arguing that their super-max penitentiaries are perfectly humane places really.
The bizarre argument of the Biden government's English counsel may be a unique non sequitur. Julian can't be a suicide risk, she argued, because he had "secretly fathered children" with his fiancée Stella Morris. What that even means is beyond me – in nearly 30 year as a parliamentarian, I've never heard such nonsense.
Doesn't every man father his children secretly? Do some men do it publicly?
Did she mean out of wedlock? How quaint. Are married fathers more likely to be suicide risks?
Or did she mean that he was a father at all? Are childless men more likely to be a suicide risk?
So mindless are these contentions, it's a wonder how anyone could take fees for arguing them, more wondrous that any judge could side with them. Most wondrous of all is that President Joe Biden, the tan-suited Democratic party animal of Martha's Vineyard, could commission them.
The long and the short of it is that it's more likely today that Assange will be extradited to the US than it was the day before yesterday. And certain that he will remain in the Devil's Island of Belmarsh Prison while the glacial course of events creeps on.
Perhaps the only way Assange can prove he's a suicide risk is by committing suicide. Come to think of it, maybe that's Joe Biden's big idea...
Think your friends would be interested? Share this story!
The statements, views and opinions expressed in this column are solely those of the author and do not necessarily represent those of RT.
You can share this story on social media: