Elderly shopowner is confronted by transgender councillor over his sign reading, 'If you're born with a d**k, you're not a chick'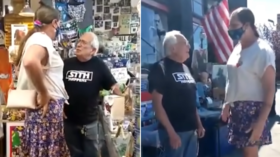 A video of the Vietnam vet telling Tiesa Meskis that 'men with pensises are not women' has gone viral. But now he's had to don a bulletproof jacket as trans activists threaten to torch his Star Wars memorabilia store.
The video of the altercation, in his shop in the town of Aberdeen, Washington, shows the transgender councilman (or woman, depending on your viewpoint), Tiesa Meskis, entering the premises to initiate a confrontation with the store owner over his sign: 'If you're born with a d**k, you're not a chick'.
The elderly owner, Don Sucher, appears in the video to be taking down the sign as Meskis approaches, claiming that he did so "to be nice." As it becomes clear that the councilman (wearing a dress and high heels) is there for an ideological confrontation, Sucher refuses to either apologize or relinquish his belief that "men with penises are not women."
He goes so far as to tell Meskis: "Nobody confronts you because, you know what, they're afraid they're going to hurt your feelings."
"Do you know how many people you have embarrassed at City Hall?...You're nuts. You're not a woman. You don't look like a woman, you don't act like a woman. Do you think there is one person that really thinks you are a chick?… Nobody confronts you, that's the problem."
Meskis eventually exits the store, but stands on the sidewalk, repeatedly chanting that "transgender women are women" and calling Sucher a bigot.
After the video went viral, Vietnam veteran Sucher, who is in his 70s, stuck to his guns and gave an interview saying that people who don't agree with him need not frequent his shop.
"I don't give a s*** about feelings anymore," he declared, "I went to Vietnam to fight for all this. Do you think I care about feelings? Absolutely not! I don't care what they do, but don't come in here and complain to me about stuff. I have free speech."
But does Sucher really have free speech? Since the confrontation, he has received threats that his shop will be 'torched' and at the weekend he took the precaution of donning a bulletproof jacket.
At one point during their altercation, Meskis says: "I'm living my life the way I want to live it."
Also on rt.com
It beggars belief that a trans YouTube star, arrested for allegedly raping his own mother, will be jailed with women inmates
But is Sucher allowed to live his life the way he wants to live it? Can he not disagree with an ideology and keep a sign in his own shop to that effect? Without intrusion and accusation and insistence that he must relinquish his beliefs before the ideology of transgenderism?
Who entered whose place of business contentiously, with all the confidence of a final arbiter in moral disagreement? A disagreement that began over a sign that, as Sucher himself says, "is actually true," but may well end in legal action and bankruptcy for an elderly gentleman who does not wish to participate in an extremely recent and contentious trend.
It is not at all unlikely, looking at past precedents, that Sucher may lose his business over his "controversial" opinions. An opinion that men in dresses, with male appendages, are NOT women. Right or wrong, rudely or politely, an opinion that was considered normal only a few short years ago.
Most people still do not realize, Sucher included, how much power these individuals have over them today. They have only to raise a complaint of 'victimization' (no matter if they are the ones forcing their worldview on others) and tremendous institutional muscle will be brought to bear in their support. That was indeed very likely the intent of the video from the moment Meskis stormed into the store; as Sucher says, he was "set up." Even in public opinion, there is a strong seemingly irreconcilable divide on these matters.
During their argument a passing woman can be seen stopping to join in chastising Sucher, saying, "I'm on her side." Protests have been staged outside the shop by transgender activists, and that is likely only the beginning. Gratifyingly, Sucher has discovered he is not alone: 400 supporters descended on his store at the weekend to defend him, outnumbering protesters.
It's unlikely to be enough to turn the powerful tide of trans activism, however. Sucher may be a military veteran, a business owner, and a man in his twilight years deserving dignity and consideration, but the nation he believes he grew up in and fought for is no longer there. Free speech was an important value to the old America, the one which has passed.
The transgender movement is not a passing fad. Powerful and money-rich forces are behind its promulgation across the West, and, sadly, the elderly get no exception or special treatment for not understanding the 'new morality'. There are no exceptions for a steamrolling dogma which has placed men into women's sports (even the Olympics); developed medical treatments for phantom PMS symptoms; and where there is scientific effort underway to deliver female-to-male womb transplants. The latter, according to the Journal of Obstetrics and Gynaecology, for "considerations of justice and equality." There is no consideration for the elderly, for Christians, for nuclear families, as these social changes occur; they are being left behind in a world which alters morally almost daily, without mercy.
If Sucher can weather this storm that has descended upon him, in this current American climate, he will be very fortunate indeed.
Like this story? Share it with a friend!
The statements, views and opinions expressed in this column are solely those of the author and do not necessarily represent those of RT.
You can share this story on social media: