HBO's new Obama doc is race-obsessed establishment pablum meant to distract from the nefarious nature of American governance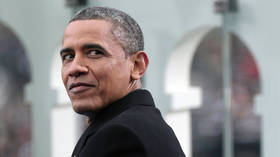 The dull and derivative docuseries chooses hagiography over history and style over substance as it whitewashes the sins of America's only black president.
Obama: In Pursuit of a More Perfect Union is the new three-part HBO documentary that sets out to chronicle Barack Obama's rise from obscurity to the highest office in the land.
The roughly five-hour series, which features no new interview with Obama but rather relies on archival footage and a plethora of sycophantic talking heads, premiered on HBO on August 3, and on HBO Max on August 4, the former president's 60th birthday. What do you get the man who has everything for his birthday? If you're director Peter W. Kunhardt, you give the gift of a shamelessly reverential, hagiographic documentary.
Obama: In Pursuit of a More Perfect Union is one of those insipid, paint-by-numbers, deferential documentaries that is steadfastly committed to never challenging either its subject or its audience, resulting in a banal viewing experience painfully devoid of insights.
Designed to do nothing but placate Obama true believers with some 'no-drama' nostalgia, the series is resolute in its decision to never give voice to any serious oppositional perspectives. Yes, there are a few talking heads, like the brilliant Cornel West, who delicately air disagreements, but even those are couched in solemn genuflection to Saint Obama.
Not once is someone who actually opposed Obama on principle interviewed or allowed to speak for themselves. The series uses this echo-chamber approach in order to appease its target audience of liberals who demand all contrarians and conflicting arguments be purged from their purview, banished forever for their heresy from the kingdom of those "on the right side of history."
Instead, the filmmakers choose to read minds and project racial animus onto those who fought Obama.
Disagree with Obamacare? Racist! Oppose the stimulus package? Racist!
Ironically, the hyper-racial lens through which the series examines Obama's meteoric rise and rule is less a monument to America as a racist nation than it is a testament to Obama's failure and shocking political irrelevance just five years after leaving office, as well as to the intellectual vacuity and lack of imagination on the part of elite establishment liberals.
In this way, the docuseries is the perfect revisionist modernization of the Obama myth in that it's addiction to hyper-racism causes it to be utterly blind to any other topic.
For instance, there isn't a single mention of Obama's prodigious use of the Espionage Act to prosecute whistleblowers, but there is an extended focus on black Harvard Professor Henry Louis Gates being mistakenly arrested by Cambridge police.
There's no mention of Obama's immigration policy which resulted in massive deportations and the routine placement of "kids in cages," but there is a focus on Trump's racist demagoguery and birtherism.
Obama's complicity in the death and suffering in Yemen, Libya and Syria is verboten, but there is ample time spent on Obama's love of basketball and his black-centric musical taste.
And of course, Obama's extra-judicial assassination of American teenager Abdulrahman al-Awlaki is memory-holed, but George Zimmerman's killing of teenager Trayvon Martin is highlighted.
Also on rt.com
Caitlin Johnstone: The US again bombs nations on the other side of the world in the name of 'self-defense'
This hyper-racial perspective not only allows the filmmakers to ignore Obama's egregious sins but to also roll out a cavalcade of kiss-ass clowns like Michael Eric Dyson, Ta-Nehisi Coates, Charlamagne tha God, Keegan Michael Key and Jelani Cobb (an executive producer on the series) to spout vapid and impotent inanities about how white supremacy is the DNA of America. The fact that voters, the vast majority of which were not black, overwhelmingly elected a black man to the presidency, not once but twice, would seem to refute that claim.
With its maniacal focus on style over substance, the HBO documentary fits perfectly into the usual establishment approach toward all things political.
Style is how Obama got elected, as his cool, thoughtful demeanor and eloquence were in stark contrast to Bush's cowboy buffoonery. In turn, Trump's reality TV/Wrestlemania shenanigans got him elected post no-drama Obama, and Biden's creepy grandpa routine got him elected because he contrasted Trump's erratic freneticism (speaking of which, Biden is shown in archival footage in the documentary but never speaks, no doubt because that would alert viewers to his steep decline since his halcyon VP days).
But regardless of which specific stylistic mask is worn and by which president, its objective is to cover the never-changing agenda of the American political establishment which is imperialism and militarism overseas and corporatism and fascism at home. No matter who or what party is in charge and no matter how they behave on the surface, that insidious reality will never be challenged or changed, and this is why Obama: In Pursuit of a More Perfect Union exists… to reinforce that duplicitous and distractionary style-over-substance paradigm.
Obama, the first black president, wasn't elected to change the substance of American policy, he was elected to distract from it, and this docuseries gives ample ammunition to the gullible and mindless to continue to focus on race and identity politics instead of on the voracious malignancy of US policy, most specifically the cancer of America's rigged-casino capitalism and the insatiable beast of the military/intelligence industrial complex.
In conclusion, if you're a "Hope and Change" sucker searching for a short-lived, rather vapid injection of Obama-era nostalgia, the HBO's documentary miniseries is definitely for you. But if you're more interested in cold, hard truths and unflinching insights about Obama, his presidency and America, then this is a five-hour waste of time.
Like this story? Share it with a friend!
The statements, views and opinions expressed in this column are solely those of the author and do not necessarily represent those of RT.
You can share this story on social media: