Scottish cultural establishment turns education into social engineering set to indoctrinate pupils with woke values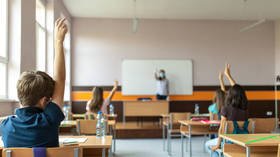 One of the most disturbing developments in British society is the speed with which the school curriculum has turned into a vehicle for promoting political objectives and changing children's values, attitudes and sensibilities.
When it comes to the politicisation of the curriculum, Scotland stands at the forefront of turning education into a form of mass social engineering.
New guidance issued by the General Teaching Council for Scotland (GTCS) asserts that teachers must commit to promoting "social justice, diversity and sustainability". It states that "Scotland's teachers help to embed sustainable and socially just practices in order to flourish as a nation".
Embedding "socially just practices" in the classroom is a euphemism for indoctrinating pupils with woke-related values.
Once upon a time, teachers were expected to be politically neutral and not play the role of advocates of a particular ideology. Today, the GTCS expects teachers to sign up to the same political outlook and work together to promote the official line.
On closer inspection it is evident that the political line advocated by the GTCS appears to come out of the Scottish National Party's playbook. The GTCS line to be followed states that:
"Engaged, reflective, empowered and skilled teachers and learners acknowledge Scotland's place in the world, our history, our differences and diversity, our unique natural environment, and our culture based on social justice".
The promotion of Scottish exceptionalism is based on reinventing this nation's history as a "culture based on social justice".
In effect the GTCS attempt to recast Scottish culture as one based on social justice means that the SNP's world view becomes the official doctrine of this nation's system of education. Presumably teachers, who are sceptical of the fiction that Scottish culture is based on social justice or who reject the woke ideals associated with social justice need to censor their view or leave the profession.
The GTCS document outlining what it expects of school-heads states unambiguously that "Headteachers – set clear standards in relation to enacting the principles of inclusion, sustainability, equality and social justice through the curriculum."
It is worth noting that social justice is one of those diffuse concepts that sound good but mean very little. The GTCS defines social justice as a view "that everyone deserves equal economic, political and social rights and opportunities now and in the future". As anyone with the slightest understanding of political theory knows, this is a statement that is designed to sound good but not convey any real meaning. As it happens the GTCS understands this point and warns that these "values can often be overlooked, become platitudes or 'hurrah' words".
Yet curriculum engineers rely on 'hurrah' words like diversity, equality and sustainability to promote what can best be described as a counter-cultural agenda. That is why the GTCS' long list of official values focused on the cultural politics of identity and highlights the importance of "protected characteristics" such as "(age, disability, gender reassignment, marriage and civil partnership, pregnancy and maternity, race, religion and belief, sex, sexual orientation) and intersectionality".
Also on rt.com
Let's scrap university, they're just teaching youngsters to be snowflakes. It's time they learnt a trade instead
Many observers who read the GTCS' anodyne references on social justice can draw the conclusion that there is little point in reacting to them. However, if you look closely it becomes evident that what's valued by the GTCS goes against the ethos of the Enlightenment and of modern democracy. What is really worrying about the GTCS's document, Standards For Headship, are the values that it leaves out!
Devoted to professional values, it does not mention tolerance. The words freedom and liberty are also conspicuously absent from its pages. And a statement devoted to praising "our culture based on social justice" somehow manages to ignore the value of democracy.
The failure to take seriously the foundational values of a modern enlightened society throws light on the kind of worldview envisaged by social justice professionals. In particular, the GTCS's indifference to the value of tolerance is not an accident. If it upheld this value it would not insist that all teachers sing from the same political hymn sheet. It would recognise the old-fashioned principal that asserted that schools should be impartial.
Hopefully there are still many Scottish teachers who recognise that they are educators rather than social engineers. And hopefully they realise that Scottish culture is founded on a rich mixture of historical experiences rather than on the banality of the rhetoric of social justice.
Think your friends would be interested? Share this story!
The statements, views and opinions expressed in this column are solely those of the author and do not necessarily represent those of RT.
You can share this story on social media: