Craig Murray's imprisonment is an exceptionally harsh punishment for a principled man who could have taken a much easier route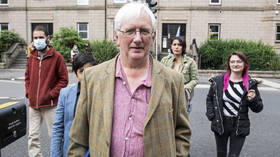 Incarcerating the former UK diplomat, human rights activist, and blogger Craig Murray for contempt of court is a disproportionate measure which could have grave repercussions for independent journalism.
Just 17 months ago, I shared a 'Free Julian Assange/Imperialism on Trial' platform with Craig Murray in London. Now Craig, like Julian, is 'in the nick'. How far-fetched that would have seemed back in February 2020! Then again, hasn't everything that's happened since early 2020 been rather far-fetched?
As it turned out, it wasn't Murray's defence of Julian Assange which got him into trouble, (or at least not directly), but certain blogs he wrote on the trial of former SNP leader Alex Salmond, who was accused of sexual assault. Murray was of the firm opinion that Salmond's trial was a political set-up. That he was the victim, like Assange, of a witch-hunt. So naturally, as a follower of Salmond, he wanted to try to do something about it. This resulted in Murray eventually being held in contempt of court over so-called 'jigsaw identification'. Namely that his posts, while not naming anyone, could lead someone to put together the pieces of the 'jigsaw' to identify the accusers in the trial. The irony is that while Salmond was acquitted, it's Murray who is now going to jail.
Also on rt.com
Former UK envoy Craig Murray seeks Supreme Court appeal after receiving 8-month sentence over his coverage of Alex Salmond trial
Perhaps his blog posts were unwise, even reckless. Ron McKay, a respected commentator and diarist of The Herald, thinks they were one-sided. Perhaps Murray should have been more aware of the risks, particularly knowing how much of a thorn he's been in the side of the powers-that-be ever since he was removed as UK ambassador to Uzbekistan over his opposition to egregious human rights abuses that the British government – for all its 'ethical' grandstanding – didn't seem at all concerned about.
But while no one denies that contempt of court is a serious offence, even if one were to decide that Murray was guilty as charged (and McKay believes no one would have been able to identify any witnesses from his blog posts), sentencing this 62-year-old with health problems to eight months in prison and separating him physically from his wife and children seems an unusually harsh, and some would say cruel, punishment.
Consider this: Craig Murray is the first person to be imprisoned in Scotland for media contempt for over 70 years. He is the first person to be imprisoned on the charge of 'jigsaw identification' in the UK – and, his team claim, the world.
His lawyers have also pointed out that these breaches, if held to have taken place, usually result in a sizeable fine or a suspended sentence. No one apart from Murray was charged with contempt in connection with the Salmond case, even though 81% of people in a poll who believe they had learned the identities, gave the mainstream media – and not Murray's blog – as their source.
Perhaps the most chilling part of the judgement was the assertion that Murray had to be treated differently because he was a 'journalist in new media' as opposed to working in the regulated 'mainstream'. This puts indie journos at a special risk which their mainstream counterparts would not be subject to.
Of course, the circulating claims that Murray has been targeted because of his political stance on other issues will be dismissed as 'conspiracy theory'. It would of course be very hard, if not impossible to prove. But what we can say is that his punishment, objectively speaking, is a most severe one. And now the man who probably did more than anyone else in Britain to campaign for the freedom of Julian Assange – arriving at the court first thing in the morning, visiting the WikiLeaks founder in his high-security jail, and doing everything he could to raise awareness of the case and the iniquities of it – is behind bars himself. His blog has finally been silenced.
The truly shocking jailing of Craig Murray means that journalists approved by the state are protected and those who challenge power - real journalism - are in grave danger. Read this:https://t.co/AUf9CILqeB

— John Pilger (@johnpilger) August 1, 2021
Looking back, it would have been so easy for Murray to have kept schtum in Tashkent all those years ago – had he done so, he'd probably still be a highly paid diplomat. It would have been so easy for Murray to have 'gone quiet' on Julian Assange, knowing what he would be letting himself in for, in terms of attacks and character assassination – to say nothing of being 'Crossed', by Philip Cross, on Wikipedia.
Also on rt.com
Former Scottish ambassador Craig Murray facing prison over reporting of defence case in Alex Salmond trial
It would have been so easy for Murray not to challenge the UK's neocon foreign policy, particularly in relation to the Middle East, again knowing of the vicious personal attacks that this brings upon one. It would have been so easy too not to question the 'official' UK government narrative on the Yulia and Sergei Skripal poisoning mystery. And finally, it would have been so easy for Murray to have blogged about something other than the highly controversial Alex Salmond case.
But Craig has never taken the easy route – if 'easy' means turning a blind eye to what he perceives to be an injustice. All along, this bravest of men, who has never played it safe, has done what he believes is right. For that he has paid a very high price indeed, especially given the concerns over what a prison sentence will do to his precarious health. Meanwhile, the men who started the wars he opposed, and who told us lies to 'sell' those wars, remain free.
Is that just? I'll leave you to decide.
Think your friends would be interested? Share this story!
The statements, views and opinions expressed in this column are solely those of the author and do not necessarily represent those of RT.
You can share this story on social media: