Jodie Whittaker's torrid term in the TARDIS proves that, if Doctor Who hopes to have one, the future isn't female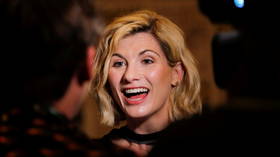 Woke showrunner Chris Chibnall cast the first female Doctor Who to 'fix' the show. But now they're abandoning the franchise after the fans abandoned them. If anyone has a time machine, can they go back and stop them taking over?
If you thought that Dr. Fauci was the most hated Doctor in the world, you would be mistaken. That title belongs to Jodie Whittaker and her portrayal of the thirteenth incarnation of Doctor Who.
To Whovians around the globe, when an actor announces they are stepping down from the iconic role of everyone's favorite Time Lord, it's a bittersweet moment. Every Doctor has had his loyal fans who are sad to see him go. But, in the case of Whittaker, who announced she'd be stepping down from the role on Thursday, the overwhelming reaction among the Doctor Who fanbase was one of celebration.
The Thirteenth Doctor has faced overwhelming criticism during her run – and, no, it's not because she's a woman. It's because the actor playing her and the writers handling the character cared more about preachy gender politics than "timey-wimey" (God, I miss David Tennant) space adventures.
Jodie Whittaker came to the role with great fanfare, lauded by numerous journalists (most of whom had never seen an episode of Doctor Who in their lives) as a feminist icon for being the first "Female Doctor." So, the pressure from the SJW elite was on, as Whitaker took over for Peter Capaldi and new showrunner Chris Chibnall took over for Steven Moffat.
Fan reaction was decidedly mixed when Chibnall announced he'd be casting his collaborator from his previous hit series Broadchurch as a gender-swapped Doctor Who. There were, of course, fans who were concerned it was a casting stunt for the sake of "feminism" and didn't make sense within the context of the broader Doctor Who mythology, which had been built up since 1963. After all, Doctor Who had always been a man. Thus, the chorus of "misogyny" began to be sung by the "woke" journalists and Twitterati as they circled the wagons around Whittaker. And this "misogyny" excuse has been the go-to attack against anyone who dare criticize Whittaker or Chibnall ever since.
Also on rt.com
If Prince Harry is getting £18m for four books, I'll happily ghostwrite them. I'd even make him seem interesting
But the vast majority of Doctor Who fans feel that a female Doctor could have been awesome and accepted by the fanbase at large, had Chibnall and Whittaker not done everything in their power to alienate the fanbase.
The first inkling that something was wrong was in Whittaker's first Comic Con interview after being cast. She said she was not a science fiction fan and had only seen a few of David Tennant's episodes because he was a friend from Broadchurch. Unfortunately, rather than crafting a unique take on the character, she essentially resorted to doing a poor imitation of Tennant's Doctor. Whittaker had also never worked on something as demanding as a sci-fi lead and had a young child when she was cast, forcing the production to shorten the show's seasons and put year-long breaks in-between.
And, while Whittaker got a lot of flak for her portrayal of the Doctor, most fans agree she is a fine actress, just not right for the role. But that's not her fault. That error lies solely at the feet of showrunner Chris Chibnall.
Chibnall made numerous decisions that seemed to work against the show being a success. He famously declared "no classic villains" would be in the first season, but then didn't replace them with anything better. In fact, the big recurring bad guy is T'zim-Sha, a blue man that puts human teeth in his face (no joke). If he had wanted to keep classic fans tuning in, Chibnall needed to use classic references to make the show the most "Doctor Who" it could be, to appease long-time viewers enough so they would look past the jarring gender change – something he specifically did not do.
Chibnall also got rid of the writers from the previous two showrunners – writers who had successfully revitalized the series with numerous different actors playing the iconic role. He then proceeded to replace them by hiring writers based on what the social message of the week was. Yes, Doctor Who has always had "social messaging" in its DNA, but the difference was it had been done by people who understood good storytelling. The new Who writing room was filled with people from melodramas who didn't understand how to use science fiction to get their messaging out without it feeling preachy or forced.
A perfect example is episode three of season 13, entitled "Rosa." It is an episode based around the historical figure Rosa Parks. The episode received huge critical praise from the media, but when you ignore the politics and judge the episode based on its plot, the whole thing falls apart. A mass murderer from the 52nd century escapes prison and realizes that if desegregation never happened, he would have "white privilege" and not have gone to prison. So he travels back in time to eliminate Rosa Parks, but he has had a chip put in his head to prevent him from killing, so he gives the bus driver a day off so the bus where Rosa Parks famously refused to give up her seat would not run that day.
That's the plot of the episode. No joke.
Also on rt.com
He-Man and the Masters of the Wokeverse: How Netflix's agenda-driven programming is causing customers to tune out
The idea that at no other point in her life, Rosa Parks would stand up for her rights and that no other black person would do so all the way through to the 52nd century is absurd and an insult not only to Rosa Parks, but to the whole human race. The notion that "white privilege" still exists 3,100 years (in a world where humanity has presumably encountered alien life) from now simply boggles the mind.
But probably the most egregious sin against Doctor Who fans comes from the episode "The Timeless Children." This is a storyline where Chibnall makes the Doctor not a Time Lord, but more of a "Time Jesus," essentially a god reborn into a mortal body. But Chibnall took it one step further to show not only was the Doctor originally born a woman, but was, in fact, many women before her mind was erased and she was made into the first male Doctor from the 1960s (played by William Hartnell).
This episode breaks so much established cannon, both of new and classic Who, that it actually caused many Who fans to abandon the series entirely. Once again, Chibnall looks to be taking inspiration from what didn't work before, because the thirteenth season will reportedly be a single story instead of an episodic season - something not done since the sixth Doctor, which caused the ratings to plummet.
But Chibnall is no stranger to plummeting ratings. Under his stewardship, the Doctor Who series has seen its worse ratings in 31 years. The numbers for Doctor Who have gone down consistently with each new episode under Chibnall's run, with the series losing nearly one million viewers since the debut episode of season 12. And the audience rating for the show continues to tank, with the last season sitting at an abysmal 16% on Rotten Tomatoes. Reasons cited for the show's continued decline include bad writing, poor acting, extended hiatuses, alienation of long-time fans, an attempt to change the show's target audience, a blatant disregard for established cannon, and it's preachy "woke" approach to the beloved franchise.
So, short of going back in time and preventing Whittaker and Chibnall from ever getting involved in the series to begin with, the two stepping down from Doctor Who after just three seasons is the best fans can hope for.
Let's just pray they're not replaced by something worse.
Think your friends would be interested? Share this story!
The statements, views and opinions expressed in this column are solely those of the author and do not necessarily represent those of RT.
You can share this story on social media: