With US cops spooked by George Floyd-era backlash, an app is paying the poor to police themselves – at a fraction of the cost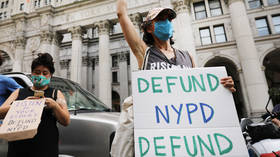 'Little brother' surveillance app Citizen, formerly known as Vigilante, is paying users as much as $250 per day to film and comment on crimes in LA and New York. It's a lot cheaper than the police they might replace.
Citizen has reached out to users willing to take their snitching professional, posting an ad on JournalismJobs.com (since removed) for "full-time field team members" willing to be "on call" for 4-5 days a week, 8-10 hours per day, to film ill-defined "events." They're only hiring in Los Angeles and New York at the moment – for the princely salary of $25/hour – but promise "other top 10 markets will be added soon." The ad is otherwise (perhaps deliberately) quite vague, not even mentioning the app's name beyond "a tech company with user-generated content".
The "job" is ideal for the unemployed and underemployed, as one need only be "on call" the days one works, and according to the posting, one might be called to only a single "event" on any given day. As Citizen describes it, they'll "never ask you to go to an actively dangerous location." But it's easy enough for situations to escalate, particularly when "quick on their feet" – a must-have trait, according to Citizen – individuals show up and start pointing their phone in agitated people's faces (interviews with witnesses/bystanders and any available police are a must, the posting says). Already, Citizen's paid "reporters" have been sent to scenes of reported gunshots in the Bronx as well as a "man brandishing a sword" in LA.
Also on rt.com
Snowden skewers Big Tech, 'amoral' capital firms for enabling 'Insecurity Industry' & calls for urgent action before it's too late
Citizen reports tend to focus disproportionately on the homeless – as "quality of life violations" who stay in one place for a long time, they're the easiest "crime" to spot, albeit a mostly harmless one – and a former employee told Vice's Motherboard that "a portion of the app's user base is 'insanely racist'", perfect for the kind of "reporters" Citizen needs. After all, these guys aren't going after white collar crimes – employees and the public get paid per "incident" created, which incentivizes goosing the perception of crime by criminalizing "suspicious" behavior, which encourages more people to download Citizen – because there's crime everywhere.
It's no secret that crime in cities like New York and Los Angeles is really going up, whether one blames incompetent government, incompetent policing, a collapsing economy, or (more likely) a combination of the three. Violent crime is soaring nationwide, with gun violence especially high – a statistic Democrats have embraced as a call to ban guns, even though gun crime is worst in cities like Chicago where firearms are already effectively illegal.
Even shoplifting is taking off, thanks to cities like San Francisco effectively decriminalizing the theft of anything under $950. Any municipality that does this is essentially rolling out the red carpet for apps like Citizen, even though attempting to interfere or even report on a mass-shoplifting in progress is all but guaranteed to get the app's cub-reporters-cum-vigilantes' heads split open.However, this is likely only the beginning for the app. Backed by police state fanboy and billionaire hedge funder Peter Thiel, the company has survived an initial botched rollout as "Vigilante", founder Andrew Frame's live on-air misidentification of a man he blamed for a wildfire – triggering an hours-long manhunt with a $30,000 bounty which could have easily led to the man's death – and fallout over the ominous "private patrol" Citizen vans that sparked rumors it was launching a private security force.
Also on rt.com
As Chicagoans keep getting shot, mayor Lightfoot doubles down on racist media policy of talking only to non-white reporters
Thiel clearly sees potential for big money in it, and it's not hard to understand why. Citizen also preys on the fear its "reporters" help generate, selling a service called "Protect" in which the user can livestream their phone's camera and location in return for an instantaneous pingback on whether there's an emergency response going on there – a pricey privilege for which they pay $19.99 per month. In the best of all possible worlds, they're selling "Protect" to the same worker-snitches they're paying $25 an hour to create the incoming stream of fear-porn. City cops, already undergoing something of an identity crisis in the wake of the George Floyd riots and Defund the Police movement, have had enough of policing the poor, minorities, and rich-kid rioters who get released the day after their arrest, unsure if their bosses still want them cracking heads and juicing stats or if they're supposed to become social workers (or at least care about the people they too often "protect and serve" into a pulp).
They're only too happy to abandon poor communities to the likes of Citizen's reporter-snitches. And calling them "reporters" opens up another financial avenue, as even the sloppiest video report can be branded and sold as Citizen "News" when "real" journalists are either too scared or too thinly spread to come to certain neighborhoods.
The last time New York faced a major crime wave, in the 1970s, the city was effectively broke and couldn't afford services like adequate policing. It's somewhat ironic, then, that the Republican candidate for mayor this year will be Curtis Sliwa, whose Guardian Angels volunteer "safety patrols" are credited by some – especially Sliwa, his own biggest fan – with helping turn things around by deterring muggings and attacks on the subways. The Guardian Angels weren't paid for their services, though – and this time, New York can certainly afford to pay for cops. They just aren't sure they want to. And if the crime statistics are any indication, the cops don't want to be there either. Into the void left by Big Brother's right hand come a million little brothers, each acting as his eyes and ears. It doesn't take much money to turn communities already torn apart by Covid-19 and (other) political divisions into cesspits of backbiting snitches, especially when many of their members are only an eviction moratorium away from homelessness. The gig economy, via Citizen, might just be the straw that breaks urban America's back.
Like this story? Share it with a friend!
The statements, views and opinions expressed in this column are solely those of the author and do not necessarily represent those of RT.
You can share this story on social media: