Wayne Dupree: I used to patriotically support every American athlete at the Olympics, now I actively hope they lose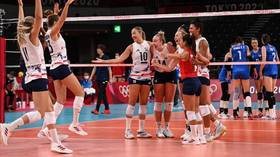 The smug self-entitlement, the woke, anti-American activism, and the hypocrisy of today's millionaire sports men and women makes me ashamed. It's time to dump those who disrespect our flag and are unrepresentative of our country.
When I was a kid watching the Olympics, if one of our athletes or teams lost to the Soviet Union or any other country, it annoyed me, patriotically. There was a strong sense of being represented by these American athletes. Now, I feel completely detached.
I never thought that I would ever root against an American team or athlete in international play because of my patriotic upbringing. But since today's athletes in all sports have decided that anti-American protests during or before play or on the podium afterwards will be the norm now, they don't represent me anymore. In fact, it feels a little good inside to see these guys lose.
The pro-leagues and athletes have achieved the impossible. They managed to turn fans who would watch in big numbers for the USA in a tiddlywinks match to have them root against their own country. This is just one consequence of the radical Left's imprint on our society.
Here's something to ponder. Don't you find it shameful that your favorite athletes protest at their games for human rights or for Black Lives Matter? But still, they completely ignore the use of slave labor (including children) to produce the sneakers they get paid millions of $$$ to endorse and wear?
It is somewhat sad that I chuckle when the women's soccer team gets smoked, or the men's basketball team loses, and I will probably do the same if some other lavishly-sponsored athletes fall short. As I said earlier, this would not have been the case a few years ago. They have taken the spirit out of our national pride in our athletes and their ability to compete on the world stage.
Also on rt.com
'Leftist' ESPN columnist jeered after claiming US flag-waving at Olympics reminds him of 'rise of white nationalism'
As for Team USA Basketball, which lost to France last weekend, their first loss in competitive play since 2004, this loss was not a shock: Not only does France have several excellent NBA players on their team, but the days when the US team could sleepwalk through the Olympics and win by 70 points are long over. This isn't the '90s Dream Team of transcendent players; it's a collection of annoyingly woke 'superstars' who don't play as a team and are too lazy to put in a defensive effort.
I think the game now played in the NBA and, unfortunately, increasingly at college and high school level, makes it hard for today's players to compete against the international teams. Our players are playing for exposure, endorsements, and personal gain. In contrast, players abroad still retain the elements of patriotism, team play, and effort that have gone by the wayside in much of our country.
Sad, but I anticipated this, and, I am sorry to say, don't feel bad about it since it is a self-inflicted outcome. I think my perspective is shared by many in our country.
Politics is more on display than sportsmanship, and it disgusts me. All of this can be traced back to socialism infiltrating our schools and sports coverage on television. I haven't watched one second of the Olympics on television, and won't be, and I was a track and field athlete in high school and college.
Too much activism, too much being a victim, too much playing the race card, too much individualism, not enough basketball, not enough team, not enough effort, not enough representing the country = loss. The team is making a statement alright, but their arrogance, privilege, and entitlement keep them from seeing the true message they are sending.
In the real world, if you are a 'representative' for a company, business, or corporation, your actions are a direct reflection on those who put you in that position. Let's start holding our sporting representatives responsible for their actions. Find suitable replacements and 'fire' those that disrespect the flag & the country.
Also on rt.com
'She's a person not a strategy': Biles fans support gymnastics star, point finger at 'pressure' after withdrawal from Tokyo final
It pains me to say this, but I am not the only one that feels this way. Millions would agree that it would be good for Team USA men's and women's basketball not to make the podium. Throw in the women's soccer team as well; we're tired of their whining. They've achieved more in life in the USA than they would have anywhere else on the planet, yet they are still apparently 'oppressed'. The USA is the greatest country to exist. No country's history is perfect.
I'm an American, and I love my country, but this has been the first time that I have rooted against an American team. Take politics out of sports, and I can return to being a fan. Until then, I hope they lose.
Think your friends would be interested? Share this story!
The statements, views and opinions expressed in this column are solely those of the author and do not necessarily represent those of RT.
You can share this story on social media: