China's hammer blow to private education shows it will do whatever it takes to meet its goals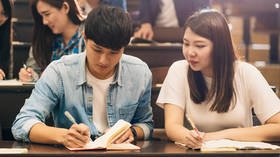 Perceived as promoting inequality and a hindrance to birth rates, tutoring in China has suddenly been transformed into a non-profit industry. It's a ruthless reminder that Xi Jinping will always put the needs of society first.
In a spectacular display of government authority, China has, with the stroke of a pen, demolished its $120-billion private education industry by forcing it to reform into a non-profit initiative. The move has cost at least one billionaire his fortune.
It follows a number of crackdowns waged by Beijing against various sectors of the economy which were deemed to contravene the national interest. The ruthlessness of such sudden decision-making has undoubtedly shocked Western observers and capitalist advocates, yet its purpose appears to be twofold.
As highlighted by Reuters, Beijing is dismantling a sector which is not only exacerbating the inequality of education among rich and poor, but is also increasingly perceived as an obstacle to the country's fertility rates. So now the hammer has come down on it as a social disruption. It shows that Beijing is prepared to do whatever it takes to meet its national goals, and is another example of how the Chinese Communist Party's authority has stiffened against the creeping liberalization which the West once welcomed.
Education is of exceptional importance in east Asian societies, and is often considered a determining factor in a family's status. Parents invest heavily in their children's future, and as a result the systems in these countries often turn out to be extremely competitive, resulting in an intense commitment towards extra-curricular and out-of-school private study.
Also on rt.com
Size matters in geopolitics, so the West is excited China's population growth is ending. But here's how Beijing will solve it
This has sparked the development of a huge private education and tutoring sector, with parents investing vast amounts of money to ensure that their children can be among the very best. It is admirable yet strenuous, and it inevitably has a knock-on effect on fertility rates, as each child effectively becomes a massive investment.
The example of neighbouring South Korea, which is fully developed, illustrates how in a capitalist society, the zealous over-competitiveness of the education system is having negative effects on society. High-school-age children typically go to school, only to attend private 'Hagwon' classes afterwards, which often offer miserable working conditions for the teachers involved.
As a country that is developing fast, China has increasingly been heading in the same direction. Despite being a communist state, this has created a growing urban-rural divide, where the wealthy children of cities such as Shanghai are able to afford these educational boosters, but the poorer children of the provinces are left behind.
This is an obstacle for future growth. Beijing also now sees this arrangement as dragging down its birth rate, which has become a national priority. A new white paper called for extensive reforms to enable people to be able to afford more children, including in education and healthcare.
As a result, Beijing has clamped down hard on this sector by instantaneously transforming it into a non-profit, sending shares plunging. The goal is not to end tutoring, but to make it more affordable and accessible to all, so the vices of inequality and capitalism cannot strangle society. It's a stark reminder that although China embraces market economics, it is nonetheless still a communist – state and under Xi Jinping, it is in many ways hardening its resolve to be so.
Also on rt.com
Xi Jinping has made it very clear: The days of the West bullying China are gone for good
And this is, of course, precisely why the West does not like Xi. The CPC chairman has reversed the trajectory of liberalisation in society, which Western observers once hoped would see China 'evolve' into a democracy. Instead, Xi has centralized and consolidated CPC rule.
His strategy is not so much tyranny, as has been caricatured, but based on an increasing belief that if China's problems are to be overcome, the political will invested into it needs to more resolute. The education saga helps explain why. If the private education system was simply allowed to spiral out of control as a capitalist initiative – which is acceptable from a Western point of view – it would become an obstacle for the country's other socio-economic goals and development.
Increasingly, we see this kind of ruthlessness shape Xi's leadership of the country – such as at the start of the pandemic, when he imposed a lockdown in Wuhan, which was condemned by the West at the time, yet ultimately paid off. Although the uncompromising nature of the Xi era has put China on a collision course with the West, it nonetheless may be what the country truly needs to move forward. Many of his actions are arguably 'necessary evils' in the pursuit of a longer strategy, even if one believes they are morally troubling or even unacceptable.
The South Korean model of education is a warning sign of what can happen if an over-competitive educational culture is superseded by the demands of profit. Xi has just made sure this will not happen in China. It shows how the state is continuing to dominate Chinese society and drive forward its vision for the future, even if it means culling billionaires along that road.
Like this story? Share it with a friend!
The statements, views and opinions expressed in this column are solely those of the author and do not necessarily represent those of RT.
You can share this story on social media: