Can a charismatic black libertarian radio show host be the man who wins California back for the Republicans?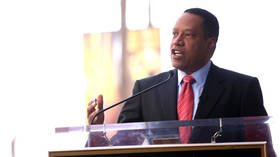 Conservative broadcaster Larry Elder has announced his bid for governor of California. Although he will be an underdog, he has a number of natural advantages that could serve him well in the battle against Gavin Newsom.
Larry Elder has been in broadcasting since 1988, and has proven a mainstay in libertarian and conservative circles because of both his staunch adherence to his philosophy and his no-nonsense approach to discussion.
This has gained him quite a following over the years, and respect from a great many people. Given that so many people of that political alignment tend to stay in broadcasting, I was genuinely shocked to see that he has decided to run for governor of California on the suggestion of talk show host Dennis Prager.
Now, obviously the current governor of California, Gavin Newsom, is incredibly unpopular, as evidenced by the recall against him. However, California is a massive Democratic hotbed which voted blue in big numbers in 2020. It feels like it would be very difficult for any Republican to rally the troops and take the state back to being as red as it was in the days of Ronald Reagan.
But here's the thing: I really do believe that Larry Elder has a chance of victory even though the odds are against him. It's going to be an incredibly tough battle, and there will have to be some hard punches thrown from Elder to Governor Newsom. But it's a winnable one. Essentially, we're looking at a sort of political Rocky-style fight where there will be quite a few people across the country rooting for the underdog to take the title.
The first way to victory for Elder is to win over the minority voters. For a very long time, it has been a focus of his to show exactly why the political left is bad for people of color. Obviously it's a subject that is close to home for him, being a black man who worked his way up to a prestigious law firm and then on to a celebrated broadcasting career. He is proof positive that a black man can be incredibly successful in the United States and doesn't have to feel the need to toe the Democrat Party line.
Also on rt.com
Love him or hate him, Donald Trump is the one maverick who can free Americans from the Big Tech gulag
He's already begun to discuss the very issues that would help minorities within California. Specifically, he has homed in on education and school choice, which are obviously priorities for many people. The ability to send their children to a school that they aren't relegated to by district would work well for many in low-income neighborhoods. And of course, the optics of the educated black man pointing the finger at the hypocritical white man as black literacy rates continue to stumble are compelling. Newsom really has no answer to that.
The second advantage that Elder is going to have is in the debating circle, where his 'take no prisoners' attitude – perfected over his broadcasting career – will serve him well. He will be more than happy to challenge preconceived notions if he knows that they're complete nonsense. Whether it's on economics, the unions, or systemic racism, I very much doubt Newsom will be able to compete with him. Just like Rocky, Elder will likely hit him hard from angles he's not expecting.

The key question is whether or not Elder can inspire a big turnout. Although on the decline, a great number of Californians still identify as independent voters. And so party affiliation is obviously not going to be enough. He's going to have to make the argument that he really is the best choice to run that state. I believe he can do this, because he is both intelligent enough to understand and navigate the correct course. It's going to be fascinating seeing how his strategies evolve against Newsom, and I do hope he wins – because one thing that is abundantly clear is that California desperately needs good leadership.
Think your friends would be interested? Share this story!
The statements, views and opinions expressed in this column are solely those of the author and do not necessarily represent those of RT.
You can share this story on social media: