Brussels' new climate plan will cause job losses and mass protests, and might even bring down the EU itself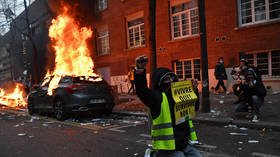 The European Union's ambitious new proposals to slash emissions are undeliverable. They will cause a lot of pain for poor people across the bloc, prompting mass dissent and even calling into question the future of the EU.
When you're in a hole, you generally stop digging. But that's not the case for the European Union; it just keeps on digging deeper and deeper.
Last night, the EU unveiled its blueprint for drastically cutting carbon emissions over the next decade. The plan, which was unveiled by Ursula von der Leyen, the European Commission president, is to slash emissions by a massive 31% by 2030. The EU believes that doing this will help ensure the bloc is carbon neutral by 2050.
Before it is implemented, this ambitious plan has to be ratified by the European Parliament and the 27 member states. Having been a member of the European Parliament's Environment Committee, I can guarantee that the scheme will be approved with great enthusiasm. However, I can see some of the member states taking issue with the ambitious targets, as domestic politicians will have to deal with the consequences.
Of course, the EU's plan is not enough for Greta Thunberg, but then again nothing ever is. She said that unless the EU "tears up" its targets, "the world will not stand a chance of staying below 1.5C of global heating." Au contraire, dear Greta. I would argue that the targets are way too ambitious and are impossible to meet.
Between 1991 and 2019, the EU cut its carbon emissions by 24%; now it aims to slash them by another 31% in just nine years. I'm sorry, but this is 'for the birds', as they say. One of the golden rules in politics is to under-promise and over-perform. The EU is doing the opposite here, and is making promises it has no chance of keeping. I predict it will all end in tears.
Captains of industry have already voiced their concerns. Airlines, for example, which will face a higher tax on fuel, have already expressed their reservations, with Willie Walsh, head of the International Air Transport Association, warning it does not need "punitive measures like taxes to motivate change". You can be sure that the cost will be passed on to the consumer and holidays will become more expensive, meaning fewer people will travel. I can't see this going down well with either holidaymakers or those who work in the industry, many of whom will lose their jobs.
Even the EU's climate change czar Frans Timmermans stated that "we're going to ask a lot of our citizens ... but we do it for a good cause." I've seen Timmermans up close, and he is a wily politician; he knows that this plan will result in great economic upheaval. He therefore stated that the plan "must be fair", or "the resistance will be massive". Deep down, he knows what's coming.
Also on rt.com
This G7 Summit will be a time for sensible proposals on Covid-19, and nonsensical, virtue signalling schemes for climate change
Another result of this climate plan will be that consumer prices will rise, and the people it will hurt the most are the poor, as it always is with green taxes. Energy bills will go up and people will have to choose between heating and eating. This will be an acute problem for the EU member states in Eastern Europe, which are poorer and generally still dependent on coal.
The price of petrol and diesel will also rise, and we have all seen where this led to in France with the Yellow Vest Movement. As a result of the EU's climate targets, we could see Europe-wide insurgent Yellow Vest campaigns, which will dwarf what happened in France. They will have the potential of bringing down governments – and for the EU, this could be the straw that breaks the camel's back.
We must also take into account that the EU's plan calls for a carbon border tariff, requiring manufacturers from outside the EU to pay more for importing materials such as steel and concrete. It has the potential of triggering a tariff war with the United States and China, and if this were to happen, job losses in the industries affected would be inevitable. This would be a disaster for a number of member states, particularly Spain and Greece, where unemployment is already running at exorbitant levels.
These climate proposals are also a nightmare for pro-EU politicians contesting elections in the near future. They are particularly problematic for Emmanuel Macron, who faces a presidential election next year. If he backs the scheme, as he surely will, and Marine Le Pen denounces it, she will receive a bounce in the polls. Indeed, it has the potential of catapulting her nearer to the presidency and Macron out of the Elysée Palace.
It's not hyperbole when I say that this scheme could be the beginning of the end for the EU. When energy and fuel prices rise and job losses come, as they inevitably will, national politicians will blame Brussels, and, in this case, they will be right to do so.
I guarantee that making poor people poorer will serve only to make the EU even more unpopular than it is at present. The irony in all this is that the EU thinks that what it is doing is for the greater good – or should I say, the Greta good. Instead, it could well be obliviously marching to its own demise.
Like this story? Share it with a friend!
The statements, views and opinions expressed in this column are solely those of the author and do not necessarily represent those of RT.
You can share this story on social media: