Hunter Biden's pricey jump into the art world raises yet more questions about the president's son but the media still doesn't care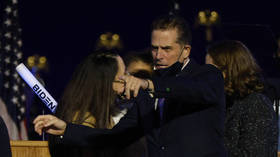 The White House is helping the first son find an 'ethical' way into his latest bizarre career move, a foray into painting. This kind of thing would normally be roundly questioned and mocked by pundits – but he's a Democrat.
Throughout the 2020 presidential election, we were informed – sometimes rather aggressively – by Joe Biden and his allies that there was no corruption when it came to his controversial son Hunter, who has faced numerous accusations of using his father's previous position as vice president to influence foreign business dealings.
Accusations and stories around Hunter and his relationship to his father's positions have continued, mostly among conservatives, but the mainstream media and obedient liberal pundits and celebrities have moved on with relative ease, accepting their president's explanations and covering their nose against anymore embarrassing – and possibly illegal – content first leaked by the New York Post and coming out of an abandoned laptop allegedly belonging to Hunter.
Despite there apparently being no wrongdoing though, the White House has reportedly decided to step in on Hunter's upcoming art show in the fall at a New York gallery to make it appear more 'ethical.'
According to a Washington Post report citing sources familiar with the deal, the buyers of Hunter's paintings will be kept confidential, even from the 'artist' himself. Questionable bids, like ones above set asking prices, will also be denied by the actual dealer in charge of sales. All this is being done to avoid accusations of Hunter selling his art to people wanting influence with his father. Weird that they're even worried about accusations when the previous ones were apparently completely false and off-base…
Imagine for a moment if Donald Trump Jr. had announced to the world, after facing months of accusations of corruption, that he was becoming a painter and would be selling off work for anywhere from $75,000 to $500,000.
Also on rt.com
Obama's 'We the People' Netflix series aims to teach kids about the promise of America… the promise he failed to keep
Even the smell of corruption on a politician like Trump would create around-the-clock news, inspire numerous stories citing 'anonymous sources,' and lead to liberal pundits bursting blood vessels on MSNBC and CNN.
Donald Trump Jr. even faced scrutiny when he published his book, 'Triggered,' in 2019 and critics questioned Republican Party events purchasing thousands of copies. If Trump Jr. had been auctioning off paintings for hundreds of thousands of dollars, you can bet the media would start questioning things.
Not so with Hunter. Just like his seeming free pass on the laptop situation, he is again being coddled and protected by both the political ruling class and the media.
While art can be considered a relatively stable investment, it is difficult to gauge what a market demands of a new painter, with the price of work being entirely subjective. This is not the case with Hunter Biden. He's asking for half a million right off the bat.
The irony of this nonsense is that the White House is working so hard to make it appear as if Hunter's foray into art has nothing to do with his father, yet the only thing giving his work any value is his last name. Check out some of his work and ask yourself if it's the best way to drop $500,000?
The decision to keep buyers private is suspicious, and one that has the opposite effect than the one the White House intends. Numerous critics have piled on to the lack of transparency.
"Is this amateur hour for government ethics?" Walter Schaub, the head of the United States Office of Government Ethics from 2013 to 2017, asked on Twitter. "Good luck dealing with the fallout when a new owner of Hunter's pricey 'art' appears in a magazine spread. In the meantime, the WH has put its stamp of approval on the president's son profiting off his father's public service again."
Some very tough ethical questions about whether the president's son, who is still investing in CCP-linked firms, should take $500,000 in payment (bribes) for his "artwork." Better consult the experts on this one!https://t.co/uLubqk40nl

— Tom Cotton (@TomCottonAR) July 8, 2021
The White House, however, continues to simply dismiss critics and deny even the whiff of ethical breaches, and their words seem to eagerly be gobbled up by a media that was so ready for four years to accuse Trump of anything and everything that could be even possibly illegal or unethical.
"The president has established the highest ethical standards of any administration in American history, and his family's commitment to rigorous processes like this is a prime example," Andrew Bates, press secretary for the White House, said about keeping buyers confidential.
Also on rt.com
Let 'woke' horror movies die: 'The Forever Purge' begs for liberal praise by devolving into anti-Trump fanfiction for CNN viewers
The administration has the "highest ethical standards," but they also seem to think transparency is not part of meeting those standards.
If Hunter Biden were not a figure of the Democrat Party, he would be mocked endlessly on late-night television and his actions would be a frequent target of media attention, but he gets a free pass, and loyal liberals stay silent after years of criticizing nepotism and alleged corruption among the Trump family.
It's a bias anyone who pays attention to the media will see, but it's become an especially troubling trend when it comes to Hunter Biden, a man who, his own personal demons aside, has faced some very serious allegations that tie directly to his father. With the laptop scandal and a former business associate whistleblowing, there would normally be enough for the media to smell fire – if Hunter's last name were Trump, Paul, Bush, etc.
Hunter's last name is the reason he has managed to avoid direct controversy with relative ease, giving puff piece interviews about his addiction and supposed interest in painting, while facing no real pressure from reporters on more serious accusations. That free pass he gets with the media due to a convenient last name and party affiliation is the same reason he'll be earning $75,000 to $500,000 a pop come the fall, while Democrats and the media question nothing. In other words, Hunter's jump into art has nothing to actually do with art. It's just politics-as-usual.
If you like this story, share it with a friend!
The statements, views and opinions expressed in this column are solely those of the author and do not necessarily represent those of RT.
You can share this story on social media: