The UK plans to send people smugglers to prison for life, but they aren't scared of being caught, so the boats will keep on coming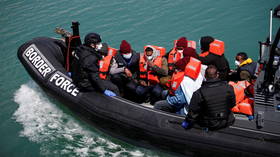 Record numbers of migrants are risking their lives crossing the Channel in dinghies, while a new UK bill sets out life sentences for traffickers – but these criminals don't fear the law when they're making millions from misery.
UK Home Secretary Priti Patel is right to say people smugglers don't care about the lives they endanger and are just lining their pockets. However, new legislation cooked up for domestic consumption aimed at stopping perilous Channel-crossing by desperate asylum seekers is doomed to fail.
It is as clear as day that evil criminal gangs packing illegal migrants into dangerously overloaded dinghies intended for recreation don't give a hoot about the threat of life sentences or the government's Nationality and Borders Bill, which enters Parliament next week. To them, it's all just hot air – and after all, they have to be caught first.
The people-smugglers don't care about the lives they endanger.They're just lining their pockets.The Nationality & Borders Bill entering Parliament next week will increase the maximum sentence to prevent illegal entry to the UK and stop the deaths.#NewPlanForImmigration🇬🇧 pic.twitter.com/ma8XQJyqpg

— Priti Patel (@pritipatel) June 30, 2021
Until that happens, if ever, there is serious money to be made. With demand for illegal sea crossings at an all-time high, the riches that await are obviously considered well worth the risk.
It's all down to maths and geography which, given the home secretary's prim school ma'amish demeanour, is a part of her job it's surprising she's not got to grips with.
The geography first. Boats are departing from a 90-mile-long stretch of French coastline, from Dunkirk to Boulogne-sur-Mer, and arriving across La Manche (the English Channel) on a 75-mile long section of south-east England's coastline ranging from Hastings to Ramsgate. That's a lot of beach to patrol using limited resources, and it really requires a coordinated UK-France approach, sharing intelligence and implementing a joint strategy. Unfortunately, that is a lot harder than it sounds.
Then we have the maths. Just like any organised crime gang smuggling merchandise – rare reptiles, cigarettes, drugs or people – they expect to lose some of their merchandise en route, so they simply factor that eventuality into their business plan.
In order to compensate for those losses, the solution is: more boats. Sure, some will be lost to French and British border forces, but not all – and even this inevitability provides a further business opportunity. According to an investigation by The i newspaper, people smugglers now sell first-class tickets for semi-rigid boats (RHIBS) with powerful outboard engines for £10,000, while those without that sort of money are consigned to the pitiful little inflatable dinghies, which may or may not make the distance, for the cattle-class price of £4,000.
Also on rt.com
Britons riled as foreign business leaders exempt from Covid quarantine if trip brings 'significant economic benefit' to UK
So vast are the numbers of boats heading towards England that even if some are intercepted by border forces – or, worse, sink and deposit their human cargo into the cold Channel waters – the business will continue to flourish thanks to the basic economic theory of supply and demand.
The newspaper found that gangs are launching up to 40 boats at a time in a bid to overwhelm police and rescue services. In the first five months of this year, 3,679 arrivals had been recorded, more than double the number for the same period last year. Last month alone, there were 2,200 arrivals, triple the number for June 2020, with more than 190 boats intercepted – more than for the whole of 2019. The figures are genuinely startling.
The real problem is that the French and British governments are playing a different game to the criminal gangs of people smugglers. The authorities are hampered by having to use those powers at their disposal, like legislation and the threat of punishment. They have to look to protect those innocent people prepared to risk their lives for a better future and employ a moral code that means they must do their utmost to save lives, even if asylum seekers are breaking the law by attempting to migrate illegally.
Also on rt.com
Oxfam under fire for 'divisive' staff survey that rejects 'reverse racism' & calls racism 'power construct' to benefit 'whiteness'
The people smugglers don't care about any of this. They don't give a toss if boats sink and children die. They couldn't care less if a dinghy is intercepted and returned to France or taken to England; there are plenty more where both the boats and people came from, and every passenger crammed aboard represents a pile of money, nothing more.
The terms of engagement in this battle need urgent review. Empty threats of life sentences in prison and strong words are just not enough, because if they were, the boats would stop. And that is not what we are seeing.
Think your friends would be interested? Share this story!
The statements, views and opinions expressed in this column are solely those of the author and do not necessarily represent those of RT.
You can share this story on social media: