A winter lockdown for flu? That's incredible mission creep from Boris Johnson & Matt Hancock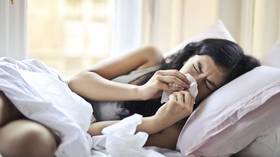 'Three weeks to flatten the curve' in March 2020 has morphed into 16 months of restrictions and potential further lockdowns in 2021/2... for flu. But if we lockdown for flu next winter, won't we have to every year?
It's mid-summer, but instead of getting us dreaming of happier days ahead, the UK government is already warning us of the 'horrors' that may await in the autumn/winter months.
"We do expect this winter to be challenging," said Health Secretary Matt Hancock. But he wasn't referring to yet another 'wave' of Covid. "Almost nobody has had flu now for 18 months. The flu vaccination programme this autumn will be even more important." He went on, "I hope with a booster shot we get that protection against Covid very, very high, and we get the flu jab to a very, very wide proportion of people. The combination of all those things I hope will give us protection, but that is, that's a big task for the autumn."
Translation: 'We're in for a bad flu winter and we can't rule out locking you plebs down again.'
Prime Minister Boris Johnson was similarly pessimistic when he talked about what lay ahead. While he said it was "looking good" for July 19 to be the date for the lifting of restrictions – and referred to it as the "terminus point" – he revealingly refused to rule out the prospect of further lockdowns in the winter. "You can never exclude that there will be some new diseases, some new horror that we simply haven't budgeted or accounted for." He added that Britain could be in for a "rough winter for all sorts of reasons."
There you have it. It's still June, we've only just passed the longest day, and the prime minister and his health secretary are already prepping us for what to expect in November and December. How do they know next winter will be 'rough'? What do they know that we don't?
Or could it be simply that an annual cycle of winter lockdowns followed by a summer easing of restrictions is a planned 'new normal' that we peasants have got to get used to? If lockdowns can't be sold for Covid, they can always be sold for flu – and in particular the much-heralded 'return of flu' in a few months' time. Or perhaps after that to 'counter climate change'.
Looking at the bigger picture, the most remarkable story of the last 16 months is how lockdowns – a most extreme measure as the name, lest we forget, is a US prison term – have become normalised.
The mainstream left critique of the Tory government – which before March 2020, some were calling 'hard-right' or even 'fascist' – is not 'Why did you lock down, and carry out no long-term assessment of the harm lockdowns are likely to cause?', but 'Why didn't you lock down earlier and harder?'. It's taken as a given that lockdowns work, even though countries which didn't lock down – such as Sweden and Belarus – have lower Covid death rates than many that did.
And that's before we get into discussion of the terrible collateral damage to the economy, to society, and to individual and collective morale.
Unless there is increased opposition from within the political system – and greater non-compliance from the public and businesses – you really don't have to be Nostradamus to predict how the next few months are likely to pan out.
There is likely to be further easing of restrictions in July, but with access to 'mass events' dependent on 'Covid certification'. Then, when we get to September, and the politicians have had their summer sunshine getaways, we can expect a major ramping up of 'Project Fear' in relation to the return of seasonal viruses and the NHS – which is already facing a record waiting list – not being able to cope.
Also on rt.com
Conflicts of interest alleged in 'multi-layered web of influence' as Big Pharma pays millions to informal Parliament groups
The left and Independent SAGE will accuse the government of dragging its feet on re-imposing restrictions, which is of course exactly what the government wants. We may have a brief return to last autumn's 'tier system' before another national lockdown – to 'protect the NHS in what is likely to be another very challenging period' – is imposed in November with the aim of 'saving Christmas'. Once again, an ashen-faced Johnson will announce all of this 'with a heavy heart'.
In other words, the autumn/winter of 2021/2 is going to look very much like the autumn/winter of 2020/21, except a few more things might be allowed to be kept open through 'Covid certification', as Michael Gove has hinted.
And it'll probably be the same in the autumn/winter of 2022/3. Because if you establish the principle that lockdown or semi-lockdowns are the default response to flu or flu-like viruses, then they will never end. Don't get me wrong – flu needs to be taken seriously. I have had some very bad bouts in the past, and that's why I always have the flu jab and recommend it to those who are particularly vulnerable, such as the elderly. But even in the worst flu winters, such as 2017/8, when there were around 50,000 excess deaths in England and Wales, no one suggested that the solution was a hard lockdown of the entire country. Had anyone done so they would have been regarded, quite rightly, as barmy.
Flu can be controlled by effective vaccines and by people simply exercising common sense, like going to bed early with a hot lemon drink when they feel they might be coming down with it and not mixing with others when they're coughing and sniffing and running a high temperature. The alternative – of shutting down life altogether – is so extreme that it should never even be up for debate. Yet sadly, in 2021, it is.
Imagine what would happen if lockdowns for flu did become the norm? We will never again have a winter when we can freely enjoy large indoor gatherings, attend crowded parties with friends, or link arms to sing 'Auld Lang Syne' at Hogmanay with people we've only just met. Think of the loss to our morale of not being able to socialize – and get out and about – during the winter months.
Also on rt.com
Lockdown without end in the UK? Boris Johnson has shown Brits the finger
As early as January 5 this year, Chief Medical Officer Chris Whitty – who one suspects has never been to a New Year's Eve party, or a nightclub – was already warning about restrictions being needed for the following winter. But is this battening down the hatches each winter to avoid seasonal bugs and viruses really how we want to live?
It may be the grim, depressing future the Great Resetting elites have got mapped out for us, but it could end tomorrow if enough people and businesses simply say 'no'. 'Three weeks to flatten the curve' must not mean living each winter under lockdown or the threat of lockdown. Life is just too short for that.
If you like this story, share it with a friend!
The statements, views and opinions expressed in this column are solely those of the author and do not necessarily represent those of RT.
You can share this story on social media: