Farewell to anti-virus guru John McAfee, the wild, high-living, paranoid, millionaire genius I was glad to call my neighbour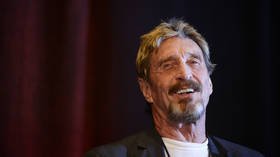 The suicide of tech entreprenuer John McAfee in his Spanish prison cell, as he awaited deportation to the USA over tax fraud, draws a curtain on the madcap escapades of the most colourful character I've ever come across.
The death of McAfee is the final chapter in the mad, bad life of a man who became my neighbour 13 years ago. We were both living on Ambergris Caye, a tropical island 16 miles off the Caribbean coast of Belize in Central America. He'd picked up what had been a long-empty property – after the former owners had died at sea while unwisely trying to save two catamarans during a hurricane – which was a couple hundred metres up the beach from my own hideaway.
The nearest town of San Pedro was five miles south, the only road a boggy, often impassable track, and those neighbours who weren't operating beachside dive bars or boutique resorts chose to keep themselves to themselves. It was perfect.
By the time we met on Ambergris Caye in 2008, the Brit-born entrepreneur had tired of the intense upkeep demanded by a millionaire lifestyle. He'd flogged his 1,000 acres on Hawaii and the private airport in New Mexico, having sold his eponymous software company to Intel in 1994, and was looking for the quiet life.
Also on rt.com
'If I suicide myself, I didn't': Supporters dredge up old McAfee tweets to cry foul over death as his Instagram page posts 'Q'
I'd occasionally encounter McAfee once he moved in, buzzing past in his boat with a friendly wave, or a hearty 'Hi, neighbour!' He often busied himself in his yard or sat on his bungalow deck smoking a cigar with a cool drink, a young girl wearing a bikini by his side, as I walked past en route to my sundowner.
He seemed relaxed among the neat collection of small white bungalows, interconnected by walkways festooned with bougainvillea and surrounded with a neat, white picket fence. It offered the sort of communal living environment that McAfee, a well-travelled and self-proclaimed 'proto-hippy', loved. Accommodation, cooking area, somewhere to meditate and practise yoga. Ideal.
I would have tried to be more congenial, but the heavily-armed security detail that patrolled his property put me off. I did wonder why anyone sitting on a dock staring out into the beautiful waters of the western Caribbean would need an M16 by their side. It felt prudent not to ask.
Everyone on Ambergris Caye has dogs. Loud, barking, dangerous animals. The more badass the better. They aren't pets, they are protection and McAfee had 11 of them. But it was when four were poisoned that the trouble began.
Because one of our neighbours who lived next door to McAfee, a cheerfully beefy Orlando bar-owner named Greg Faull, was found murdered on his property, executed with a single shot to the back of the head on November 11, 2012. Everyone knew he was unhappy about his wealthy neighbour's noisy dogs; after all, he'd lodged an official complaint with the town council.
Unsurprisingly, the police decided McAfee was a person of interest in their investigation into Faull's death. But when they went to speak with the paranoid entrepreneur, he heard their noisy golf carts coming up the beach, quickly dug a hole in the sand and put a cardboard box over his head.
A police search of the property failed to uncover the fugitive, and they left empty-handed leaving McAfee free to skip the island, cross to the mainland and disappear into the jungle. He then crossed the Guatemalan border where he was arrested and held, although after faking a heart attack his deportation to Belize stalled and was ultimately denied, so he ended up back in the USA.
The night after he arrived, he indulged in the services of prostitute Janice Dyson, 30 years his junior, who is now his widow after they married in 2013. She is still on Twitter as The Mrs McAfee.
While he was never charged in connection with Faull's murder, a Florida judge did order he pay the dead man's family $25m following a civil suit. That didn't necessarily make him a killer.
Needless to say, we never saw him on Ambergris Caye again, although the legend of John McAfee grew and grew. We've all enjoyed his fluctuating fortunes, hugely entertaining social media posts, video shares, merciless taunting of the CIA and police forces around the world and off-the-wall views on everything from cryptocurrencies to the best friend to make in prison (that would be a multiple murderer who cannibalised his victims). Or what he'd do if put in charge: "If I ran this prison the first thing I would do is hire a Feng Shui consultant."
If I ran this prison the first thing I would do is hire a Feng Shui consultant.

— John McAfee (@officialmcafee) November 11, 2020
John McAfee was undoubtedly a genius. But he was also an unhinged, paranoid lunatic, sex addict, drug user, serial entrepreneur and self-aggrandising gun nutter with a wicked sense of humour and boundless appetite for life and love. His suicide will confuse those close to him and raise a few questions, although it should be noted that McAfee's father killed himself when John was 15 years old.
Or maybe, his 'death' is just another outrageous prank at everyone else's expense. After years of claiming he used a team of body doubles around the world, can we be certain it is the real John McAfee they found hanging in that Catalonian prison cell?
Two of my doubles have retired in the past year.People ask - "What's happening?".We're just getting old. One of my retired doubles is now 78. I'm almost 75.It happens. pic.twitter.com/jkh7ZfDbuY

— John McAfee (@officialmcafee) August 7, 2020
There has been plenty of talk about a Hollywood movie of McAfee's life, with Johnny Depp, Michael Keaton and most recently Zac Efron all slated to play the eccentric tech guru at some point in the pandemic-stalled production of 'King of the Jungle'.
Let's hope this does go ahead, because it would be box-office dynamite and a fitting tribute to the madness of the man I lived next door to whose name still adorns millions of Intel PCs – John McAfee.
Like this story? Share it with a friend!
The statements, views and opinions expressed in this column are solely those of the author and do not necessarily represent those of RT.
You can share this story on social media: