It's a miracle the EU's survived, so the Pope setting the 'Father of Europe' on the path to sainthood mightn't be so odd after all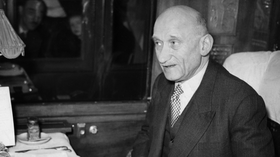 The Catholic Church declaring careerist European statesman Robert Schuman 'venerable' is proving problematic for the Vatican, which requires two provable miracles before bestowing sainthood – and who prays to a politician?
No one is saying that Robert Schuman was a bad man, but Pope Francis's decision to launch him on the path to sainthood will have the effect of conferring a legitimacy on the European Union that seems to bestow the Higher Power's seal of approval upon this creaking political project.
The Pope's decision to mix politics with religion has certainly raised a few eyebrows. After all, Schuman's earlier career included a stint as a minister under Marshal Philippe Pétain, the French First World War hero who later led the Vichy government that collaborated with the Nazis.
Most despicable was that administration's help in hunting down foreign and French Jews and turning them over to the Gestapo for transport to the Third Reich's extermination camps. Although Schuman was in government at the time, he protested against the Nazi methods and was arrested for his resistance and interrogated, escaping deportation to Dachau concentration camp only thanks to the intervention of a German lawyer.
His attempt to enter politics after the war was initially blocked because of his involvement in the Vichy government, but his appeal to President Charles de Gaulle was successful – and the rest is history. Whatever prompted de Gaulle to lift the ban, his inquiry into Schuman's past was unlikely to have been anything like the forensic scrutiny he faced more recently from the Vatican's theologians.
Free to pursue his career once again, the Luxembourg-born Schuman went on to serve two brief stints as French prime minister, was the post-Second World War foreign minister, played a role in the founding of NATO, and created the 'Schuman Plan' in 1950, before it evolved into the European Economic Community in 1957 and the European Union in 1993. On his death in 1963, he'd certainly earned his title as one of the Fathers of Europe. But that's not the same as being a saint. After all, despite his devout Catholicism, his was a political career, not a religious calling. However, following the Pope's announcement, as far as Catholics worldwide – myself included – are concerned, he must also be considered 'venerable'. I'm not sure I can go along with that.
This is the start of the road to sainthood, but there is still some way to go, and, of course, the small matter of the two miracles – usually in the realm of inexplicable medical recovery – that can be attributed to Schuman's intercession to his new Boss. He'll need these – firstly, to be beatified and, secondly, to be sanctified.
This is generally where those outside the Catholic faith start rolling their eyes and muttering about 'mumbo jumbo' – and who can blame them? But the power of belief is something else, even if that doesn't focus on a benevolent old man with a white beard who lives in the clouds.
The European Union was willed into existence from a continent in pieces and, although we had the Brexit heretics, there are still plenty of folk who are happy to be part of this grand political project, not for any spiritual reason, but because they receive buckets of money to spend on pet projects to keep the masses happy.
Also on rt.com
Brexit compared to crucifixion of Jesus on BBC, gets French street named after it
As for inexplicable recoveries, well, proof of those is a bit harder to come by, but events in Brussels over the past 18 months might help. There was the EU's loss of one of its most influential members, the complete hash made of allocating the coronavirus recovery fund and launching its vaccination programme, and snarky in-fighting over travel bans and border closures.
It's a miracle the European Union has survived up to this point. So that's one down. With sainthood beckoning for Robert Schuman, maybe it's time Ursula von der Leyen and the EU disciples took to their knees in quiet prayer. Because with rumblings from the east of the bloc, unease over Islamism in France, and further disquiet from the south of Europe over migration across the Mediterranean, an intercession from Robert Schuman to prevent further fractures might be just enough to save them.
Surely, it's worth a try?
Like this story? Share it with a friend!
The statements, views and opinions expressed in this column are solely those of the author and do not necessarily represent those of RT.
You can share this story on social media: