EU anger over Hungary's veto on migrants reveals how developing countries are being exploited in trade deals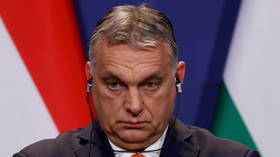 Hungary's recent rejection of the wide-ranging Post-Cotonou arrangement, citing migration concerns, should compel EU leaders to reexamine how the deal has let European countries take advantage of African and Caribbean nations.
Hungary has vetoed a proposed revision to a longstanding European Union trade and development agreement with African, Caribbean and Pacific (ACP) partnership countries, citing concerns over the draft's implications for increasing ACP migration to the EU.
Foreign Minister Peter Szijjarto, fresh off an earlier veto of an EU-wide call for a ceasefire as the Israel-Hamas conflict was raging, said he had cast his country's vote against the new Cotonou agreement partly because "there is no need for fresh migration waves, especially now."
Known as the 'Post-Cotonou Agreement', the deal seeks to revise and expand the terms of the bloc's Cotonou Partnership Agreement, signed in 2000, which provides the legal foundation for EU political, trade and development relations with the 79 countries of the Organization of African, Caribbean and Pacific States (OACPS).
In actual application, Cotonou provides the framework for a whole raft of politicized EU trade partnerships mandating enforcement of certain human rights conventions as prerequisites for enjoying trade and aid benefits. The ACP side had been negotiating with Brussels since December 2020 until the Post-Cotonou draft was finalized in April. Originally set to end in December 2020, the current agreement's provisions have been extended until November 2021 as deliberations on Post-Cotonou continue.
The proposed revamp would see those benefits continued under similar parameters, but would also contain new provisions on migration: it would enhance ACP capabilities to take back those migrants from their countries whose asylum applications have failed in the EU, but it would also allow for further legal migration from ACP countries to the EU through expanded visa and family reunification schemes.
Also on rt.com
With child refugees disappearing by the thousands, the EU is again allowing a migration-related taboo explode into a crisis
Many Eurocrats have been unimpressed by the Hungarian veto, having already jumped on the bandwagon of criticizing the government of Prime Minister Viktor Orban for what they view as unnecessarily obstructionist hostility in Budapest – hostility that they feel is undermining the EU's grand vision for humanitarian foreign policy. An anonymous diplomat came away from last Friday's meeting on Post-Cotonou saying that Hungary's decision is "against the spirit of the EU. We try to accommodate the views of countries with single issues, but we expect these individual states to come with constructive ideas to solve the issue, and I would like to see more of that from Budapest."
This diplomat, apparently ignoring the fact that Szijjarto indicated his country's willingness to negotiate a workable solution when he said Hungary was "absolutely interested" in a revised Cotonou framework, went on to suggest that a rather uncooperative idea – of issuing EU statements on behalf of 26 members rather than the full 27 – was under consideration.
But the Hungarian government's stance in this instance should be welcomed as a usefully dissenting voice, one that should spur a reexamination of political and social overreach that often creeps into EU trade agreements. Post-Cotonou might not only complicate the EU's migration problem – it is also arguably a harmful deal for the ACP region, as it uses enhanced migration avenues as carrots to enforce the stick of trade exploitation.
The draft agreement is deceptive in expounding nobly on the presumed justice of including migration in a trade agreement. It contains a pledge that the parties "shall address the links between organized crime and human trafficking and migrant smuggling." An entire chapter is devoted to the ways in which the EU and OACPS are to foster "legal pathways for migration, including labor migration," to guarantee that all migrants from each bloc staying legally in the other "are treated fairly and with dignity in the host countries and are protected against exploitation." Other chapters lay out specific return-and-readmission procedures for migrants staying in a host country illegally. The two sides also "confirm the shared political commitment to address the root causes of irregular migration" in the text.
Also on rt.com
It's no surprise anti-Semitism is rising in Europe when the EU can't present a united front on Israel-Palestine hostilities
But Cotonou's longstanding economic measures suggest that the agreement is actually spurring such migration. Specifically in the trade realm, the Cotonou Agreement has galvanized regional Economic Partnership Agreements (EPAs) between the EU and the various regions of the OACPS, yet these agreements have been highly divisive. The vast majority of the Cotonou-inspired trade arrangements have not been fully ratified, due to concerns by many of the African regional negotiators, in particular, that the EU is using trade preferences and generous aid packages to open up the African countries' markets to domination by European firms. Indeed, EU companies have been lobbying extensively over the years for broad deregulation of African markets as part of the EPAs, which would give them footholds with which they could squeeze out local companies.
The European Commission touts the supposed advantages of the EPAs and other trade preferences under Cotonou by citing the fact that the EU accounts for more than 20% of ACP countries' international trade, that "EPA partners do not pay any tariffs or duties on any of their exports to the EU," and that the ACP countries benefiting from these schemes "open their markets only partially to the EU (on average 80%) [over] long transition periods."
The reality of how these scattered facts actually affect ACP economies and workers, however, is different from the heady picture presented by the Commission. Across the board, the EU's fully liberalized market access for ACP exports brings large volumes of cheap raw materials into the EU, which EU manufacturers use as inputs in European value-added industries, producing industrial goods that can then be sold to the ACP partners under the liberalized access which the EU enjoys in those markets. In effect, this form of exploitation suppresses ACP economies' ability to grow their own value-added manufacturing industries, when so many of their domestic raw materials needed for such industries are being exported away to Europe under tariff-free enticements.
The case of Nigeria, an economic powerhouse within the ACP community, provides a strong example of this problematic nexus. With more than 70% of its global exports comprising crude petroleum, Nigeria's export profile in trade with the EU is dominated by oil and gas, cocoa, rubber, copper, animals, and animal products – all raw materials.
Also on rt.com
The EU holding Pakistan's trade hostage because of new blasphemy laws risks fueling Islamist extremism
Meanwhile, the EU, as Nigeria's largest trade partner, mainly exports industrial, processed goods including machinery, transport equipment, refined fuel and food to the country.
It was alarm over this trade dependency's suppressive effects on Nigerian manufacturing that led President Muhammadu Buhari in 2018 to reject ratification of a proposed Cotonou EPA between the EU and 16 West African nations, including Nigeria. Buhari explicitly warned that a fully implemented EPA would not only endanger Nigeria's industrial development, but also impede job creation for millions of Nigerian citizens.
The Tanzanian government, which has refused to sign its six-member East African Community (EAC) EPA with the EU, has raised similar concerns.
Joblessness and limited job mobility, brought on in large part by Cotonou trade schemes and EPAs – the latter of which are already being provisionally applied by 32 ACP countries – are major factors spurring migration outflows, both legal and illegal, from these countries to the EU.
In this light, the clauses on enhanced legal migration and family reunification proposed for Post-Cotonou appear less as reciprocal development-enhancing measures and more as additional enticements to keep ACP countries locked into trade exploitation by the EU, while covering up and even exacerbating the trade-based causes of the migration problem.
Hungary's criticism of the draft has been defensive so far, focusing on the need to control migration. But EU leaders ought to take heed of this concern, digging deeper to examine their politicized motives for including migration clauses in the Cotonou framework, if they are really to craft trade and aid policies that enhance the autonomous development of Third World countries.
If you like this story, share it with a friend!
The statements, views and opinions expressed in this column are solely those of the author and do not necessarily represent those of RT.
You can share this story on social media: