'Safe spaces' for pro-Palestine campaigners makes a mockery of the concept of protest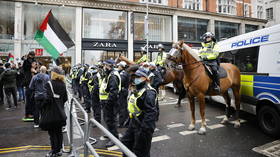 The Muslim Council of Britain is demanding safe spaces for pro-Palestine protests at schools. But this sanitised, safety-first outlook, which is becoming ever more prevalent, only discourages debate and promotes groupthink.
Once upon a time, protest was associated with an enthusiasm for defying prevailing conventions. It required a willingness to take risks and not a little courage. Historically, protest is not an activity associated with fragility and a reluctance to expose yourself to hostility and pressure.
Those who couple the right to protest with the demand for a safe space are, in effect, making a mockery of the former. Sadly, we now live in a world where people are discouraged from taking an initiative without the guarantee of safety.
Once protest comes with the guarantee of safety, it becomes a performance. So, when schools establish a safe space for pupils to air their anger at the situation in the Middle East, what they are really offering is a theatre of protest.
Historically, the demand for a safe space has had little to do with protest. It has spoken to the infantilised impulse that underpins so much of Western woke culture. Back in 1987, this sentiment was clearly communicated in the title of psychiatrist Anthony Fry's book Safe Space: How to Survive in a Threatening World.
For Fry, a safe space was necessitated by the perilous world that exists outside the self. He wrote that "as I looked carefully at this rather threatening world, it seemed that safe space for many of us was becoming increasingly hard to find and that for a whole variety of reasons, material, social and personal conditions were becoming ever more unsuitable for human beings". His ideal was what he described as the "protected spaces of childhood" and in many respects his metaphor of safe space captures the security of the child still in the womb.
That this aspiration is so widely echoed in western society, even by its rebels, highlights the powerful mood of risk aversion that prevails in all sectors of life.
In the current era, the woke outlook of identity politics is obsessed with spaces. It wants to adopt the identity of a defiant rebel, while enjoying the security of the child still in the womb. Supporters of Black Lives Matter are into the idea of "creating a safe space to share personal experiences."

Others demand "black-only" safe spaces. Suddenly the reintroduction of segregation becomes a medium for promoting identity politics. At the University of California, Berkeley, students demonstrating for safe spaces for people of colour and LGBT people formed a human chain to block white students.
Also on rt.com
In 2020, schools became the woke warriors' latest battleground as indoctrination replaced education
The therapeutic turn of protest first became evident with the rise of political campaign movements who identified themselves with Occupy WallStreet. Since 2011, the Occupy Movement has adopted safe spaces as one of its fundamental organisational principles. The website of Occupy WallStreet shows a picture of a woman holding a placard that reads 'Under Construction Women [sic] Safe Space'. Its statement titled "Everyone has the right to occupy space, safely" implicitly rebrands access to a safe space as a human right. It argues that "working on the ground to make safer spaces" is its "core principle of solidarity."
Occupy protest movements throughout the western world were characteristically obsessed with safe space policies, which aim to regulate social distance and psychic boundaries between people. The language used to articulate safe space policies frequently deploys the metaphors of space, distance and boundaries. Occupy Bristol, for example, demanded respect for "people's physical and emotional boundaries." It declared "be responsible for your own actions and safety and the safety of those around you."
The Muslim Council of Britain justifies its calls for the creation of safe spaces for anti-Israeli protesters in order to make sure that students can hold debates. However, the very principle of a safe space contradicts the idea of real debate. A safe space quarantines people from unwanted criticism. It provides an echo chamber and a medium for the flourishing of group-think.
When adults organise safe spaces for school pupils, children become indoctrinated to obsess about their own identity. This has already happened in the United States, where the Anti-Defamation League provides advice to Jewish high-school pupils about how to construct safe spaces when they go to university. The goal of its advice is to "create a safe space and open up a conversation among students around issues of anti-Semitism and anti-Israel bias."
Muslim advocacy groups are also in the business of promoting safe spaces for their co-religionists, and there was even a safe space advertised for converts to Islam at Muslimconverts.org. It is unlikely that the children exposed to Jewish and Muslim safe spaces are going to engage in any serious debate with one another.
Safe spaces contradict the ideal of an open and robust public life. If people really want to protest, then they have to abandon the idea of the security of the child still in the womb.
Think your friends would be interested? Share this story!
The statements, views and opinions expressed in this column are solely those of the author and do not necessarily represent those of RT.
You can share this story on social media: