Did BoJo stoke up racial tensions on the streets of Glasgow to undermine Sturgeon's bid for Scottish independence?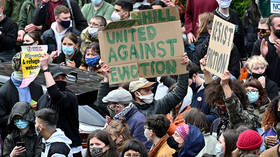 The removal of two immigrants from their flat in Glasgow by the UK Home Office saw more than 1,000 people hit the streets to protest. But the timing and location of the operation have left many questions about its real motive.
Prime Minister Boris Johnson and Home Secretary Priti Patel are ardent supporters of clamping down on immigration and deterring asylum seekers from arriving in Britain. They've continued the work of their predecessor Theresa May, who infamously launched Go Home vans to patrol the streets, in what was billed as the 'hostile environment' strategy.
The miscalculation they all made is that there are parts of Britain that are hostile to their ideas. And that was witnessed on a major scale on Thursday in Scotland's largest city, Glasgow.
The Home Office, based in London, dispatched an Immigration Enforcement team to detain and remove two Indian-born men, Sumit Sehdev and Lakhvir Singh. Neither was hiding or on the run. They are living in an apartment and had no advance warning of the visit. They complied and did not resist as they were held in a van, about to be taken to a detention centre.
The local community was alerted, and one man quickly lay under the vehicle as many more poured onto the streets.
The numbers became so great that Police Scotland were deployed to maintain order, and felt obliged to clarify they were not there to assist in the detention of the men.
"The call was made by UK Immigration Enforcement after a group of protesters gathered at the address where UKIE staff were in attendance. Police Scotland doesn't assist in the removal of asylum seekers. Officers are at the scene to police the protest and to ensure public safety"

— Police Scotland (@policescotland) May 13, 2021
Human rights lawyer Aamer Anwar led the effort to release them and after eight hours the men were freed back into the community.
Some have legitimately asked, do these men have the right to be in Britain? The Home Office stated they were being detained over "suspected immigration offences." But even allowing for official process, when you consider these are two peaceful guys who volunteer at their local Gurdwara temple to help feed the homeless, could an interview not have been held in their home or arranged via Zoom?
Why did the Home Office feel it necessary to rip two men from their residence based on suspicion? And this is where the real sinister angle comes into play. Firstly, the raid was undertaken on Eid al-Fitr, an Islamic holy day. That area of Glasgow has a large Muslim population, many of whom were distressed at the saga being played out on such a sacred occasion.
For the record, the majority of protesters were not of Asian heritage – as can be seen in pictures, they were mainly white Scots. The entire community came together.
It's also extremely curious that the raid was attempted on that ceremonial day, in an area which has just re-elected its Member of the Scottish Parliament – Nicola Sturgeon. She is Scotland's First Minister and leader of the Scottish National Party.
Sturgeon is also the driving force behind independence and last week's local elections saw her party win 64 of a possible 129 seats, one short of an overall majority in the Scottish Parliament. Pollokshields, where the immigration raid occurred, is part of her constituency.
In what appears to be another 'amazing' coincidence, the removal of the two was also on the same day the new Scottish Parliament was inducted. Sturgeon was 50 miles away in the capital Edinburgh, being sworn in when all this occurred, which again would have been known about by the Home Office.
Could it be that this entire scheme was cooked up by powerful figures within the Conservative Party? They wagered that they could land a PR coup by demonstrating how they were able to remove supposedly suspicious immigrants from the very area that their nemesis is responsible for.
In my view, it's entirely possible this was a power play to damage Sturgeon and by extension, harm her independence plans. The Home Office was trying to tell Scots, "if you vote to go it alone, you'll have all these bad people in your country and you won't have us to remove them."
I think Sehdev and Singh were used as pawns in an attempt to drive a stake into the heart of the independence movement. And doing it on Eid afforded a great chance to heap even more distress on the local community in their bid to associate Sturgeon with instability, lawlessness and fear.
The problem is the Conservative government is painfully out of touch with the mood in Scotland, and also other parts of the UK. The people who flocked to stop the two men being detained didn't mention independence. For them, it was a matter of justice, right over wrong. It wasn't about Scotland or the United Kingdom, it was about people.
The SNP are pro-immigration and have won the last four Scottish elections. The people of Scotland have democratically chosen to be governed by politicians who provide a welcoming environment for immigrants, not a hostile one.
Also on rt.com
Protesters force UK immigration officers to release 2 men detained in Scotland after crowd surrounds van (VIDEOS)
Even in the British general election, the SNP returned 45 MPs to Westminster, while Scotland only voted in six Conservatives. The massive gulf between them, as the two biggest parties in Scotland, shows the disparity in attitudes outside London's corridors of power.
What was clear in Pollokshields was the protesters were not willing to stand by and allow their democratic wishes to be disregarded. No one is saying that every single application for immigration has to be accepted. But ripping people out of communities where they are settled obviously won't be tolerated in Scotland.
Using racial issues to stoke division are long practised dark arts by many governments. The embarrassment for BoJo and Priti Patel is that if they were responsible for the drama in Glasgow, they only helped fuel a type of division they want to avoid: Scottish independence.
The country's people don't see themselves reflected by ministers in London and that's why they formed a human shield to protect two immigrants. Britain today is closer to splintering apart than it was a few days ago… and you know who to blame.
Think your friends would be interested? Share this story!
The statements, views and opinions expressed in this column are solely those of the author and do not necessarily represent those of RT.
You can share this story on social media: