Netanyahu allying himself with far-right settler extremists has sparked violence in Jerusalem and risks all-out chaos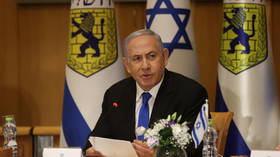 The Israeli prime minister's decision to side with extremist settlers for political gain, along with attacks on Palestinian worshippers, have led to possible war with Gaza and "civil war" inside Israel itself.
The events that transpired at Al-Aqsa mosque (Temple Mount) compound last Friday, when hundreds of armed Israeli police attacked Palestinian worshippers, injuring 200, triggered an explosion of violence that had been close to boiling point since the beginning of Ramadan.
But the escalation did not begin there. Since the start of the Islamic holy month, restrictions have been placed on worshippers around the old city of Jerusalem, sparking protests that quickly turned violent. About two weeks prior to the attack at the Al-Aqsa compound, an Israeli settler mob had taken to the streets, chanting "death to Arabs". The Palestinian counter-demonstration was violently suppressed by the police and ended up leading to solidarity protests throughout Israel and the occupied territories.
Also on rt.com
Al-Shourouk high-rise building in Gaza COLLAPSES to the ground after Israeli missile strike (VIDEO)
Why has Netanyahu allowed for a Palestinian uprising?
Lehava, the extremist settler group that organised the racist demonstration weeks ago, is headed by a man named Bentzi Gopstein. Although the group would previously have been allowed no legitimacy by the Israeli government, Gopstein's lawyer, Itamar Ben-Gvir, is a member of the Knesset and a close ally of Israeli PM Netanyahu. Ben-Gvir heads the Jewish Power party (Otzma Yehudit), which falls under the Religious Zionism slate led by Bezalel Smotrich. It's no surprise, then, that Lehava feels they have been accorded a sense of legitimacy, when they witness Israeli members of the Knesset and allies of the prime minister standing beside them in Jerusalem.
Israel just had its fourth round of elections since 2019, in which Netanyahu's Likud won the most seats of any party. But Likud's, combined with the seats of their natural allies, still fell short of the 61-seat threshold required to form a government. The Religious Zionism slate forms part of Netanyahu's backbone when it comes to his political survival, so any decision by the Israeli premier to abandon them could hurt him politically.
Also on rt.com
IDF will fight until there's 'complete silence' before any truce is possible, says Israeli defense minister
After Netanyahu failed to form a coalition government, the responsibility to do so was handed over to the opposition figure Yair Lapid, who was invited to form a coalition of anti-Netanyahu parties. At this point, Netanyahu is fighting not only to stay in government, but also to avoid potentially going to prison on charges of corruption.
Conversely, if Yesh Atid party leader Lapid cannot form a coalition government either, Israel will then head to a fifth round of elections, which would keep Netanyahu in power and give him more time to prepare for a potential future victory at the polls.
Following the Israeli settler "death to Arabs" march, the leader of the Palestinian political party Hamas, Ismail Haniyeh, warned that the next march, planned for Israel's Jerusalem Day would not be tolerated and there would be a response. In fact, a barrage of about 30 rockets was fired the night following the original march, and claimed by the armed wing of the Popular Front for the Liberation of Palestine, in response to attacks on hundreds of Palestinians in Jerusalem.
The issue of Israeli courts processing the orders for evicting Palestinians from their homes in the East Jerusalem neighbourhood of Sheikh Jarrah, which threatens to render 550 people homeless, has also been another point of contention.
Instead of stepping in to de-escalate tensions, in accordance with calls from Israel's close ally, the United States, Netanyahu has allowed his allies from the Religious Zionism slate to provoke Palestinians further.
When last Friday's attack on worshippers at the Al-Aqsa mosque compound occurred, the 'Joint Operations Room' of Palestinian armed factions, based in Gaza, vowed a response to Israel if it did not stop the settler march planned for Monday. Yet Netanyahu still stood idly by and refused to act, ignoring the threats, and, on Monday, allowed for another escalation, which led to the injuring of hundreds in Jerusalem.
Abu Obeida, the spokesperson for the Al-Qassam Brigades, Hamas' armed wing, issued a warning to Israel on Monday that if it did not withdraw its forces from the Al-Aqsa compound and stop its attacks on protesters by 6pm, it would pay a price. Again, the PM refused to take the words of the armed groups seriously. The deadline came and went, and rockets began to pound sites surrounding Jerusalem and in southern Israel.
If Netanyahu wants to de-escalate tensions, all he has to do is sell out the hardline settlers, but this is a price he's not willing to pay. The situation has now developed into what some are describing as a "civil war" inside Israel between Palestinians (Arab Israelis) and Israeli Jews, with rocket fire raining down, demonstrations in Jerusalem and armed clashes in the West Bank.
The hopes of an anti-Netanyahu coalition being formed now seem even further away, with the parties that are attempting to come together spanning the spectrum from left to right, and from Jewish to Arab. So, in order to survive politically and keep his extremist allies by his side, Netanyahu may have just triggered the third Intifada.
Also on rt.com
War crimes court 'monitoring developments' in West Bank: ICC prosecutor registers 'great concern'
Israel miscalculated the risks
For a long time, the Palestinian issue has been sidelined as something of an annoyance to most Israelis and has not massively factored in political campaigns, beyond claims from prospective leaders that they would be "tough on terrorism". Talk of a two-state solution, the current international consensus for a resolution of the conflict, has all but disappeared from the mouths of Israeli politicians, other than to condemn the idea.
During this time, Palestinians residing just half an hour away from Israelis mostly living a European-type lifestyle have been suffering under a military occupation, and Palestinian citizens of Israel have been growing ever more restless at Israeli policies towards them. The situation endured by Palestinians throughout the Holy Land has been characterised by groups such as Human Rights Watch and B'Tselem as apartheid.
The International Criminal Court has also just announced that it has officially opened an investigation into potential war crimes committed by both sides in the occupied territories, which has been shrugged off by Israeli leaders as "anti-Semitic".
Also on rt.com
'Our intel was better': IDF brags about killing top Hamas spies, as retaliatory strikes blamed for deaths of Arab woman & 7yo girl
Meanwhile, the armed factions in Gaza have been developing greater weapons capabilities and training their forces for a future confrontation with Israel. From March 30, 2018 onwards, Gaza's civilian population also mobilised a mass non-violent demonstration movement against Israel, in which, according to a United Nations Human Rights Council report, men, women, children, journalists, medics and the disabled alike have since been deliberately shot at and killed. Within a year and a half of those protests, there had not been a single Israeli death as a result of the demonstrations, while hundreds of Palestinians had been killed and tens of thousands injured. The provocative actions of the Trump administration, with its 'deal of the century' peace plan, legitimization of illegal settlements and recognition of Jerusalem as Israel's capital also enraged the Palestinians.
All of this and more has factored into what we are seeing today from the Palestinian people: a unified uprising, both armed and unarmed, against Israel. And, this time, no Israeli can ignore it. This is the result of years of attempts to sideline Palestinian aspirations for freedom and statehood. The only solution from this point on, is for the international community to re-engage with the Palestinian issue and give a meaningful push towards ending the conflict. It has become clear that if they don't, this issue will never stop re-appearing.
Think your friends would be interested? Share this story!
The statements, views and opinions expressed in this column are solely those of the author and do not necessarily represent those of RT.
You can share this story on social media: