America is to blame for the bloody violence in Jerusalem – & it just shows that state-led oppression is fine if you're a US ally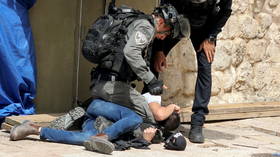 Trump's overzealous pro-Israel policy – endorsed by Joe Biden – emboldened Tel Aviv to push ahead with new settlements in East Jerusalem, which are the root cause of the clashes. But there'll be no rebuke from Washington.
So, who is really to blame for the violent clashes in the city that intensified today as Israeli police oppressed Palestinian demonstrations, following a month of growing tensions surrounding controversy over an eviction order in favour of settlers in East Jerusalem?
Police attacked the demonstrators with stun grenades, tear gas and rubber bullets, injuring hundreds. Things were anticipated only to worsen, given that today is 'Jerusalem Day' – the holiday marking when the east of the city was captured in the 1967 war, leading to its present disputed occupation – and usually sees hundreds of flag-waving Israeli youths provocatively make their way through Muslim areas, chanting and singing patriotic songs.
Also on rt.com
UN warns Israel's forced evictions in East Jerusalem could amount to war crimes amid violent clashes in annexed area
Not surprisingly, there have been no calls from Washington to "stand with the Palestinian people" or to "push sanctions" on their behalf against Israel to "hold them to account" for their international obligations, as we frequently hear in relation to adversarial countries, such as, of course, China. But with the United States and Israel, that's how it has always been. US National Security Advisor Jake Sullivan expressed "concerns" to his Israeli counterpart but only urged Tel Aviv to "ensure calm." Obviously, there will be no serious or direct condemnation involved.
The situation, of course, is one of America's own making. One must question how and why did Israel become emboldened to accelerate settlements in East Jerusalem and other disputed territories? And how did this lead to the current spree of violence? The answer lies in the unilateral and illegal foreign-policy shifts forced through by the preceding administration, arguably the most one-sided in favour of Tel Aviv ever. It even recognised Jerusalem as the capital of all Israel, and Mike Pompeo visited the West Bank to state that settlements do not contravene international law. This has allowed Benjamin Netanyahu, the Israeli prime minister, to essentially have a free hand, more so than usual, in doing whatever he pleases.
When the Trump administration came to power, it took the opportunity to lead the US into a new foreign-policy epoch and completely rewrite its strategy on a number of issues, largely by ripping up that of the Obama administration. While criticising Israel remains a universal bipartisan taboo in American politics, nonetheless the Republicans have been more fanatically in its favour due to the influence of the Christian right lobby, the Israeli lobby, and the outsourcing of policy to Trump's son-in-law Jared Kushner. All of this created a position that was more imbalanced than ever before. The administration in effect gave up attempting to mediate peace between Israel and Palestine, and instead gave all-out backing to Tel Aviv.
Also on rt.com
Over 200 injured, Ruptly cameraman attacked as Palestinians & Israeli police clash near Al-Aqsa mosque in Jerusalem
Alongside the above, this influenced Trump's unusually hard-line stance on Iran and the cancellation of the Joint Comprehensive Plan of Action (JCPOA), as well as the diplomatic spree to push Arab countries throughout the Middle East to give diplomatic recognition to Tel Aviv, the "Abraham Accords," including Bahrain, Sudan and the United Arab Emirates. Pompeo claimed that by expanding the political space and clout of Israel, peace could be brought to the Middle East. The agreements also aimed to geopolitically isolate more hard-line, anti-Israel states such as Iran, and thus strengthen the clout of American influence and its security umbrella over the Middle East.
However, despite the wording of the Abraham Accords vowing peace, the opposite has, in fact, happened. By emboldening the Israelis so dramatically by giving them huge diplomatic and political concessions, they inevitably saw no reason to compromise themselves and have avoided accountability for their actions. The Trump administration has rewarded and strengthened Israel for its aggression; as an op-ed in the Atlantic dubbed it: "Israel gets something for nothing."
And it is no surprise that, according to a report from the PLO, "transgressions against Palestinians in the West Bank since the September agreement have only grown." It claims that Israeli forces have opened fire more than 240 times, killing two Palestinians, wounding more than 90, and detaining more than 480 people, including children. From September 15 to October 15, 25 homes and facilities in Palestinian settlements were demolished "without significant reason," as Netanyahu pressed ahead with new settlement-building, which has served to increase Palestinian unrest and set the scene for the current violence.
Also on rt.com
As Israel plans to evict up to 550 Palestinians from East Jerusalem, Biden admin remains silent
In this case, the unrest we see now is a direct accumulative product of the Trump administration's zealous pro-Israel policy, something which Biden has, by and large (like all Trump foreign policies), simply sought to sustain rather than challenge. Washington has always blocked accountability for Israel, even if some presidents were more inclined to make them negotiate. However, the previous White House took this to a new level, crossing new red lines concerning Jerusalem and the West Bank, which are now generating instability.
The fundamental message? State-led violence and oppression is perfectly fine when you're an American ally. As Muslim nations watch the situation in Israel, US commentators and foreign-policy makers unwittingly scratch their heads and just don't get why these countries won't join the outcry of a "genocide" in Xinjiang. Because when has America ever truly stood up for the rights of Muslims? The US and its allies might be blind to the fate of the Palestinians, but the rest of the world isn't.
If you like this story, share it with a friend!
The statements, views and opinions expressed in this column are solely those of the author and do not necessarily represent those of RT.
You can share this story on social media: