The Republican Party's only African American senator has just shown why he should be chosen to run against Joe Biden in 2024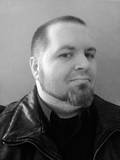 Micah Curtis
is a game and tech journalist from the US. Aside from writing for RT, he hosts the podcast Micah and The Hatman, and is an independent comic book writer. Follow Micah at @MindofMicahC
is a game and tech journalist from the US. Aside from writing for RT, he hosts the podcast Micah and The Hatman, and is an independent comic book writer. Follow Micah at @MindofMicahC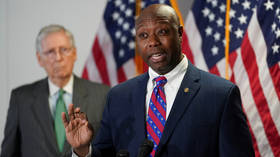 Tim Scott was a wise pick to give the rebuttal to Biden's speech to Congress. His fantastic takedown shows that he is his party's rising star and should be its pick for the next shot at the White House.
When I heard that South Carolina Senator Tim Scott had been chosen to do the Republican rebuttal to Joe Biden's speech, I knew that the right man had been picked for the job. I expected a good speech from the junior senator from South Carolina simply on the premise that he is a good speaker and what Republicans needed was simply someone who could offer an easy, clear retort to Biden's inevitable bumbling. We ended up getting something more than that, which makes me think that Scott should be the Republican frontrunner in 2024 for the presidency.
Normally, I would expect a rebuttal to a Democrat president to be simply pointing out in no uncertain terms how they're not being everything that they claim they are. That was the case with what Scott did, but he went a little bit further. The emphasis of his speech wasn't just that Biden was being a mediocre president, but to point out how Democrat solutions to American problems weren't rooted in reality and that Republican solutions were. This might seem like a simple tactic, but it's one that is commonly overlooked in situations like this.
Scott hit on three major points, which were economics, police reform, and racial issues. With economics, he did a good job discussing how current Covid relief packages were full of pork, and how a jobs bill didn't make any sense. The alternative was something he was able to point to rather easily considering that before the epidemic, the American economy was the strongest it had been in decades. The fact that he was able to explain how we were able to get there in a way that a high school freshman could understand shows good promise for the future. Ultimately, voters are going to want to know not just that there is a plan, but what that plan is and how it works. If you're confident that you already have the formula to start with, it's a good way to win over voters.
Though economics is honestly the best way to win over the working man, another element that needed addressing was the political left's plans to divide Americans on racial lines. Scott took on both police reform and voter ID laws. Of the two, voter ID was the easier topic because it's the one with the most misinformation surrounding it. He managed to quickly correct the record on the restrictions that don't exist, and counteracted them by discussing examples of how people already agree with it in massive numbers and exactly how the voting process still works.
As for police reform, I'm of the opinion that a previous bill that Senator Scott drafted is part of the reason that the Republicans chose him to give the rebuttal. His Justice Act is a prime example of Scott's ability to address current issues without just taking a tribal stance that is the opposite of the other party.
When it comes to police reform and race relations in the United States, Scott has one thing going for him that most other Republican politicians don't. As a 55-year-old black man, he has firsthand experience of the realities, including being stopped 18 times while driving and being racially profiled by Capitol Hill staff.
"I have experienced the pain of discrimination. I know what it feels like to be pulled over for no reason, to be followed around a store while I'm shopping," he said last night.
But, crucially, he maintained that the US "is not a racist country," adding that race "is not a political weapon to settle every issue the way one side wants."
And how did all the leftist non-racists react to this? By tweeting the racial slur 'Uncle Tim' so many times that it trended and forced Twitter to block the topic. These people's hypocrisy is something to behold.
Scott is willing to have a conversation on the actual issues, and this was a prime example of that. Right now, conservatives need somebody as a frontrunner who isn't just going to sweep the concerns of minority communities under the rug just because Democrats are raising a stink about it. Scott, who grew up "in a poor, single parent household" in North Charleston, South Carolina to a nursing assistant mother, and went on to start his own businesses before entering politics, is not your average Republican candidate.
Also on rt.com
Twitter blocks 'Uncle Tim' slur against black Republican senator from trending, but allows users to keep posting it
This background, paired with his legitimate desire for unity that belies Biden's faux promises, is something that has the potential to reach across party lines, something that Republicans will need to do in 2024 to win the election.
More than anything, the key element that I saw from Scott that makes me think he should run for the presidency in a few years is his ability to communicate solutions and make it relevant to the lives of the average American.
This skill was part of the reason that Ronald Reagan became as popular as he did. Though Donald Trump was very good at exciting the party's base, the next nominee needs to be someone who can bring people to the ballot box that haven't voted Republican before, but who realize that the party has the better solutions. Scott is perfect to get that across to the people, and if anything is needed right now, it is better communication for certain.
Think your friends would be interested? Share this story!
The statements, views and opinions expressed in this column are solely those of the author and do not necessarily represent those of RT.