Italy's 'Years of Lead' terrorists who fled to France to evade justice finally face jail thanks to unlikely Macron-Draghi bromance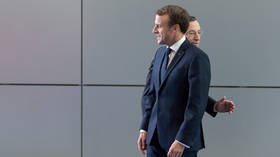 While extradition hearings may drag on, the arrests of seven far-left militants today could be the start of Italy's decades-long quest to bring justice to those who wrought havoc in the 'Years of Lead'.
The arrest of seven Italians in France on Wednesday morning is not so much the final chapter in the story of Italy's 'Years of Lead' but may be a new beginning in efforts at bringing terrorists to account for bombings, shootings and kidnappings that left nearly 400 people dead and a thousand more injured.
The five men and two women have been harboured by France for decades under the protection of the historical 'Mitterrand Doctrine' forbidding the extradition of terrorists who had "broken links with the infernal machine in which they participated." A change of heart at the Elysee Palace about handing over the former members of the far-left militant groups has come about as a result of the apparently close friendship between Europe's new 'power couple' – President Emmanuel Macron and current Italian Prime Minister 'Super' Mario Draghi.
Also on rt.com
7 Italians linked to far-left group detained after decades of terrorizing the country
How close that relationship might be is a matter for conjecture, but on the surface it must be said to be a lot healthier than the link between the two old socialist dinosaurs of Europe – Francois Mitterrand and disgraced Italian PM Bettino Craxi – who came up with the idea of protecting murderous thugs from being extradited across the border to face justice in the first place.
The incredibly patronising sentiment underlying the doctrine was the supposed superiority of French law over its Italian equivalent and a more robust adherence to 'European values', an empty coverall construct that endows the bearer with untold powers. Nothing was ever legislated to enshrine the doctrine in law, such was Mitterand's superiority complex that he only had to make a speech supporting the idea in 1985 for everyone to fall into line. Including the Italians.
Not that they have been overly happy with the situation which has proven to be something of a running sore until now, even though the doctrine was abandoned in 2002. Maybe the sudden movement on the issue is down to a Macron-Draghi bromance, or maybe it's something closer to Rome.
The right-wing League party boss, Matteo Salvini, abhorred the French protection afforded the leftist guerrillas. "I appeal to the French president to return to Italy the fugitives that should not be drinking champagne under the Eiffel tower, but should be rotting in jail in Italy," Salvini, the then deputy prime minister of Italy, said in 2019.
He has a point. After all, those arrested were not flag-waving students full of vino rosso and idealism. Three of the five former Red Brigades militants arrested – Marina Petrella, Roberta Cappelli and Sergio Tornaghi – had each been sentenced to life in prison for murder while fellow guerrillas Giovanni Alimonti and Enzo Calvitti faced respective stretches of 11 and 18 years for attempted murder. Narciso Manenti meanwhile, a member of Revolutionary Armed Nuclei (NAR), another leftwing group, had also been given life for murder. Significant time for significant crimes.
The Red Brigades group, it must be remembered was responsible for the 1978 kidnapping and murder of Aldo Moro, the then-Italian prime minister. We all understand they were different times but not so different that all those who play a role in abducting the national leader, shooting him 10 times and leaving his body in the boot of an abandoned car should escape any sort of justice.
Another who had his collar felt today was Giorgio Pietrostefani, co-founder of the Lotta Continua group, who was handed 22 years in prison over the 1972 murder of Milan police commissioner Luigi Calabresi but fled to France in 1999 while on release awaiting a sentence review. He had served just two years of that sentence.
While the extradition hearings for each of these terrorists could take up to three years to reach a conclusion, there is no doubt the mood has changed and that's maybe something to do with the radical Islamist problem that France is facing, in which Italy may well prove a useful ally.
On the other side, of course, with the ear of new PM Draghi, Salvini has plenty of opportunity to offer support to the unelected Italian leader in exchange for action on those issues close to his heart and those of his supporters. Meanwhile, Macron – who loathes Salvini – can extol the wonders of Mario Draghi, not have to deal directly with his bête noire and still come up smelling of roses.
These politicians might not be alone in seizing an opportunity to be seen combating terrorism while making friends in the Italian government.
After all, the seven terrorists rounded up today (a further three – Luigi Bergamin, Maurizio Di Marzio and Raffaele Ventura – evaded capture) represent only a small number of the 200 wanted on the list passed to Paris that Rome was keen to see return to Italian soil.
Also on rt.com
'Facing threat that is more difficult to spot': French PM presents new bill to combat Islamist terrorism
Chances abound for a world of cooperation. For instance, there's former Red Brigades member Leonardo Bertulazzi living quietly in Buenos Aires, Argentina. His old colleague Alessio Casimirri and Potere Operaio's killer arsonist Manlio Grillo keep their heads down in Managua, Nicaragua, while former Brigatista Alvaro Lojacono lives under an assumed identity in Switzerland and ex-Prima Linea militant Oscar Tagliaferri spends his days in Peru.
There are, of course, well-meaning souls out there who will defend the right to freedom of these people, largely on the grounds of, 'well, it was a long time ago and they've done nothing terrible since.' I don't buy that. Time does not heal all wounds and time does certainly not bring back the dead, the innocent victims of terrorism.
So while Italy seeks to round up the demons of its past, maybe it could knock on the door of 10 Downing Street and ask PM Boris Johnson to revisit the case of Vittorio Spadavecchia, who was linked to a new fascist militant group, the Armed Revolutionary Nuclei (NAR), and convicted in absentia in Italy on 21 charges relating to terrorism, firearms possession, theft and armed robbery in 1986 but has lived happily in London since 1982.
Because, heaven knows, BoJo needs as many friends as he can find right now, and if Emmanuel Macron is to be believed, then Italy's Mario Draghi is a wonderful pal to have.
Think your friends would be interested? Share this story!
The statements, views and opinions expressed in this column are solely those of the author and do not necessarily represent those of RT.
You can share this story on social media: