Pressure mounts on Charles Michel in 'Sofagate' sexism row as Ursula von der Leyen speaks of 'hurt' following Turkey trip snub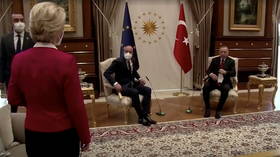 With 'Sofagate' still raw for humiliated Euro boss Ursula von der Leyen, her companion in Ankara faces a fight to hold his job as one ex-MEP accuses Charles Michel of failing to react to a sexist Turkish President Erdogan.
When someone falls victim to a lapse in manners, the matter is often settled with a quick apology and life goes on. But not, it seems, European Commission President Ursula von der Leyen, who is still fuming nearly a month after the 'Sofagate' affair that left her humiliated in Ankara.
Having failed to offer the EC president a seat, her companion, President of the European Council Charles Michel, instead accepted a gilded chair at the side of the Turkish President Recep Tayyip Erdogan while von der Leyen sat on an adjacent sofa. Video of the incident soon went viral.
Also on rt.com
Vaccine passports? EU to reopen to American tourists this summer, but travelers must have proof of 'APPROVED' jabs, Brussels says
Officials from Turkey and the EU tried to brush the matter off as a misunderstanding of expected protocols. But when pictures of Erdogan's 2017 trip to Brussels showed the then-incumbent Commission and Council presidents meeting their guest, they sat on either side of him. Needless to say both were men.
And von der Leyen couldn't help but notice, which has not improved her mood.
"I felt hurt. And I felt alone – as a woman and as a European. Because this is not about seating arrangements or protocol," she said in a speech to the European Parliament, which included Charles Michel. "This goes to the core of who we are. This goes to the values our Union stands for. And this shows how far we still have to go before women are treated as equals.
"Would this have happened if I had worn a suit and a tie? In the pictures of previous meetings, I did not see any shortage of chairs. But then again, I did not see any woman in these pictures, either."
Such is her continued annoyance at the ease with which Charles Michel, the EC president, accepted the proffered gilded Ottoman-style chair from Turkish leader Recep Tayyip Erdogan, leaving a woman who ranks above him in seniority to find a seat on an adjacent sofa, and so lame has been his response since, that there are rumbles the Belgian may not be offered a second term when his current spell in office expires in January.
Former Euro MP Margot Parker, who sat as a senior member of the European Parliament's Femm committee on women and gender equality, told RT the lack of respect from Michel towards the office of EC president was telling, and could come into play when the time comes for EU leaders to think about extending his two-and-half-year term in the new year.
Also on rt.com
Sofagate: Von der Leyen 'surprised' after embarrassingly left without a chair at EU summit with Turkish president
"Maybe he shouldn't keep his job, because quite honestly, Charles Michel could have and should have done more," the British politician said.
"He showed a great weakness when he really needed to show courage, particularly when dealing with someone like President Erdogan, who is all about keeping women in their place. His reaction at the time just wasn't good enough. He leaves me a little underwhelmed.
"He should have immediately stood up and made the offer, 'Please, President von der Leyen, sit down'. But he didn't.
"Charles Michel couldn't hold onto his job as Prime Minister of Belgium when he lost a no-confidence vote in parliament but the problem is that when these people are in the job, it's often a case of better the devil you know than having a new devil you've got to break in."
Ms Parker was not convinced by Michel's efforts to paper over the insult upon his return from the Turkish capital.
"I don't think he made much of a job of his apology," she said.
"He was way too mealy-mouthed but maybe he didn't realise he had allowed Erdogan to make the point that women are always in their box and should know their place. The message to women was clear, 'you can always aspire to greater things but don't get too cocky because we're the guys in charge'.
Also on rt.com
EU chiefs to visit Turkey amid tensions over Ankara's crackdown on Kurdish-supporting party
"This is not on. Whether you like von der Leyen or not, that's immaterial, she was put in this position, therefore deserves the respect due to the office, but here they seem to be saying that because she's a woman they could not respect her position. That's what it looks like to me.
"One of the embarrassing things about the whole affair is that the two EU leaders were in Turkey to discuss women's rights and Erdogan couldn't even give the woman a seat! I would've been thinking, 'Where's my bag? I need to thump this man!'."
Like this story? Share it with a friend!
The statements, views and opinions expressed in this column are solely those of the author and do not necessarily represent those of RT.
You can share this story on social media: