All dressed up & nowhere to riot? Need to 'prepare' for Chauvin trial verdict exposed grim reality of the Disunited States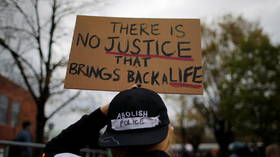 As the US awaited a verdict on ex-Minneapolis cop Derek Chauvin's murder trial, some cities preemptively boarded up for months through fear, playing into the hands of a ruling class that wants us to tear each other's throats out.
It was no great surprise to hear on Tuesday that Chauvin, the former police officer who infamously knelt on the neck of black ex-con George Floyd for over nine minutes last Memorial Day as Floyd choked out his last breaths, was headed to prison. Had the jury returned any verdict other than guilty, the whole court would likely have been prosecuted for causing a riot themselves.
Even if the jury did not truly believe that the disgraced ex-cop belonged in prison, there was no doubt he had dramatically overdone his duties, mocking Floyd as the man struggled to get air into his lungs and generally adding insult to his injury.
But the news of "riot preparations" being made by both Antifa groups and pro-police groups truly grasped at the brass ring of chutzpah, with both sides having made up their minds long before Chauvin entered the courtroom who was innocent and who was guilty. It's easy to see how Chauvin's defense attorney surveyed his prospective jury pool – every one of whom had no doubt turned on a television or computer in the last six months, and seen his client smirking over a stricken, hysterical Floyd – and despaired at what he saw.
Also on rt.com
Black Lives Matter says communities being 'terrorized at a greater rate' under Biden than Trump
Innocent until proven guilty was not going to rule the day here, certainly not in 2021's climate, where one is either an enthusiastic 'Blue Lives Matter' fan of policing or a Molotov cocktail-toting 'All Cops Are Bastards' enemy of the uniform. The people in between don't count, according to the media, which has taken upon itself the task of creating reality.
Cities that had been wrecked in the immediate aftermath of world-famous victim Floyd's killing wasted no time in fortifying themselves, weeks or even months ahead of the Chauvin verdict. They weren't going to get caught with their pants down this time. Chicago announced it was preparing for a whopping "tenfold increase in unrest," while Washington, DC cancelled all days off and sick days for police, demanding everyone be on call for what they were convinced would be an outpouring of violence.
Minneapolis in particular – the Patient Zero of last summer's Black Lives Matter riots and the site of the sidewalk where Floyd breathed his last breath – posted a tragically ironic photo of several beefy police officers promising residents they were "ready to protect people and property, and protect your First Amendment right to protest." Appearing to have learned nothing from the chaos that followed Floyd's death, they looked eager to meet (perceived) force with force once more.
But watching the response in other cities, Minneapolis wasn't wrong to be on its guard. Even as far away as Los Angeles and New York, police chiefs told the media they'd been working on managing the trial's aftermath for months. NYPD Commissioner Dermot Shea revealed the force had been preparing its response to the Chauvin trial for "nearly a year" – a temporal impossibility given that Floyd was killed on May 25 and the verdict arrived on April 20, but who's counting?
The city got punished anyway for sending up a few green shoots of normality when a mob of screaming demonstrators – apparently pro-BLM, but hard to tell, given their aimless rage – targeted a Mexican restaurant in Brooklyn. While they condemned the establishment as "white-owned," it's not clear how they figured that out, given that the family that owned the taqueria was, in fact, Mexican, and the tormentor leading the yowling horde could barely pronounce "taqueria." Adding to the surrealism, they yelled "We don't want you here! We don't want your f**king money!" and then, in the same confusing breath, demanded that diners "tip 30%!"
BLM-Antifa in Portland promises violence "no matter what the verdict is" in the Chauvin trial. This should make it clear that these months of riots have never been about justice but rather is an excuse to be violent & destructive without consequence. #PortlandRiotspic.twitter.com/mlrpRGQCj3

— Andy Ngô (@MrAndyNgo) April 20, 2021
And in Portland, where the post-Floyd riots never really ended, violent demonstrators were ready to start setting the city on fire no matter what the verdict was, taking to the streets to brawl with cops before the jurors even made their call. After all, who needs a reason to riot? It's a nice sunny day, how better to enjoy it than setting things on fire?
VIDEO: An officer and protester engage in a heated confrontation. Another officer arrives on a bicycle, pushing another nearby protester. That protester then punched the first officer, and police piled on the person who threw the punch in flurry of physical confrontation. pic.twitter.com/ZpZSFClwJV

— The Oregonian (@Oregonian) April 21, 2021
It should be obvious, but this is not how policing is supposed to work – officers and protesters taking to the streets night after night to goad each other, getting to the point where they actually recognize their counterparts because all they ever do now is perform this same ritual show of resistance again and again, never actually accomplishing anything (besides maybe fattening a bail bondsman's wallet once in a while). Perhaps they go home every night with a vague sense of having successfully maintained Our Democracy™, but one would expect that after a year of enacting the same threadbare pageantry, the magic starts to wear off.
But sacrificing the free time in which ordinary people might organize and share ideas about how to improve their community – in ways that don't involve setting it on fire – is the perfect solution for the ruling class, who'd rather see communities at war with one another than collaborating to dig their cities out of the ditches they've slipped into from years of neglect capped by a year of controlled demolition thanks to the pandemic response.
Also on rt.com
Protesters at George Floyd 'autonomous zone' ask white people: 'decenter' before you enter
The young and angry rebels could learn a lot from their elders, who could in turn be informed about how the problems facing young people today are not all the sort of first-world made-for-TV phantoms portrayed across the media. For these two groups to work together – across racial and economic lines, even – would terrify the forces producing the Derek Chauvin Variety Hour.
Because the vast majority of citizens don't support abolition of the police force, but neither do they support seeing a man's head and neck mashed into the pavement for nine excruciating minutes when he clearly needs medical attention – no matter the man's criminal history. Similarly, it's refreshing to see a policeman held accountable for crimes he has committed, but holding him up as a scapegoat for every criminal activity perpetrated by all men in uniform is utterly unhinged, and the display on Tuesday bore more resemblance to a cult ceremony than a celebration of justice for one man.
As usual, the truth lies somewhere between the extremes, so the media stakes out those extremes and starts screaming at top volume that these are the opinions Americans must have if they are to be relevant. If people would only stop concerning themselves with being relevant and start concerning themselves with being human, we might be able to get beyond this. But until we do, get ready for night after night of gruesome riots, race-baiting, and atrocity-porn – a grotesque and utterly unwanted celebration of man's inhumanity toward man.
Think your friends would be interested? Share this story!
The statements, views and opinions expressed in this column are solely those of the author and do not necessarily represent those of RT.
You can share this story on social media: