UN experts accusing UK of white supremacy are part of a lucrative industry that cannot afford for racism to disappear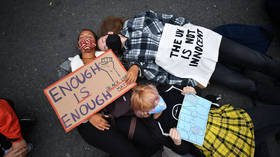 Britain has received heavy criticism from the United Nations and other self-proclaimed 'experts' for its recent report into racial discrimination. But we should question the motives of those apparently outraged by the findings.
Milk is racist. Self-driving cars are racist. Type-faces are racist. Roads and railways are racist. Chocolate is racist. Ice-cream vans are racist. Even babies are racist. When absolutely everything is racist, it should come as no surprise that a government-backed report into racial discrimination is also, you guessed it, racist.
Also on rt.com
Now milk is racist? XR's latest crazy claim leaves a sour taste as they try to deny schoolkids dairy products
Since the publication of the report by the Commission on Race and Ethnic Disparities almost three weeks ago, there has been a continual stream of criticism attacking the data, conclusions, recommendations, and the authors of the report themselves. Cherry-picked quotations and disingenuous readings have fuelled the outrage. One claim dominates the outcry: challenging the idea that Britain is a racist country and suggesting that institutional racism is not endemic is… racist.
This week, it's the turn of United Nations' human rights 'experts'. Having taken time to study the report or, at the very least, to have read the ensuing press coverage, the UN Working Group of Experts on People of African Descent has declared it to be a "reprehensible" attempt to "normalise white supremacy" which could ultimately "fuel racism" in the UK.
The UN working group said, "In 2021, it is stunning to read a report on race and ethnicity that repackages racist tropes and stereotypes into fact, twisting data and misapplying statistics and studies into conclusory findings and ad hominem attacks on people of African descent." This statement stands in stark contrast to the reality of the Commission's report, which acknowledges that racism still exists, but argues that the experiences of BAME people are not homogenous and that factors other than race and ethnicity – such as geography, family structure, social class, and religion – influence life chances.
The UN experts are particularly scathing about the Commission's claims not to have found examples of institutional racism in the UK. This "ignores the pervasive role that the social construction of race was designed to play in society, particularly in normalising atrocity, in which the British state and institutions played a significant role." It is entirely possible to recognise past injustices, and even atrocities, while maintaining scepticism about the existence of institutional racism in the present. Instead, the UN experts decry any challenge to their world view as, "a tone-deaf attempt at rejecting the lived realities of people of African descent and other ethnic minorities in the UK."
Without providing any evidence, the UN Working Group complains about the Commission's "ad hominem attacks on people of African descent." Yet, ironically, it has been members of the Commission on Race and Ethnic Disparities – in particular the report's author Dr Tony Sewell – who have been subjected to vicious ad hominem attacks. Labour MP Clive Lewis tweeted an image of a member of the Ku Klux Klan, tagged #RaceReport. Meanwhile, Cambridge academic Dr Priyamvada Gopal compared Sewell to Nazi propagandist Joseph Goebbels. The UN experts apparently have nothing to say about such slanders.
The aim of the Commission's many critics is absolutely clear. Like the UN experts now calling on the government to "categorically reject" the report's findings, they want a public declaration that Britain is very much still a racist country and that institutional racism is still a real problem. We need to ask what right a UN working group has to interfere and seek to influence the workings of a democratically elected British government.
But we also need to ask why the report of the Commission on Race and Ethnic Disparities has been met by such a ferocious backlash. The report presents both data and a discussion of the differential outcomes experienced by diverse groups of people in Britain today in a measured and reasoned way. Yes, some will disagree with the findings and conclusions. A calm and considered national debate about racism today would be useful. But the ongoing attacks on both the report and its authors are anything but calm and considered.
One reason for the backlash might be that, as the UN envoy demonstrates, racism now keeps people in jobs. As I explored in a recent report for the think tank Civitas, being a self-styled race expert, able to detect the racism that is imperceptible even to those who are supposedly its victims, is a lucrative business. Exposing people's unconscious biases, chastising white people for their innate privilege, and teaching black people that they are victims provides a good income not just for high-profile authors like Robin DiAngelo and Ibram X. Kendi, but for a whole army of diversity officers, human resource managers and workplace trainers. Tackling racism is now big business, and one that many have a vested interest in maintaining. The upshot is that they cannot afford for racism to disappear.
If the UN experts, and all the other race hustlers, simply wanted to keep their source of income flowing, we could perhaps safely ignore them. But the impact of their work is poisonous for race relations. They re-racialise society by pushing people to see themselves first and foremost as members of distinct ethnic groups before sowing division with talk of 'white supremacy'. They object to the Commission's focus on social class, geography, and family structure because these issues transcend race and deny them the role they crave in dictating what society should look like.
We should ignore the UN's findings and celebrate the enormous strides Britain has made towards becoming a racially tolerant society.
Like this story? Share it with a friend!
The statements, views and opinions expressed in this column are solely those of the author and do not necessarily represent those of RT.
You can share this story on social media: