The big screw-up: incendiary warnings by Maxine Waters over the trial of Derek Chauvin could badly backfire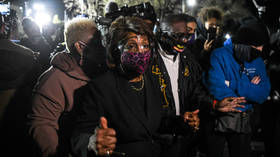 Democrat representative Maxine Waters' inflammatory and legally dodgy comments on the Derek Chauvin trial could end up not only sparking violence, but also undermining her own desires when it comes to the killing of George Floyd.
California representative Waters is certainly no stranger to rhetoric that could be seen as incitement. Back in 2018, she stated the following in regards to publicly confronting and harassing members of Donald Trump's cabinet:
"Let's make sure we show up wherever we have to show up. And if you see anybody from that cabinet in a restaurant, in a department store, at a gasoline station, you get out and you create a crowd. And you push back on them. And you tell them they're not welcome anymore, anywhere."
Also on rt.com
Maxine Waters' 'insurrection' calls provide more proof that race-baiters ripping America apart don't deserve to be taken seriously
It goes without saying that this is incendiary language, and in my opinion encouraged people to hound people publicly just because of their position within a cabinet of a sitting president. It was somewhat surprising that she wasn't censured at the time. Barely over two years later, we find Waters in Brooklyn Center, a suburb of Minneapolis. Here, almost 2,000 miles away from her congressional district, she once again opened her mouth and spat out rhetoric that could also clearly be seen as incitement:
"We've got to stay on the street and we've got to get more active, we've got to get more confrontational. We've got to make sure that they know that we mean business."
Whether she realizes it or not, her words actually do have real world consequences, particularly in a city that is already on edge. Judge Peter Cahill, who is presiding over the trial of Derek Chauvin, knows that acutely and was furious with Waters' comments, which many saw as a clear incitement to violence and putting pressure on jurors to make the "right" decision.
As he turned down a motion for mistrial, he admitted that Waters had given the defense ammunition to possibly get a mistrial on appeal. That would mean that if Chauvin is found guilty of murdering George Floyd, Waters has handed him a chance to possibly walk free. As such, her rhetoric and aggressiveness not only have no business within politics, but could end up destroying the one thing that progressives want most out of this trial.
The judge said the failure by politicians to respect the trial was "abhorrent", adding: "I wish elected officials would stop talking about this case, especially in a manner that is disrespectful of the rule of law and to the judicial branch and our function."
Waters doing something like this that could endanger the results she wants can only mean two things. The first is that she is colossally stupid, and the second is that she doesn't care. If it is the former, I would encourage anyone who lives in her district in California to reconsider who you vote for when it comes to the midterms. A public representative should at least be able to have a functioning brain. The second of the two possibilities is the one that progressives on the ground should be insulted by.
Whether you are on the political right or the political left, politicians will be politicians. The goal is to be reelected, and keep your job. On occasion you'll find politicians who are true believers in their causes, but the actions of Waters make me think the opposite is true.
The simple fact that someone who is part of the United States government incites people like this shows that they don't really care. The fact of the matter is that these trials need to play out within the judiciary, and the legislative branch needs to respect that. This interference in an ongoing trial serves no purpose aside from self-glorification, in my opinion.
As just another American citizen, I honestly hope that Congress throws the book at her. There has already been talk of punishment from house minority leader Kevin McCarthy, and his calls for her to be censured are correct. The ideal result is that she loses all of her appointments, but the irony might be that she gets exactly that, plus Chauvin leaving the courtroom a free man. All because she couldn't keep her big mouth shut.
Like this story? Share it with a friend!
The statements, views and opinions expressed in this column are solely those of the author and do not necessarily represent those of RT.
You can share this story on social media: