Tara Reade: Joe Biden didn't need Russia to ruin his reputation before the election. He did that all by himself (yet still won)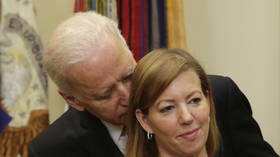 The US has just imposed sanctions on Russia, in the new tradition of doing so after a presidential election. But frankly, Moscow didn't have to do anything to smear Biden, who won merely because he was the lesser of two evils.
Biden has asserted in interviews with the corporate media that his reputation during the election was negatively impacted by Russia – or, more specifically, Vladimir Putin.
Never mind that Biden won the presidential election. His megalomania is not satisfied.
Biden was not the popular choice for the Democratic nominee, and he was often called the lesser of two evils. But the lesser evil is still an evil.
Also on rt.com
US imposes new sanctions against Russia, expels ten diplomats & targets national debt in move Moscow may view as major escalation
There is a short version of a laundry list of reasons why Biden's reputation was never affected by anything other than his own behavior. The crime bill he sponsored that was passed in 1994 led to the mass incarceration of black and brown people in America. Even his current veep has some choice words regarding this bill.
"I have a great deal of respect for Vice President Joe Biden, but I disagree. That crime bill, that 1994 crime bill, it did contribute to mass incarceration in this country," Harris, whose own prosecutorial years had earned her a reputation of a hardliner on crime, told reporters after a town hall meeting in New Hampshire.
Harris added that the bill "encouraged and was the first time that we had a federal three-strikes law."
Hundreds of thousands dead in Iraq, the world's worst humanitarian crisis triggered by the Saudi-led, US-backed war in Yemen, the original policy to cage children at the border – Biden had a part in it all during his time as Barack Obama's vice president. And the list goes on…
Stop idolizing politicians.Vote for #Biden over #Trump if that's what your conscience tells you, but please don't worship a man who championed Bush's Iraq war, helped preside over droning babies, and helped build the border cages Trump and Miller use.

— Peter Daou (@peterdaou) October 7, 2020
Not to mention Ukraine and the Burisma deals that enriched his family while he was VP. Any accurate reporting around his son Hunter's involvement and enrichment by the Ukrainian company remains convoluted or shut down altogether by mainstream American media.
Then there are his many awkward public gaffes, and his cognitive functioning being called into question, just like Donald Trump's had been before him.
Finally, of course there is the matter of eight women, including me, who have come forward with allegations about his inappropriate and unwanted touching of women.
Joe Biden's reputation around women has long been both an open secret and the subject of jokes so as to downplay the seriousness of the issue. But then the corporate media began toeing the Democratic National Convention line that Biden was the friendly old uncle full of empathy because he can cry on cue for the camera.
Also on rt.com
Biden's Sanctions Binge represents the high-water mark of the 'Putin Whisperers'
I know a very different Joe Biden. When I complained about experiencing sexual harassment while working as his staffer in '93, I didn't go to the media. I went through proper office protocol, though I was too scared at the time to write about the direct sexual assault I also experienced. But even so, the complaint was covered up and is now apparently nowhere to be found. Biden made a show of requesting a search of archives to find it, but that got mired in Congress legality and never happened. The University of Delaware, another possible resting place of my complaint, has also refused to release Biden's sealed Senate documents that had been donated to it.
In 2020, I finally told my full history with Joe Biden on the Katie Halper Show. But Biden's PR campaign just stepped over it and rolled on towards nomination and then the presidency.
None of this had anything to do with Russia.
As I stated in my book, Left Out: When the Truth Doesn't Fit In,
"I was an American staffer working for an American Senator and he assaulted me at the American Capitol."
If Biden wants to blame someone for the negative narratives about him, then he will have to blame himself. And if it has to be someone other than himself, then it should be me. I was the one who stepped up publicly and talked truthfully about what happened while I worked for him. I continue to speak out and I refuse to be intimidated by his public relations machine and the threats to be silent, or the media attacks on me.
Joe Biden's reputation harmed during the election by Russia? I think not. Russia is off the hook for this one.
Also on rt.com
Fake news all along: Confidence game with 'Russian bounties' story shows one shouldn't trust spies & self-serving media
The statements, views and opinions expressed in this column are solely those of the author and do not necessarily represent those of RT.
You can share this story on social media: