Twerking dancers performing on new Aussie navy ship denounce 'creepy' state TV network for 'publicly upskirting' them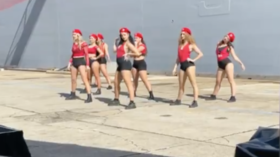 Australia's national broadcaster has sparked a new sexism storm for their doctored coverage of the risque dance troupe – but who on earth thought inviting 101 Doll Squadron to the commissioning ceremony of a ship was a good idea?
The Australian defence forces have had a busy 12 months. There's been the release of a high-level report alleging unlawful killings by elite troops of Afghan citizens, the announcement of the withdrawal of the nation's final 80 troops from that field of battle and the launch of a billion-dollar, homegrown missile system.
But to top it all off, the military has now been rocked by 'Twerkgate'.
In the sort of public relations disaster that equates to accidentally torpedoing your own battleship in combat, naval officials chose to invite an all-female dance troupe to perform at the commissioning of the $2 billion oil replenishment vessel, the HMAS Supply (now, no doubt, forever to be known at HMAS Twerking).
You have to wonder who came up with this absurd idea, and who in the chain of command signed off on it.
When the dancers of 101 Doll Squadron launched into their performance, it wasn't so much precision drills to pipes and drums with a brass band accompaniment, as a bunch of attractive young women twerking and writhing to a beat-heavy dancehall track, dressed in skimpy black shorts and red tops, topped with military-style berets.
Any parent of a tween-age girl is all too familiar with the horrors of dancehall. And here it was in full sexually provocative display on the Australian defence force's brand spanking new ship. Megan Thee Stallion meets the Australian navy. How was that a good idea?
Also on rt.com
Aussie billion-dollar spend on new guided missiles exposes racist 'Yellow Peril' paranoia at heart of trade dispute with China
It would be a bad and incongruous choice in the best of times, but the form of entertainment exposed a total disconnect within the forces over the furious and ongoing debate about the sexist treatment of women in Australia following a series of allegations of sexual misconduct against officials at the highest levels of government, which included one staffer performing a sex act over his female boss's desk.
While the invitation to 101 Doll Squadron was tone deaf, coverage of the event by the national ABC network was even more lumpen in its approach, using cutaway edits of invited dignitaries – including naval top brass and Australian Governor-General David Hurley – apparently showing them watching the risque performance.
Video of the women dancing was cut with images of the great and good watching the performance with puzzling ambivalence. The network's aim was clear: show a bunch of high-ranking naval officers and their posh guests squirming with embarrassment and/or disapproval at the dance troupe's performance.
But the expression on the faces of those featured lacked authenticity because that video was taken at some other point in the ceremony. They didn't even see the troupe dance.
Cut to outrage.
The 101 Doll Squadron – it's only a gimmick name and they have no official military ranking at all, just to be clear – were furious at the ABC's coverage and its follow-up actions and while that is understandable, isn't the role of the performer to know their audience?
Here were the seven women from the dance troupe in their little shorts and combat boots, dancing on the deck of a mighty naval ship. In front of an audience of sailors. Did they not check the invite before finalising the choreography?
Anyway, the dancers' leader Maya Sheridan set upon the TV network in a harshly-worded letter saying, "You deliberately shot our crotches from an angle which nobody else saw that were in attendance. Your worldwide public upskirting of our troupe has left us distressed and shamed.
"We found this very creepy and reflects more on the ABC's camera operator and their need to sexualise these women and their dance piece for their own gratification."
This allegation was bad enough and deserved more than the bog-standard denial of wrongdoing that followed, but when the ABC apologised, it wasn't to the women who felt they'd been shamed, but to the Governor-General and the naval top dogs who it had wrongly suggested were in an audience watching the performance.
While the GG's office said Mr Hurley was "disappointed", at least he didn't feel publicly upskirted worldwide.
When I worked in Australia as a newspaper journalist, our colleagues in TV were widely known as 'The Filth' for their low-level behaviour and overweening sense of self-importance when covering events. Judging from this latest fiasco, things haven't changed all that much.
Think your friends would be interested? Share this story!
The statements, views and opinions expressed in this column are solely those of the author and do not necessarily represent those of RT.
You can share this story on social media: