Macron's randomly picked climate board axes 1/10 domestic flights after €4bn Air France bailout – this is a French farce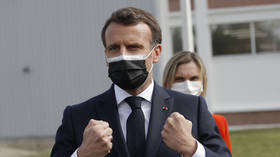 After splurging on billions to save the airline, the French president has banned any flights on journeys that can be made in 2.5 hours by train at the behest of a citizens' climate convention he set up to pacify the green lobby.
When President Emmanuel Macron got the green light for the state to bail out ailing Air France earlier this month, who knew that just a few days later he would put the nation's aviation industry into a tailspin after bowing to a climate group's demands on reducing carbon emissions.
With one hand, Macron handed over €4 billion to rescue the financially crippled company, while with the other he sacrificed a number of profitable domestic air routes at the altar of climate change. The new funding is on top of more than €10 billion in state loans already paid to the company around this time last year.
Also on rt.com
Green mayor tells French children to give up on their dreams of aviation as Air France accepts a €4 billion state rescue package
Air France-KLM is now nearly 30% owned by the French state, and the people should be up in arms about the decision to scrap a number of domestic airline routes covering Paris, Lyon, Bordeaux and Marseille on the recommendation of the unelected Citizens Convention on Climate and some none-too-subtle arm-twisting last year from the European Commission just as their taxes are being poured into saving the business.
The approval by Brussels under EU state aid laws was needed by the French government to rescue its ailing carrier and was conditional on Air France reducing a number of domestic flights where the same route was covered by rail journeys of less than 2.5 hours.
As usual with funding from the European Commission, there are always strings attached, and this time Macron agreed to the conditions, no doubt realising he could colour it all as a brilliant green initiative from those randomly-selected climate nerds, to whom he had promised parliamentary debate for their 'unfiltered' proposals contained in their report released last June. Win-win.
In practice, however, there was a slight issue in that the citizens' convention wanted to ban domestic flights of four hours or less but government ministers managed to convince otherwise and it was agreed after all that the legislation would use the rail journey time of less than 2.5 hours.
Still, this is not without considerable consequence. This is expected to affect one in 10 domestic French flights, and while that might not seem too onerous, for an airline industry already on its knees, that will make a recovery from the Covid-19 pandemic just that little bit harder.
Also on rt.com
As French big pharma firm gets away with a FINE for 2,000 deaths, who can blame vaccine refuseniks for their distrust?
The government faces a paradox of its own creation: using taxpayer money to fund a business that it is simultaneously targeting with legislation to limit its ability to make a buck. A true French farce.
If industry chiefs want someone to blame for this latest blow to their balance sheets, they need look no further than the incumbent of the Élysée Palace.
At the time it seemed like a good plan. Bereft of any ideas himself, Macron set up the Citizens Convention on Climate in 2019. Its members were chosen from a random selection of 300,000 French telephone numbers from which the ranks were whittled down to only 150 people with 40 substitutes just in case.
They were then given the brief to cut the emission of greenhouse gases in France by 40% of 1990 levels by 2030. The citizens were expected to research and hothouse ideas before preparing draft laws which Macron vowed to then either put to a referendum, to a vote in Parliament or to direct implementation "without a filter".
The whole scheme oozed green idealism infused with Macron's version of hyper-democracy that could be viewed by some less-charitable types as an elaborate attempt to provide cover for cynical buck-passing in a policy area where he was all at sea, and that has proven a minefield for most governments worldwide.
Sure, L'Empereur has given Air France its bailout money with the EU's blessing, buying French taxpayers a huge stake in an airline they never asked for, and the citizens committee is delighted that one of its recommendations looks like becoming law, albeit at the expense of the said same Air France.
Also on rt.com
The elite's secret Paris dinners have enraged the locked-down French, but they should stop the hate & exercise their own freedoms
The real worry for Macron is that both the struggling aviation industry and the pandemic-weary French voters will wake up to this ruse, realise that he is playing all sides and that they have been taken for mugs.
Then, the situation for a president seeking reelection could turn messy. Very messy.
Think your friends would be interested? Share this story!
The statements, views and opinions expressed in this column are solely those of the author and do not necessarily represent those of RT.
You can share this story on social media: