Investing in bricks: How Lego has become a lucrative target for global crime syndicates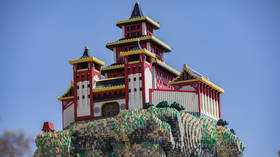 Rare sets of Lego have become an increasingly valuable commodity traded around the world, leading to a spate of high-profile thefts. RT.com investigates why the children's toy has become so popular with international criminals.
The global pandemic has seen all sorts of unusual happenings, but French police's recent announcement that they were pursuing a gang of sophisticated international Lego thieves was particularly bizarre.
Most of us think of Lego as little more than plastic building blocks for kids, but there's an entire subculture that's grown around the Danish toy. BrickEconomy is a website that tracks "the economics of Lego," and the combined value of the sets in its database alone is a staggering US $1.8 million.
While you might not expect sums like that to relate to Lego, it's only part of the story – because there is serious money to be made in the rising values of certain sets.
BrickEconomy treats them like a company on the stock market, so buyers can view the historical prices of their assets. For example, the 375-2 Lego Castle cost $54.71 at retail when launched, but it's now worth $9,101.37 – a rise of 16,635.666%. If that's calculated annually, it's a 12.64% rise year on year since its 1978 release.
Top prices come when the sets are in MISB (Mint In Sealed Box) condition. These should be flawless and appear as though they've just left the factory. There's still value in NISB (New in Sealed Box) sets, but these could contain some imperfections like scratches or creases on the box.
So what's driving the highly organised professional thefts? Andrew Newman from BrickEconomy explained: "In general, the Lego being stolen is just a crime of opportunity, coupled with the fact that sets are easily sold on secondary markets and maintain their retail value, plus are very difficult to trace."
As with stocks and shares, timing is key with Lego. Newman continued, "Old sets do generally trend upwards, but new sets are typically the best short-term value as the price will increase dramatically after Lego retires the set. If you can time when a set is about to retire, the best bang for the buck is right after retirement, with possible upsides of 25-50 percent overnight.
"Couple this with the fact that sets do increase their value at a pretty solid pace over time, and it is a great product to collect. On average, its growth keeps pace with the US stock market, and due to the fact it is relatively easy to sell sets on the many secondary markets, Lego collecting has become a very big business for some and a passion for others."
Unlike famous pieces of art or jewellery, Lego is not as widely understood. And it's this that thieves are exploiting. Huw Millington, founder of Lego set guide Bricketset.com, said, "The earliest case I can recall was in the early 2000s when someone was caught putting stickers with barcodes of cheaper sets on expensive ones in the USA, then selling them on the secondary market.
"Lego is expensive and sought after so it's going to be a target for criminals. Unlike jewellery, say, it doesn't have such a high profile and protection around it."
There are different factors that make Lego valuable. Being old is not enough to drive a high price. Millington highlighted the Piper Airplane as a good example of a coveted set and said, "It's given to attendees of the Lego Inside Tour that the company runs a few times a year in Billund. A few hundred only are produced and not many are sold."
Another is 10182 Cafe Corner. "It was released in 2007 and was the first in what has become known as the 'modular building series'," Millington continued. "It cost $125 new but nowadays you'd need to pay over $2,750 for a MISB example. This is mainly due to it being the first in the series, and people who are new to the hobby are willing to pay to complete their collection."
As Covid-19 has hit the world, production has slowed down or ceased in many industries.
Also on rt.com
Let's build back better post-Covid, create a sustainable and inclusive global economy that works for the many, not just the few
Lego is not immune, and this has bumped up the price of certain sets. However, those sold in regular toy shops will not see much rise in price in the short-term, as Millington explained. "Sets sold only by Lego at Lego.com and in its brand stores are a better bet, but most of them nowadays have a multi-year lifespan and are never reduced so you have to buy at RRP and hold on to them for a long time for a decent return.
"There are shortages of some sets at the moment due to the pandemic causing some to sell out quickly at Lego.com. This has pushed secondary market prices up as scalpers move to cash in."
Real-world events can also have a direct influence on Lego. When American basketball superstar Kobe Bryant died last year in a helicopter accident, his mini-figure went up in value, and it's estimated it will continue to rise by 13% annually.
The piece de resistance of the Lego world, though, is the 2007 Ultimate Collector's Millennium Falcon from the Star Wars series. Prices are sky-high for it, with some sellers on eBay asking for almost $6,000.
As with any valuable assets, however, fakes have now become an issue. "There are knockoff brands, like Lepin for example, that make fake Lego bricks, figures and sets based off the real deal," Lego expert Johnathan Pushkar said. "The designs are often identical, but the price is sometimes half of or more off Lego's price. The quality is always sub-par, but they've been getting better with time.
"Lego sets are only available for a limited amount of time, usually about two years, and in many cases with themes like Star Wars, Harry Potter and Lord of the Rings, the sets go up in value after they've been retired."
And Joshua Hanlon of Beyond The Brick YouTube channel explained how Lego investing is now universally popular. "It's definitely a global phenomenon," he said. "People all over the world sell sets and Lego pieces online."
With millions of dollars' worth of Lego changing hands every day, it appears that the thefts will only continue. French police discovered their gang had set up an HQ in a Paris hotel room before returning to Poland to sell their loot. Who'd have thought international crime rings and Lego would one day become bedfellows?
So there's only one thing for it… now's the perfect time to have a rummage around your cupboard and see if you've got any left from your childhood. You never know, it might just buy you a new car.
Like this story? Share it with a friend!
The statements, views and opinions expressed in this column are solely those of the author and do not necessarily represent those of RT.
You can share this story on social media: