The takedown of the Union Jack is a lesson in the moral cowardice of Britain's cultural elite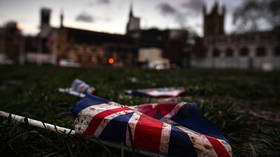 The UK's culture war is at a stage where respecting your flag is equated to racism and xenophobia. The Union Jack is ridiculed on national airwaves, and even schoolchildren are allowed to shame their teachers into taking it down.
Britain is one of the few places in the world where schoolchildren have permission to express contempt for their nation's flag. So it is hardly surprising that pupils at Pimlico Academy in South London protested against their school's policy of flying the Union Jack.
Nor is it surprising that the school swiftly caved in to the children's demand to take down the 'racist' Union flag.
What is truly remarkable is not merely the moral cowardice of the school leaders, who refused to uphold and defend their nation's principal symbol, but also that the headteacher apologised and actually praised the students' behaviour!
"Our students are bright, courageous, intelligent young people, passionate about the things that matter to them and acutely attuned to injustice. I admire them hugely for this though I regret that it came to this," wrote Daniel Smith, the headteacher.
It is likely that Smith and some of the other school leaders were aware of the serious implication arising from a state of affairs where a school in England is forced to take down the Union Jack. But instead of addressing this issue, Smith deflected the problem by stating, "We acknowledge that this symbol is a powerful one which evokes often intense reactions."
That's another way of saying that an expression of hatred for Britain is an understandable "intense reaction"!
Also on rt.com
Official: Brits are NOT racist… and the woke are outraged as it ruins the narrative around which they've built an entire industry
It is not surprising that the children at Pimlico have been so easily incited to hate the Union Jack. Sneering at the Union Jack has become de rigueur for members of the British cultural elites. It was not that long ago that two BBC Breakfast presenters, Charlie Stayt and Naga Munchetty, took it upon themselves to take the piss out of Local Government Secretary Robert Jenrick for displaying the flag in his office.
During the course of an interview with Jenrick, Stayt said, "I think your flag is not up to standard size, government interview measurements. I think it's just a little bit small, but that's your department really."
In the background Munchetty could be seen laughing into her hand. Evidently, she thought that a government minister standing in front of the national flag was such a ridiculous sight that it was OK to sneer at his gauche behaviour.
Perversely, it's the people who challenge the contempt directed at their nation's flag that often get accused of starting a culture war. Wading in defense of its anti-British colleagues, the New York Times notes "the flag furor is a useful culture-war issue" for the government.
The anti-Union Jack lobby often professes its distaste for those who wave flags. However, they are very selective about which flag can and cannot be waved. In recent decades, many of them ostentatiously wave the flag of the European Union to highlight their loyalty to this transnational institution. During the Last Night of the Proms in 2019 they handed out thousands of EU flags and never stopped waving them.
No one from the BBC sneered at this over-the-top display of loyalty to the flag of the European Union.
The events at Pimlico Academy are underwritten by an elite culture that despises its own nation and regards any display of patriotism as a marker for xenophobia. Displays of contempt for Britain's past and its national symbols are rarely challenged. Occasionally, the sense of frustration at the derision directed against a particular British custom leads to a backlash. The outcry provoked by the BBC's announcement that Rule Britannia will not be sung at the Proms is an example of such a reaction. However, a backlash by definition is rarely able to match the force to which it reacts. It is entirely reactive and defensive.
Also on rt.com
Woke people are in a flap over the Union Jack – and that's precisely why we should fly it
Back in 1941, George Orwell remarked that "England is perhaps the only great country where intellectuals are ashamed of their own nationality." Were he alive today, even Orwell would be surprised by the extent to which such sentiments abound, unchallenged, in public life.
What would certainly surprise Orwell is that even school children have become educated into believing that hatred for their nation's flag is really cool and that the country which they inhabit should be ashamed of its past.
Orwell invested his hope in the common sense of ordinary working-class people to stand up and be counted. For the sake of our future, let's hope that he was right.
Think your friends would be interested? Share this story!
The statements, views and opinions expressed in this column are solely those of the author and do not necessarily represent those of RT.
You can share this story on social media: