Suez Canal blockage could alter shipping forever…and China and Russia will be the winners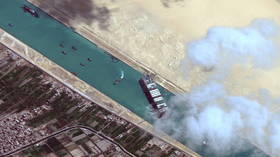 The need for alternative international shipping routes has been highlighted by events on the Suez Canal over the past week. And with their plans already taking shape, Beijing and Moscow are well positioned to capitalise.
The Suez Canal's recent spell in the limelight has turned out to be quite revealing. The strategic waterway has dominated headlines for a week after a giant container ship, the Ever Given, got stuck in sand and mud at the canal's southern end, blocking it and bringing shipping to a halt.
The welcome news emerged yesterday that the crisis is finally over and shipping can resume, but it won't be without repercussions. In a world already battered by the Covid-19 pandemic – which itself has had huge implications for shipping – the blockage of the canal is a firm reminder of just how fragile core transcontinental shipping routes can be.
This was a relatively short blockage, but its consequences will be felt for a long time and will serve as a boost to China and Russia, both of whom are introducing new game-changing intercontinental freight routes.
The Suez Canal is a product of an era during which globalisation, as we understand it today, was emerging, to facilitate the flow of free trade as well as the naval aspirations of empires such as the British and the French. Cutting through the dividing line between the African and Asian continents, its creation was a revolutionary feat which strategically connected the Mediterranean with the Red Sea and the Indian Ocean, giving a direct intercontinental shipping route from Europe into Asia. No longer was the time-consuming, tremulous journey around the Cape of Good Hope necessary, and the canal's existence allowed the British to exploit India to their own wishes. In short, Suez changed the world.
As a result, it is no surprise that various episodes in the Suez throughout history, no matter how brief they may have been, have played a key role in prompting big geopolitical shifts. The Suez Crisis of 1956, whereby Britain sought to regain strategic control of the canal following its nationalisation by Egypt's President Nasser, proved to be a moment of reckoning for British Imperialism.
The dual opposition from both the US and the Soviet Union forced London to recalibrate its long-held outlook of being a global naval power, and instead turn towards Europe. Given this history, it's not outlandish to recognise that this Suez crisis will also have big consequences, even though there was no military dynamic.
Although the Ever Given hold-up was just a week, it has proven expensive. The estimated costs of blockage in the canal amount to around $9 billion per day and could have a run-on effect of reducing annual global trade growth by 0.2-0.4%. It also sent the cost of shipping up temporarily by 46% as ships were forced to avoid the canal and transit around Africa, with longer and more inconvenient journeys.
It is inevitable that faced with such circumstances, shipping and freight companies will inevitably seek out cheaper, less risky and more effective routes. And most crucially the crisis has come at a time when new alternatives are appearing which are likely to be more competitive than Suez on every level.
The first one is China's Belt and Road Initiative. Beijing's global project has invested hundreds of billions in the creation of new ports, railways, and roads on multiple continents, all of which are changing the logistical landscape. One of its most powerful achievements has been the initiation of multiple China-Europe Railway routes, where new cargo trains allow freight to be shipped directly from cities in China across Eurasia as far west as London and Portugal.
There are two main arteries to this project; one which reaches Europe via Russia and branches out into individual countries, and another which crosses central Asia, transits through Turkey, extends up through the Balkans and terminates at Prague.
These routes have dramatically reduced the shipping time for goods across the continent, and as a result of Covid-19, the volume of cargo has surged to a record high.
Also on rt.com
Shutoffs at world's major trade routes evolving as Europe's busiest freight line remains closed & cargo still stuck in Egypt
Secondly, there is Russia's Northern Sea Route across the Arctic, which extends through the country's exclusive economic zone and allows a through-route from one end of Eurasia to the other. Moscow is investing heavily in infrastructure as well as ice breaking ships, touting it as a slick alternative to the risks of Suez.
China is also interested in the far north, too, pledging to create a 'Polar Silk Road'. The opening of this previously closed region for commerce will undoubtedly speed up shipping times and comes as a part of a 'strategic competition' for the Arctic region as a whole, with President Trump's administration having aggressively renewed America's interest in Greenland.
The last week's problems in Suez therefore echo the past. While historically great powers such as Britain and France sought to establish and control the strategic route in pursuit of commercial gains, the grounding of the Ever Given illustrates how the powers of today are continuing to compete in creating and sustaining new shipping routes which will completely alter the flow of global commerce.
Suez is back to normal, yet the waters of the canal run still amid the flow of an otherwise changing world as businesses scramble for new and quicker routes to transport their goods following a year of crisis. Things are moving again between the Red and Mediterranean seas, but one might wonder if this proves to be a turning point for Suez, with its significance starting to wane.
Think your friends would be interested? Share this story!
The statements, views and opinions expressed in this column are solely those of the author and do not necessarily represent those of RT.
You can share this story on social media: