Megan Rapinoe's constant complaints about equal pay send a terrible message to women everywhere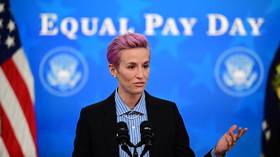 Dave Rubin is right to point out the failings in Megan Rapinoe's argument about equal pay. It promotes a negative attitude in young women and encourages the belief they can't be a success on their own terms.
In watching a live stream yesterday from political commentator Dave Rubin, I saw him discuss US soccer gold medallist and World Cup winner Megan Rapinoe and her recent appearance alongside President Joe Biden.
Rapinoe spoke with Biden to mark Equal Pay Day, using old and long debunked statistics relating to whether or not men and women are paid on a similar level. Ruben wisely pointed out how the statistics don't factor in a number of key issues such as position, education, job tenure, or hours worked per week.
As much as I like Rubin, and agree with his observations, I think there's an even more salient point that is actually missed whenever we simply debunk the bad statistics. And that is the negativity of the message that celebrities like Rapinoe send to the young girls that they apparently want to encourage and positively influence.
Although it is true that Rapinoe's sport, women's soccer, is not one that interests most Americans, there are other women who have become massive stars – and massive earners – in other sports and elements of pop culture.
The Williams sisters are tennis mega stars who have done quite well for themselves, with conservative estimates suggesting Venus is worth a cool $200 million. Or what about UFC Hall of Famer Ronda Rousey? Although not the first popular female fighter in MMA, Rousey proved such a sensation that UFC president Dana White created women's divisions, even though he had said just a few years before that it would never happen.
And although not a 'real' sport, in women's professional wrestling over the past few years, there have been several female stars who have quickly carved out Hall of Fame careers.
This is all hugely positive. But the message that Rapinoe sends to young women everywhere is that they cannot equal men in sport without help from the government. Then, when you start to branch that message out to females in any profession, you are essentially telling all American women that they cannot equal men without assistance.
Surely that is one of the most self-destructive messages that you could ever give to a young woman. Shouldn't female role models such as Rapinoe be promoting positivity and encouragement rather than negativity?
The reality is that while more often than not, women cannot physically equal men, in the world of sports or sports entertainment, they can attain star power equal to, or even greater than, that of a man.
The fact of the matter is that whatever the X-factor is that women like Ronda Rousey or Serena Williams have, Megan Rapinoe does not have it. Even so, she's still a gold medal Olympian who may be able to pave the way for a future mega star to take women's soccer to a much higher level globally.
Her message does not do that, but rather cuts women off at the kneecaps. And let's be honest, if a man was promoting the same negativity to women, feminists all over the world would be calling for that man to be castrated publicly.
Rapinoe and the people who support her need to answer a question: Do they want women to be driven to reach new highs? And if the answer is yes, they need to drop the whining and start reassuring girls that they can make it big if they work hard enough.
Think your friends would be interested? Share this story!
The statements, views and opinions expressed in this column are solely those of the author and do not necessarily represent those of RT.
You can share this story on social media: