Manufacturing Kamala: 'Biden-Harris administration' verbiage is another step closer to the president the US media wanted all along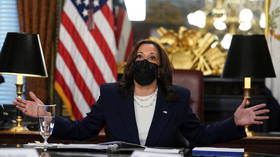 With the Biden administration transitioning all of their official documents to explicitly include VP Kamala Harris, stubborn facts that got in the way of the preferred media narrative are a step closer to being 'corrected.'
Traditionally, the US governments are referred to by the name of the current president – the Trump administration, the Obama administration, etc. In a break from that tradition, the current occupants of the White House have chosen to use "Biden-Harris administration" on all their official documents, websites, social media accounts and the like.
Also on rt.com
'The Biden-Harris Administration': White House website puts VP in the limelight in peculiar break from tradition
What's particularly interesting, however, is that the woker-than-thou crew chose not to make political hay out of this. There was no "we're elevating our First Ever Woman of Color vice president in the name of equity and equality" pomp one would normally expect. Instead it was done on the down-low, with the mainstream media not noticing for almost a week – and acting supremely incurious about it even then.
Nothing to see here, it's perfectly normal to have vice presidents on equal footing with the POTUS and doing stuff like making calls to international leaders. Except it really isn't. The post has long been regarded as vestigial and played for laughs.
How many people know who was Woodrow Wilson's VP? The only reason anyone remembers Harry Truman, Lyndon Johnson or Gerald Ford is that they stepped up when their presidents died or resigned.
Then again, nothing about the 2020 campaign or election has been what one would call normal. For one thing, VPs normally try to ride their predecessors' coattails right away, but 2016 became all about how it was Hillary Clinton's turn, and the "Obama-Biden" narrative didn't appear until sometime in 2019. For another, the initial media favorite among the mainstream media outlets was not Biden, but… Kamala Harris.
There was a time she was considered a "front runner" and "top-tier candidate," fawned over by the political press. Then came the fateful July 2019 presidential debate and a wrecking ball named Tulsi Gabbard. Though the Democrats went after Gabbard with a vengeance, Harris never recovered. She dropped out in December, saying that the campaign funds had dried up and blaming Democrat voters for being racist, sexist misogynists, or something.
In a final bit of irony, Gabbard went on to receive two pledge delegates in the Democrat primaries – while Harris got zero. Meanwhile, Biden went from an abysmal showing in early states to every other candidate lining up behind him with frightful speed by April.
He picked Harris as his running mate – literally on the grounds of her gender and skin color – in August. Interestingly, Politico had that scoop ten days prior. In any event, the media had an excuse to lavish attention on Harris again – and they did, creepily obsessing over her footwear as she toured fire-stricken California for photo-ops.
Later that month, in a virtual campaign event, she referred to "a Harris administration, together with Joe Biden as the president of the United States." Again, the media shrugged it off as a lapse. They did so again when Biden spoke of "president-elect" Harris in December, and again on March 18, when he called her "President Harris."
These Freudian slips add up. Once is coincidence, twice is happenstance, but three times?
Fast-forward to present day, as Biden – the oldest man in US history to take the presidential oath of office – struggles to string together coherent sentences at a press conference that he avoided for more than two months, slips repeatedly on the steps of Air Force One, and thinks "Jim Crow" has something to do with birds.
Also on rt.com
Biden puts Kamala Harris in charge of BORDER as he blames Trump & 'natural disasters' for migrant surge
His appointment of Harris to sort out the mess on the southern US border may seem like a disservice at first; after all, it's an intractable problem because it was directly caused by his U-turn on immigration, about which he remains unapologetic. On the other hand, he made sure to tell reporters it was the task Obama had given him back in the day, as if to imply it was part of grooming him for the top job.
That's not even going into how much the Democrats and their media allies would prefer a "woman of color" (Harris is part-Jamaican, part-Indian) over an "old white male" in general, leading to such cringe hashtags as #SettleForBiden during the campaign.
When you add all of that up, the real question is not why the "Biden-Harris administration" verbiage is already in place, but how soon it will be replaced by Harris alone.
Think your friends would be interested? Share this story!
The statements, views and opinions expressed in this column are solely those of the author and do not necessarily represent those of RT.
You can share this story on social media: