China's new partnership with Iran is not a full alliance, but enough to undermine US sanctions & rock global status quo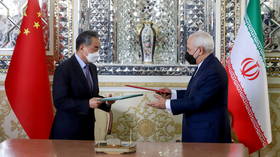 China and Iran have signed a strategic partnership agreement. For sanctions-wracked Tehran, it's an economic lifeline. For Beijing, it's the start of a tricky Middle East balancing act.
In the midst of a spat of tensions between China and the West, Beijing's Foreign Minister Wang Yi spent the weekend in Iran, another country that has borne the brunt of confrontation with the United States over the past few years. Sweeping the Middle East on his diplomatic tour, in Tehran Wang signed the long-awaited 'Comprehensive Strategic Partnership' agreement, hashed out last year, that will span 25 years and encompass Iran's energy, infrastructure and technology sectors – valued up to an estimated $400 billion. It comes as geopolitical differences peak between Washington, Beijing and its allies.
Also on rt.com
Iran & China ink 25-year strategic partnership accord as both nations face US pressure
Whilst China holds a delicate balance in Middle Eastern affairs, preferring a good relationship with everyone, this agreement is a gamechanger. It isn't as much aimed at Saudi Arabia or Israel, as it is toward Washington, and will stand to give Tehran new strategic leverage over its place in the world after its economy has been crushed by unilateral US sanctions aimed at its oil industry. Some may prematurely call it an alliance of sorts, even if informally, and it certainly adds to the recent record of Beijing's diplomacy whereby it has also strengthened ties with Moscow. Iran is pivotal to China's intercontinental vision, the Belt and Road Initiative, its projection into the Indian ocean and its energy security. This is a big deal, literally and metaphorically.
The strategic view of the world is changing. The onus of geopolitics sits on what the United States has defined as "the Indo-Pacific" – an oceanic region spanning around the Indian and Pacific oceans stretching from the east coast of Africa, across Asia and Oceania to the Americas itself. Herein has become central to what America might describe as "the China containment effort." It has rallied a group of allies known as the Quad, including India, Australia and Japan. They seek to militarize the region and sustain the existing order. China has immense resources, and growing capabilities, but the question is how does it respond to this growing competition around its own periphery? And as broader tensions with the West arise, does it stand alone?
Iran fits the bill on so many levels. Located in the Persian Gulf, the country is a strategic bridge across the Eurasian landmass and into the Indian Ocean, long being an area of focus for Beijing as part of the Belt and Road Initiative where it has sought to use the creation of infrastructure to connect multiple continents via land and sea routes, bypass the increasingly tremulous Strait of Malacca and limit the potential of enemy navies to disrupt its shipping. It is a vast producer of oil, something China increasingly needs, yet its economic potential for all its size and population has been repeatedly limited by a decades-long regional containment pursued by America, not least through recent aggressive economic sanctions – and on that note Iran needs China too. It is one of the biggest losers of a US dominant world order.
In signing this deal, Iran won't become a formal ally of China but it will become as Russia and Pakistan have, an increasingly important strategic partner, a means to mitigating American power and also containing India. Beijing is now intent on ignoring American unilateral sanctions, it will develop its oil industry and develop alternative currencies in order to pay for it. It will offer Tehran a new prospect of economic and technological development of which it has been deprived and in turn allow it to become a part of the new 'Silk Road' connecting central Asia with Eastern Europe and the Middle East.
However, this approach will have its limits too. First of all, China is insistent on remaining on good terms with Israel, Saudi Arabia, the United Arab Emirates and other regional state-based opponents of Iran. It will remain neutral on the matter of Middle East conflicts and attempt to facilitate mediation on all sides – it will not be aligning with Tehran on issues such as Syria or Yemen, even if it is opposed to US regime changes, nor would it support a nuclear Iran. The goal is not to create a new order in the region, which Iran has long sought to do in frustration at American containment, Chinese support may offer it incentives for it to exercise restraint even if it enables its capabilities on the other hand. This sets Beijing on the tightrope of a balancing act.
Also on rt.com
Biden's press conference is a Big Yawn, and it's loyal media to be blamed for this sycophantic display of verbal boot-licking
Irrespectively, the new deal will alter the global balance of power and make it increasingly difficult for America to put pressure on Iran the same way as before.
In conclusion, Joe Biden's emphasis on alliances against China is producing a reaction whereby Beijing is solidifying its own counterweight relations of interest, ones which are designed not so much for military purposes but to propel China's economic growth in an increasing era of uncertainty. This has led to a new development in ties between Tehran and Beijing. Iran will be hoping that the influx of Chinese money and infrastructure will finally remove the noose the US has placed around it in squeezing its economic development, and bring it out of isolation diplomatically. The world is changing and the geopolitical order is diversifying. We're starting to see the pieces placed on the chess board now.
The statements, views and opinions expressed in this column are solely those of the author and do not necessarily represent those of RT.
You can share this story on social media: