NFT crypto art commerce: Fad, natural evolution, burgeoning bubble or all of the above?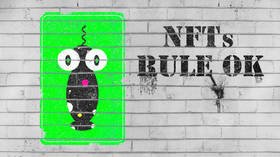 When the realm of blockchain, in the form of Non-Fungible Tokens (NFTs) met the art world, it created a new understanding of ownership – triggering a buying frenzy running into the tens of millions of any currency imaginable.
Purchases of NFTs are fueling an online art boom unique in human history, with individual virtual pieces selling for more than $60 million at major international auctions. The abbreviation refers to Non-Fungible Tokens, and their use allows any digital creation to be marked as unique and original – lending immediate value.
Once officially assigned to an image, animated GIF or meme, the NFT merges to the artwork permanently. That virtual stamp of authenticity allows its buyer to own the artwork at its point of origin, no matter how many copies might emerge throughout the internet.
Professor Gavin S. Brown is a Senior Lecturer in Financial Technology and a PhD Researcher in Financial Economics at the University of Liverpool. He would describe the NFT concept to the uninitiated as both a route to owning a piece of digital art as an investment and as an example of hubris or bragging rights.
"The NFT offers the ability to claim 'ownership,' as well as the ability to resell at a later date," Brown says. "However, it is true that there is no other utility as often the underlying NFT asset is freely available online, as a video, a tweet or picture."
Brown explains that, while the online art world is exploding right now, an NFT can be assigned to anything digital.
"Essentially NFTs are digital ownership certificates which are unique, and therefore not exchangeable," he says. "This is especially important in the world of art, but it extends to any items which are potentially unique in nature and therefore benefit from this authenticity verification."
Once the NFT is stamped and negotiated within the blockchain, it acts somewhat like a copyright – though the NFT's power is not determined in a courtroom.
"Blockchains are simply a type of database within a broader category of such technology known as distributed ledger technologies, or DLT," Brown says. "Such blockchains are an irrefutable and immutable record and should not be contestable."
Still, Brown points out no system is perfect, and advancements in dispute resolution within the field of Tech Law are evolving.
"As we have seen in the fields of regulation, law and tax policy, the technology often leads whilst traditional stakeholders who write the rule books play catch-up – not because of lethargy, but rather to learn and understand the full impact of fast paced technological change," Brown adds.
Still, the phenomenon begs the question of why buyers are handing over cash to own what they could screen capture or download. Many outside the art world wonder why an NFT is needed if the artwork it's attached to is easily copied or replaceable online.
In a 2017 report in the Harvard Business Review, Ozgun Atasoy at the University of Basel and Dr Carey K. Morewedge of the Boston University Questrom School of Business help to explain why the tokens are necessary to make the virtual "real."
Also on rt.com
Digital renaissance: Street artist receiving hundreds of dollars in Bitcoin donations daily
"The very feature that imbues digital goods with their unique abilities–their immateriality–is also what impairs our ability to develop a sense of ownership for them," the authors write. "Because we cannot touch, and hold, and control digital goods in the way that we interact with physical goods, we feel an impaired sense of ownership for digital goods. They never quite feel like they are ours, and when we feel that we own a thing, we psychologically inflate its value. As a result, digital goods don't enjoy this premium we extend to things that we own."
With the practical and financial elements of the NFT world developing rapidly, artists are coming to grips with its possibilities.
Dan Madigan, a Los Angeles-based collagist and painter, is working to get a grasp on the potential of NFTs.
"Even though the art world has been heading in a direction like this for some time, the NFT phenomena is still a new concept to many artists – especially some traditional artists that have not embraced the digital world," Madigan says. "At this point artists, traditional or not, all have to come to the realization that, in a post-pandemic world, this will be one of the major forms of artistic commerce."
Madigan looks on the onrushing NFT movement as simply another stage in the constantly evolving art world.
"We look back at certain changes in the art world and think they had little significance at the time, like the use of oil paints in the early 1400s," he says. "That allowed painters to break free from the limiting use of fresco and egg tempera. As a visual artist, one needs to find where he or she fits in this new evolutionary phase of art commerce."
Madigan finds it freeing, as there is no longer a need to find walls in galleries to show an artist's work, leaving it up to the artist to become his or her own advocate in this new venue.
Brooklyn-based painter and photographer Grace Roselli agrees that it's the artist's job description to rethink the world around us.
"If an artist who works with crypto art and NFTs can challenge us in the way any phenomenal art would, fantastic," Roselli says. "If not, then it's just another piece of virtual noise. I use whatever medium that will translate my ideas into what will best communicate them. Perhaps, at some point, that will be crypto art."
With NFT sales booming as buyers assign ownership to digital imagery, some analysts fear the sudden surge in value could produce a financial bubble in the art market.
"Bubbles are often only possible to identify with the benefit of hindsight," Brown warns. "We may therefore have a wait-and-see brief on this one. The sudden explosion of NFTs likely shows that the technology is leading commercial best practice as we as a society may be creating NFTs merely because we can and not because we should."
Think your friends would be interested? Share this story!
The statements, views and opinions expressed in this column are solely those of the author and do not necessarily represent those of RT.
You can share this story on social media: