Britain is becoming America's 51st state – as Boris dresses up Downing Street like a pound-shop White House and splurges on nukes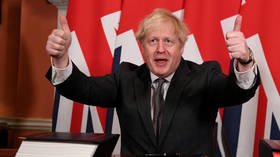 Instead of easing up on expensive weapons we'll never use, Boris Johnson is tooling up his war rooms and taking his lead from Washington. With Britain as politically and economically unstable as it is, this is completely reckless.
Brexit was supposed to see Britain stand alone, control its borders and set its own agenda. But the UK is beginning a new generation of Washington mimicking. It began with the cringeworthy attempt to recreate The White House look in Downing Street in the form of a £2.6 million media briefing room, complete with a lectern and four large Union Flags.
Bizarrely the biggest row to break out over this complete waste of money, was allowing Russian company Megahertz to install some of the equipment. The implication was that this was some sort of security risk, which is laughable when the sole purpose of the room is to broadcast words and images as widely as possible. This illogical anti-Russian/Cold War hangover is just copying American attitudes.
Also on rt.com
UK's Johnson calls on China to reduce its nuclear arsenal as Britain commits to increasing its own
The second part of architecturally aping America is 'the situation centre'. It's billed as being BoJo's own version of the 'situation room' where Obama watched Osama bin Laden get killed, and will cost £9 million ($12.5 million). It even has its own snappy US style abbreviation, the 'SitCen.'
These two projects may be largely symbolic but show the British government's slavish adoration for how Washington presents itself. But this has gone far further than just aesthetic imitation and vanity projects, Boris has fallen dangerously under the American spell. Both countries are part of the Non-Proliferation Treaty but under Trump, America doubled its low-yield nuclear weapons. It also extended the list of reasons to use them, so now a major hacking event is legal justification to launch.
Now Boris has announced the conclusions of his Integrated Review of Security, Defence, Development and Foreign Policy. For the last 30-years Britain's nuclear arsenal has been gradually decreasing and in 2010, there was a commitment to have no more than 180 warheads by the mid-2020s. But the prime minister has announced it will now increase by 40 percent to no more than 260 warheads.
While many Conservative supporters revel in the Rule Britannia bandwagon, Britain's Trident nuclear weapons were in fact designed by American firm Lockheed Martin and the replacement system that's planned, the W93, is also from the good old US of A. Congressman Adam Smith, Chairman of the House Armed Services Committee, even let slip during an online Q&A that Britain is pressing America to speed up its introduction – he said: "I think the U.K. is pushing a lot of that."
The review also states that Britain's defence budget will rise by £24 billion over the next four years.
With national debt standing at £2 trillion coupled with expectations of 2.2 million people unemployed by the end of 2021, this is nothing short of perplexing, but it makes sense when viewed through the prism of aping America.
Also on rt.com
Going nuclear: UK set to boost Trident warhead stockpiles by 40%, detonating outrage among activists & observers
Biden has already taken his first military action, bombing Iranian targets inside Syria, which one war monitor claimed resulted in 22 fatalities. He also took no meaningful action against Saudi Crown Prince Mohammed bin Salman (MBS), despite finding him responsible for the brutal murder of Washington Post columnist Jamal Khashoggi. MBS is the driving force behind the civil war in Yemen and is likely to sanction other missions as time goes on.
Biden was vice-president to Obama, and their administration carried out 1,878 drone strikes, which was significantly less than Trump but still displayed an appetite for military action. The British review has repeated references to the US, which are nauseatingly sycophantic including "the United States will remain our most important bilateral relationship."
Also on rt.com
Britain is punching above its weight and living in the past as it announces plans to build nuclear warheads and take on China
On the other side are the "bad guys."
One statement reads: "Russia will remain the most acute direct threat to the UK, and the US will continue to ask more from its allies in Europe in sharing the burden of collective security." That single sentence is revealing, in that it's another admission that Britain will wilfully take orders from Washington.
And on China, it says: "the fact that China is an authoritarian state, with different values to ours, presents challenges for the UK and our allies." Again, that's a parrot fashion copy of what Washington claims, the US director of national intelligence said at the end of last year that China is "the greatest threat to America today, and the greatest threat to democracy."
Boris and his Conservative government are well-known to revel in Britain's past glories. Winston Churchill is their idol and the notion of Scotland or Wales gaining independence sends shivers down their spine.
Once again America has seduced the British PM. More nukes. More mistrust of China and Russia. Increase the military and be on a war-footing when needed. It's a gross mistake for Britain to once again fall under the spell of America.
Tony Blair was mesmerised by George W. Bush's Iraq obsession and that dragged Britain into a terrible war. A similar disturbance this time would be even more catastrophic as the UK is a far less harmonious and prosperous place than then. Food banks are being used in record numbers. Hatred of the police is high thanks to movements like BLM, Extinction Rebellion and the recent protests around Sarah Everard's vigil.
Also on rt.com
The toxic legacy of nuclear weapons testing serves as a stark warning of the danger these weapons pose
Boris is making a grave mistake by taking America's lead in preparing to make the world a more aggressive and ominous place. Just because your best friend does something, doesn't mean you should.
Parents tell their kids that, so who's going to tell Boris?
Like this story? Share it with a friend!
The statements, views and opinions expressed in this column are solely those of the author and do not necessarily represent those of RT.
You can share this story on social media: