Women don't need plain clothes policemen patrolling bars looking for men flirting without due care and attention to feel safe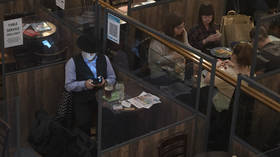 Following the tragic death of Sarah Everard, the UK announced undercover detectives would patrol bars to help 'women feel safe,' but suggesting women need state chaperones when out for a drink only perpetuates feelings of fear.
You're standing by the bar, glass of wine in hand, laughing with your friends. A man keeps glancing over at you; he looks nice and so you smile back. 'He's not flirting with you!' gasps a mate. 'He's a police officer. A plain-clothes detective, here to keep us safe.'
Also on rt.com
A 6pm curfew for ALL men? Those exploiting Sarah Everard's disappearance for feminist #activism owe her grieving family an apology
Do grown women really want to be chaperoned like children on nights out? Boris Johnson seems to think so. This was just one of a raft of measures designed to protect women from sexual harassment and assault announced by the Prime Minister last night. The proposals, including a doubling of money available for CCTV and street lighting, are an attempt to reassure women following the killing of Sarah Everard.
Johnson acknowledged that news of Everard's death had 'unleashed a wave of feeling about women not feeling safe.' This is certainly true. But it is precisely because such a wave of feeling has been unleashed – and, let's not forget, Sarah's devastated parents have not yet been able to lay their daughter to rest – that now is absolutely the wrong time to rush through new legislation, no matter how well-intentioned.
For days now, we have been bombarded with stories of women being harassed in public or feeling scared when walking alone after dark. Women have taken to the streets, carrying flowers at Clapham Common on Saturday and placards at Parliament Square on Monday. Their upset and anger may have been prompted by the death of Sarah Everard but no longer has anything to do with either her life or death.
Long-time feminist campaigners for misogyny to be made a hate crime, legislation to outlaw sexual harassment, and for more consent classes in schools and universities, have all shamelessly spied in Sarah Everard's death an opportunity to further their own agenda. The Prime Minister, perhaps understandably, now wants to be seen to be doing something. But a backdrop of hysteria does not make good law. Rather than rushing into implementing new legislation we need to take time to put the events of this past week into perspective.
Also on rt.com
With misogyny now a hate crime, we're criminalising what people think. We'll soon have thought police exploring our private lives
Thankfully, the chances of a woman being abducted and murdered by a stranger are vanishingly small. In the year ending March 2020, 188 women were killed in the UK. Each of these deaths is a tragedy but the sad fact is the overwhelming majority took place in the woman's home, at the hands of her partner. Street lights and CCTV cameras will not help victims of domestic abuse.
Panic has been fuelled by merging an horrendous but incredibly rare murder with more generalised sexual harassment. Two surveys out this week purport to show that almost all women are victims of sexual harassment. But this data raises questions. UN Women UK, the group behind the most shocking claim that 97 per cent of young women have been sexually harassed, notes that definitions of sexual harassment 'refer to the subjective experience of the individual concerned' and include 'anything that makes you feel uncomfortable.'
A separate YouGov poll comes up with a much lower figure. It suggests that 52 percent of women have been sexually harassed at one point in their lives; with 19 per cent having experienced an incident in the past five years. This is remarkably low when the definition of sexual harassment used by YouGov is taken into account. The top four recorded forms of harassment are: someone commented on your attractiveness directly to you; being wolf-whistled at; someone looked at your breasts; someone winked at you. When the definition of sexual harassment is this elastic it becomes meaningless.
Inflated statistics have contributed to the climate of alarmism and inflamed demands that something must be done. But enacting new legislation in this context could backfire on women. Most obviously, it will hand far greater powers to the police to intervene in interactions between the sexes. This will be the exact same police officers who were filmed manhandling women at Sarah Everard's vigil this weekend.
Also on rt.com
British authorities seem hell-bent on turning UK into Gilead – as their ban on vigil for murdered Sarah Everard proves
Women who really want safety above all else are unlikely ever to venture out into the world. Those of us who do go out, know we are trading potential risk for the excitement of meeting new people. Detective chaperones may be there to keep an eye on men, not women, but no one wants to be interrupted, mid-drunken flirtation, by a copper trying to determine whether he's witnessing sexual harassment or the start of a beautiful relationship. Police intervention is a sure-fire way to end all spontaneity and fun.
Prime Minister Johnson was right to point out that Everard's death has 'unleashed a wave of feeling about women not feeling safe.' But feelings cannot simply be legislated into or out of existence. In fact, plain-clothes detectives propping up the bar, poster campaigns and telephone helplines do not make women feel safe but send out a message that there are dangers everywhere. Far from being reassuring, women learn they are right to feel scared.
Curtailing the freedom of both women and men, in a misguided attempt to cultivate safety, is a pyrrhic victory for feminism.
Like this story? Share it with a friend!
The statements, views and opinions expressed in this column are solely those of the author and do not necessarily represent those of RT.
You can share this story on social media: