The Dutch PM's use of dog handlers and police with batons at a protest on the eve of an election is a jarring sight in a democracy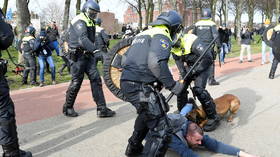 With the Netherlands at the polls after a scandal saw the government resign, 'Teflon' Mark Rutte ignored the campaign optics by using mounted police, snarling dogs and baton-wielding cops to disperse an anti-lockdown protest.
As an ideology-free politician, the Netherlands Prime Minister Mark Rutte affords himself a certain flexibility in shifting his position depending on the winds of public opinion, but if he thinks police firing water cannon, beating people with batons and even cancelling public transport to prevent protestors travelling is a vote-winner he needs to re-think his strategy.
On Sunday, the eve of the extraordinary three-day election, as thousands of protestors decided to descend on The Hague, the country's seat of government, they were dispersed with the sort of jackbooted brute force most Nederlanders had only witnessed on the TV news taking place elsewhere.
Also on rt.com
Netherlands becomes latest country to suspend use of AstraZeneca's Covid-19 vaccine over concerns of possibly serious side effects
Horse charging, police dogs and ultimately water cannon were all brought into play by the police to disperse what, until their intervention, had been a peaceful gathering.
🇳🇱 Netherlands - Anti-Lockdown protests just went out of control!!👍🏻 Beating down a protestor with a baton and setting attack dog on them: "WE'RE KEEPING! YOU... SAFE!!!!"You don't see the same enthusiasm for shutting down the Mediterrenean Sea traffic pic.twitter.com/wU7r1NNBoH

— 𝖅𝖔𝖗𝖔𝖆𝖘𝖙𝖊𝖗 🛰🖱 (@ZarathushtraBC) March 14, 2021
While the Dutch may have had it up to their necks with an extended lockdown, where meetings of more than two people are outlawed, bars and restaurants have been shut since October and a draconian national curfew is taking its toll on public patience, state aggression in quelling their outrage just as national elections commence is poor campaigning indeed.
Groups of policemen singling out Dutch cyclists for a solid thumping with a baton is never a good look, but social media sucked up a video of one such encounter to share with the rest of the world just as electors head off to cast their votes. Another video shows a woman being deliberately pushed into the path of a police van by a plain-clothes officer and falling to the ground when it strikes her.
With most voters expected to cast their ballots on Wednesday, there is still plenty of time for this footage of barbaric security forces to go viral.
It's not the first time that excessive force has been the go-to option when dealing with the pandemic-weary public. At the end of January, water cannons were also deployed to break up a lockdown protest in Eindhoven, with one woman caught on video being slammed into a concrete wall by the force of water before being shepherded to safety, blood streaming from a head wound.
It's the sort of over-the-top authoritarian impatience with any form of dissent that is a product of years in power without any real accountability, where acquiescence is as close as you come to an empowered opposition.
If Rutte wins this poll, and the signs are that he will do so easily, this fourth term will see him become the Netherland's longest-serving Prime Minister. It will also make him the third longest-serving EU leader behind Hungary's Viktor Orban and Germany's Angela Merkel, though with Mutti stepping down later this year, Rutte will take second place.
As the polling stations opened on Monday, his People's party for Freedom and Democracy (VVD) was sitting on 23 percent in the polls, while Geert Wilders' anti-Islam Freedom party (PVV) was way behind with 14 percent.
The sprawling field of a record 37 parties vying for 150 seats in the parliament means a coalition of some sorts is inevitable, but Rutte has vowed not to repeat his 2017 flirtation with the PVV and he won't need them anyway.
But Rutte can do what he likes. The only reason the Dutch are facing this snap general election is the government's cabinet resigned after a scandal in which racial profiling was used by tax officials to wrongly accuse thousands of people of child benefit fraud between 2013 and 2017, ordering some to pay tens of thousands of Euros.
Once the election is successfully out of the way, the PM will hope the €500 million he has put aside as compensation will put the issue to rest and Teflon Mark will live another day.
But the question must be how long will the people of the Netherlands be prepared to put up with the arrogance of a man who pulls the plug on his own government over a scandal and then has himself appointed caretaker PM until elections can re-confirm his position?
And to compound that casual cynicism, when his pandemic lockdown rules prove unpopular, not only does he send in mounted police, snarling dogs straining at their leashes and security forces wielding batons, he also cancels public transport so numbers don't swell and make him, well, look bad on the eve of his general election and inevitable re-coronation.
Also on rt.com
Police dogs & water cannons: Anti-lockdown protest meets heavy police response in The Hague (VIDEOS)
Seen from a distance, it's easy to discount what's going on in the Netherlands as a series of disconnected events at a time when many nations are experiencing an undercurrent of public anger.
But with a government run on the handshakes and secret deals endemic to coalitions, and an unremarkable yet long-serving leader who can squirm his way out of the tightest of situations and doesn't hesitate to harshly enforce his rule, the Dutch find themselves in the position of being ruled over by a system that is more like a dictatorship than a democracy.
Like this story? Share it with a friend!
The statements, views and opinions expressed in this column are solely those of the author and do not necessarily represent those of RT.
You can share this story on social media: